Ja viem, že už väčšina chcete jar, no aj napriek tomu dnešný článok bude o snehu. O takom, čo sa neroztopí a môžte si ho spraviť kedykoľvek, aj počas horúceho leta. Doma sme si ho pracovne nazvali falošný sneh.
Čo budete potrebovať:
nádobu na miešanie snehu
varešku na miešanie snehu (môžte aj rukami)
penu na holenie
sódu bikarbónu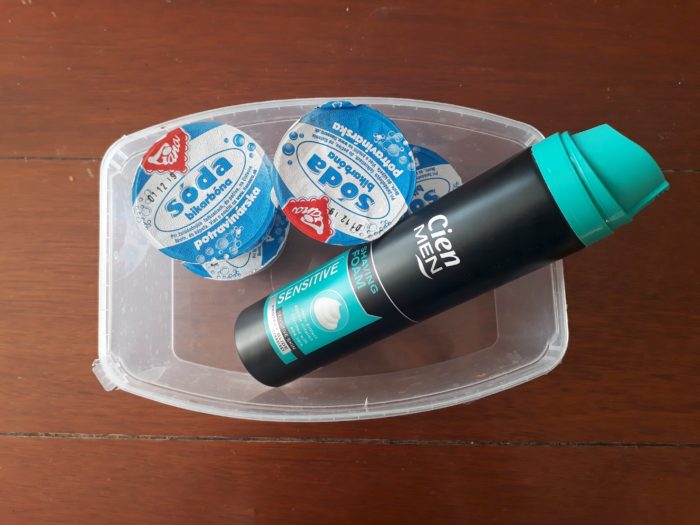 Postup na výrobu falošného snehu je fakt veľmi jednoduchý. Do misky nastriekajte penu na holenie (my sme dali asi polovicu z celej flaše), prisypte sódu bikarbónu (na naše množstvo peny, šlo asi 500 g sódy). A teraz to všetko spolu zmiešajte.
Zo začiatku sa nám to ľahšie miešalo vareškou, lebo pena sa nám veľmi lepila na ruky, ale neskôr, keď už sa to všetko začalo parádne premiešavať, bolo aj rukám príjemné sa v tom babrať.
Falošný sneh by nemal byť veľmi sypký, veď určite z neho budete chcieť stavať snehuliaka. Ak je sypký pridajte k zmesi trošku peny na holenie. Ak sa naopak veľmi lepí, prisypte sódu.
No a čo potom s takým snehom?
Deti určite nájdu spôsob jeho využitia. U nás najprv slúžil len ako senzorický materiál. Baby sa v ňom len babrali a presypovali si ho. Celá zmes je naozaj veľmi príjemná na dotyk. Ak budete používať parfemovanú penu na holenie, aj príjemne vonia a čo je veľmi zaujimavé, aj príjemne chladí. Normálne je to útok na zmysly (len ho prosím vás nejedzte!)
Neskôr už sneh využili pri hraní s legom. Vytvorili si pomocou neho malú, zasneženú krajinku.
Postavili si aj snehuliaka …
….a konečne si mohli aj lego panáčikovia zalyžovať.
A viete čo je na tomto snehu najlepšie? Že aj keď sa rozsype mimo vyhradeného priestoru, ľahko sa upratuje. Stačí pozametať, či povysávať. A navyše, sóda bikarbóna je aj super čistiaci prostriedok, tak sa veľmi na tie deti nehnevajte, keď falošný sneh nájdete aj na koberci ;-).
https://www.spolupozaskolu.sk/wp-content/uploads/2018/03/20180228_102626-2.jpg
3096
4128
Katka
https://www.spolupozaskolu.sk/wp-content/uploads/2021/04/logo-spolupozaskolu.jpg
Katka
2018-03-05 14:22:49
2018-03-05 14:24:07
Falošný sneh len z dvoch ingrediencii