Nikdy by som neverila, že existuje dieťa, ktoré si bude dobrovoľne pýtať stále nové a nové cvičenia na určovanie pádov podstatných mien. Ale stalo sa to, že mám také jedno dieťa doma. Aby pre ňu to určovanie nebolo stále o tom istom, vymysleli sme si  Gramatické domino.
Na domino sú potrebné páry, to podstatné meno a jeho pád spĺňajú. Pádov je 6, takže konečný počet kartičiek nebude veľký a hra nebude nekonečná. Zdalo sa mi to ako dobrý nápad. Tak sme sa pustili do výroby.
Výroba domina je aj vecou matematiky. Treba predsa zistiť aké kombinácie môžme z daných predmetov spraviť. Tak Terezka najprv pokombinovala všetky pády medzi sebou a zistila, že zo 6 pádov vie spraviť 21 rôznych dvojíc.
Potom sme nastrihali výkres a vyrobili sme "domino kocky". Popísať ich už bola čisto Terezkina práca. Dohodli sme sa, že na každej dominovej kartičke bude na ľavej strane nejaké podstatné meno a na pravej strane názov pádu. Terezka postupovala podľa kombinácii, ktoré si predtým spísala. Takže prvá dvojica bola PES-NOMINATÍV, druhá MAMA-GENITÍV, tretia STÔL-DATÍV a tak pokračovala až kým nedošla k poslednej možnej dvojici, ktorou je S MEDVEĎOM –  INŠTRUMENTÁL.
Pri písaní podstatných mien treba dať pozor na také, ktoré majú rovnaký tvar v rôznych pádoch, napríklad slovo stôl môže byť v nominatíve, ale aj v akuzatíve. Preto sme sa dohodli, že si pomôžeme predložkami.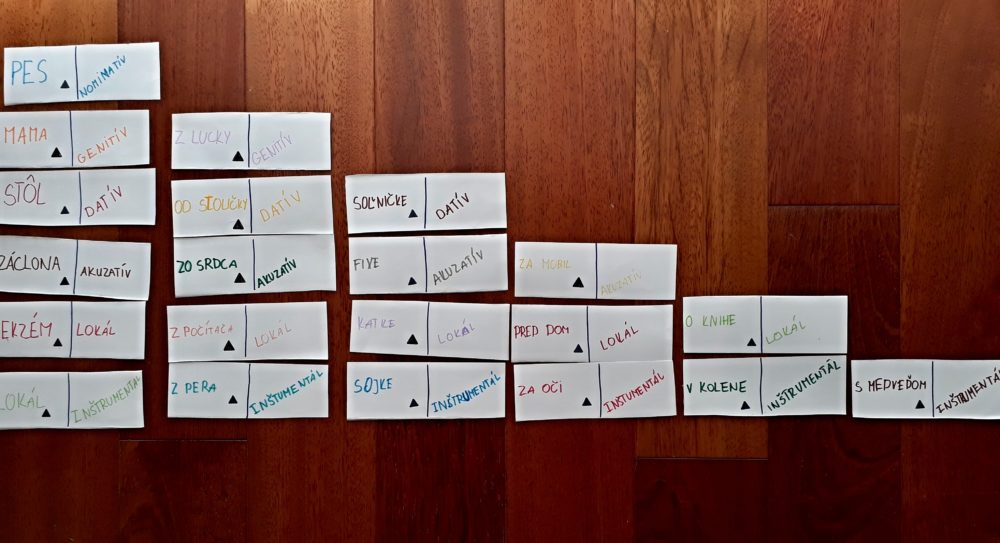 Kedže ide o gramatické domino, ktoré sa týka podstatných mien, každú kartu sme označili ich symbolom podľa montessori pedagogiky. (Viac som o zavedení podstatných mien podľa montessori písala v tomto článku).
No a keď toto všetko Terezka zmákla, šli sme sa hrať.
Všetky kartičky sa rozdelia medzi 2 hráčov. Je ich nepárny počet, takže tú, ktorá ostala bez majiteľa položíme do stredu. Prvý hráč nájde medzi svojimi kartičkami takú, ktorá bude nadväzovať na prvú kartu buď vhodným podstatným menom, alebo vhodným pádom. Môže teda začať hru na ktorúkoľvek stranu. Keď položí svoju kartičku, na rade je druhý hráč. Kartičky teda hráči ukladajú striedavo a môžu ich ukladať do oboch smerov. Ak hráč v niektorom kole nemá potrebnú kartičku, tak toto kolo vynecháva a ide druhý hráč. Hra pokračuje dovtedy, dokým sú hráči schopní ukladať kartičky. Keď už nie je táto možnosť, hra končí a vyhráva ten, komu ostalo najmenej kartičiek.
Pri tejto hre zabijete dve muchy jednou ranou. Pri jej výrobe si bez nudy dieťa niekoľkokrát zopakuje skloňovanie podstatných mien, náročnejšie mená pádov sa určite naučí naspamäť a ešte sa aj na konci spolu zabavíte.
https://www.spolupozaskolu.sk/wp-content/uploads/2018/03/20180321_155221.jpg
3047
4036
Katka
https://www.spolupozaskolu.sk/wp-content/uploads/2021/04/logo-spolupozaskolu.jpg
Katka
2018-03-22 17:58:59
2018-11-21 15:32:34
Gramatické domino