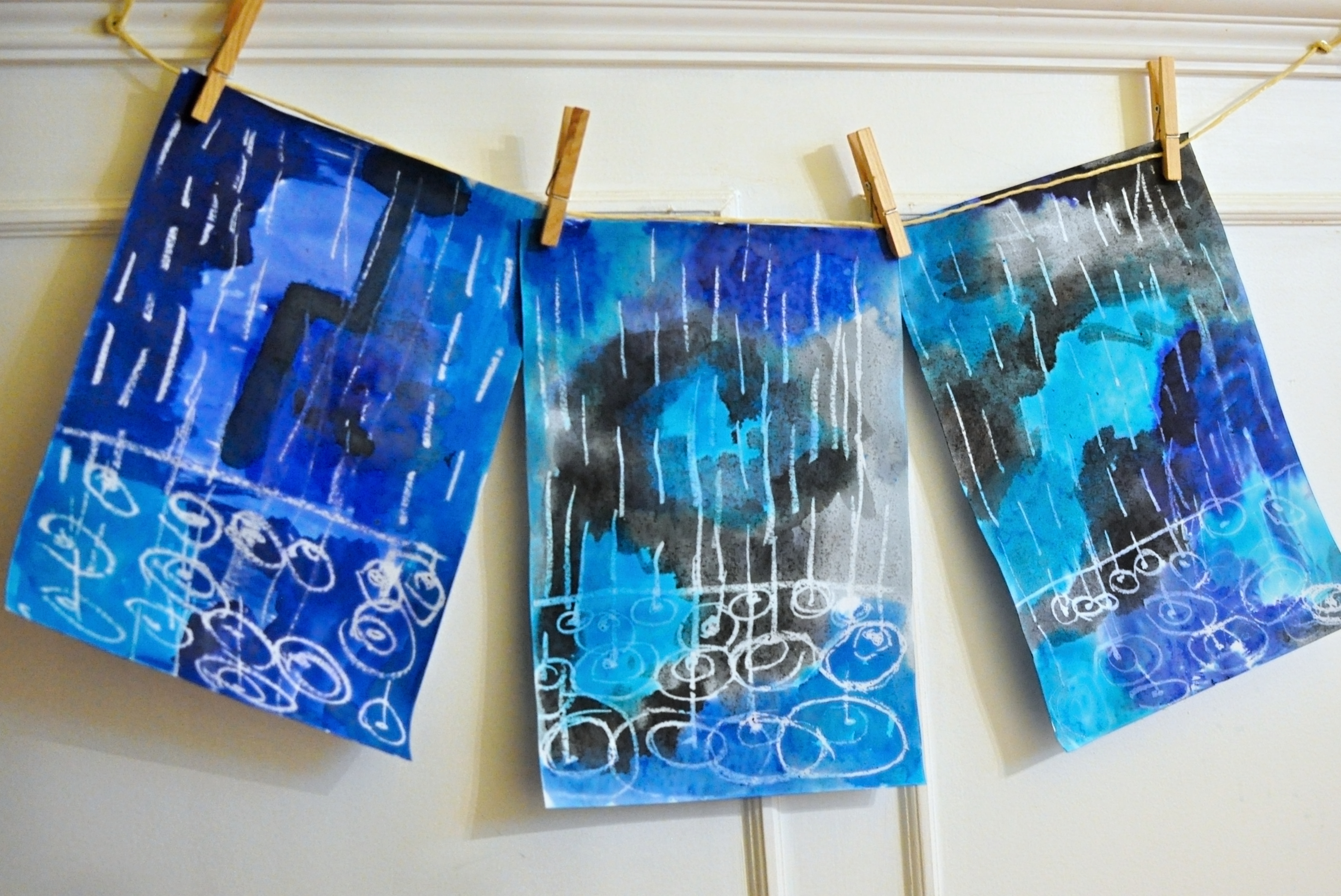 Zdá sa, že sa to krásne babie leto skončilo. Škoda, preškoda. Takú farebnú, teplú jeseň priam zbožňujeme. Ale toto upršané počasie, čo zavládlo pred pár dňami von, ma úplne odrovnáva. Nič sa mi nechce, zabúdam sa usmievať, nálada je na bode mrazu. V takéto dni sa čokoľvek u nás robí ťažšie, ako keď na nás z oblohy svieti slniečko.  Jednu veľkú výhodu však majú takéto upršané dni, viac počas nich tvoríme alebo hráme hry. Dnes padla voľba na tvorenie. A keď už toľko prší, tak sme si ten dážď aj namaľovali.
Voskovky a vodové farby, to je jedna nesmrteľná kombinácia. A u nás doma veľmi obľúbená. Tak som po nich siahla aj dnes. Všetko čo sme na tento obrázok potrebovali bol papier, biela voskovka a vodové farby. My doma pracujeme najradšej s anilínovými, lebo majú sýtejšie farby ako klasické vodovky.
Papier sme si rozdelili horizontálou čiarou na dve časti, vytvorila sa tak spodná časť, do ktorej budú dopadať dažďové kvapky z neba. Dážď sme kreslili bielou voskovkou prerušovanými čiarami zhoda nadol a na mieste, kde na náš výkres dopadli sme nakreslili ovály.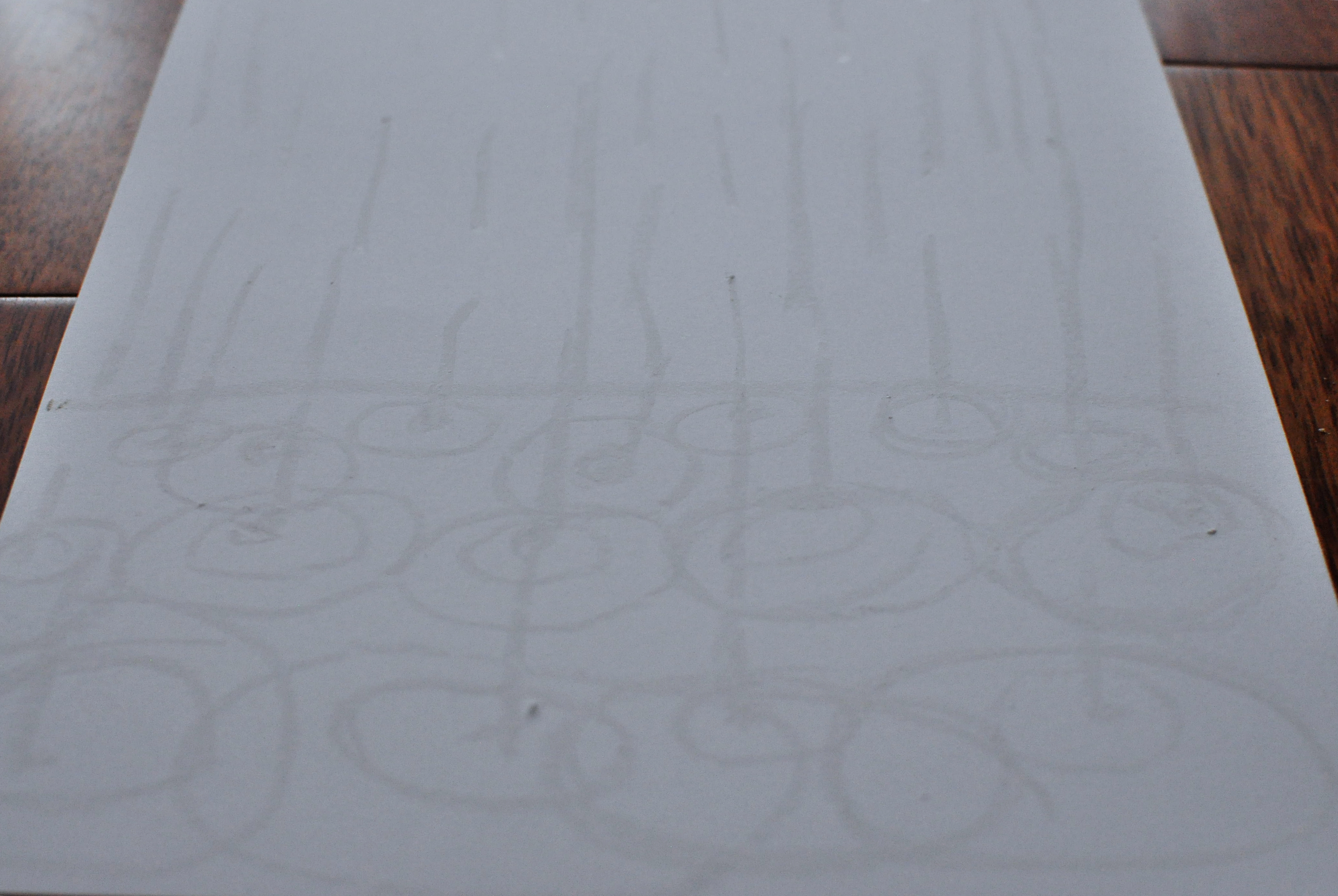 Pre lepšiu predstavu ako to vyzerá, hlavne pre mladšie deti, je dobré vyhnať ich k oknu alebo k balkónu, nech chvíľu pozorujú čo sa deje keď kvapky dažďa dopadnú na zem.  Ovály, ktoré sú hore, blízko pri horizonte, by mali byť menšie ako tie, ktoré sú na spodnej strane papiera.
Keď je nakreslený dážď hotový, nastupuje skutočná voda. Vezmite mokrú handričku a namočte ňou celý papier. Vodové farby sa budú na mokrom papieri lepšie rozpíjať.
Vyberte si farby, ktoré predstavujú daždivý deň. V takomto daždivom počasí máte inšpiráciu priamo pod nosom, resp. za oknom.
U nás teda prevládajú sivá, čierna a modrá. Najprv sme namaľovali viacero modrých plôch, okolo nich sme pridali čiernu farbu. Farby sa nám na mokrom papieri začali zmiešavať a vznikali ďalšie odtiene sivej, či modrej. A konečne sa vynoril aj biely voskovkový dážď.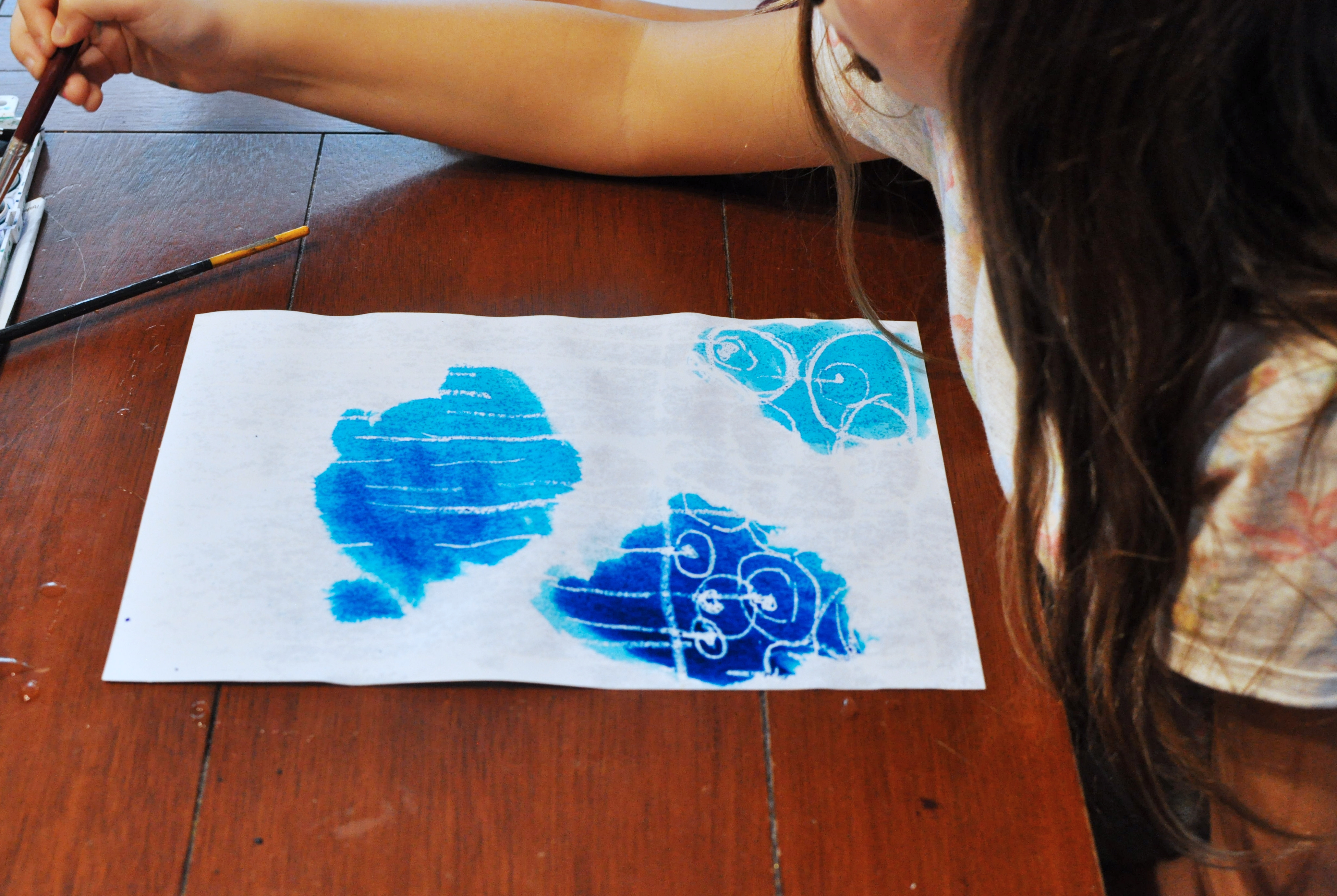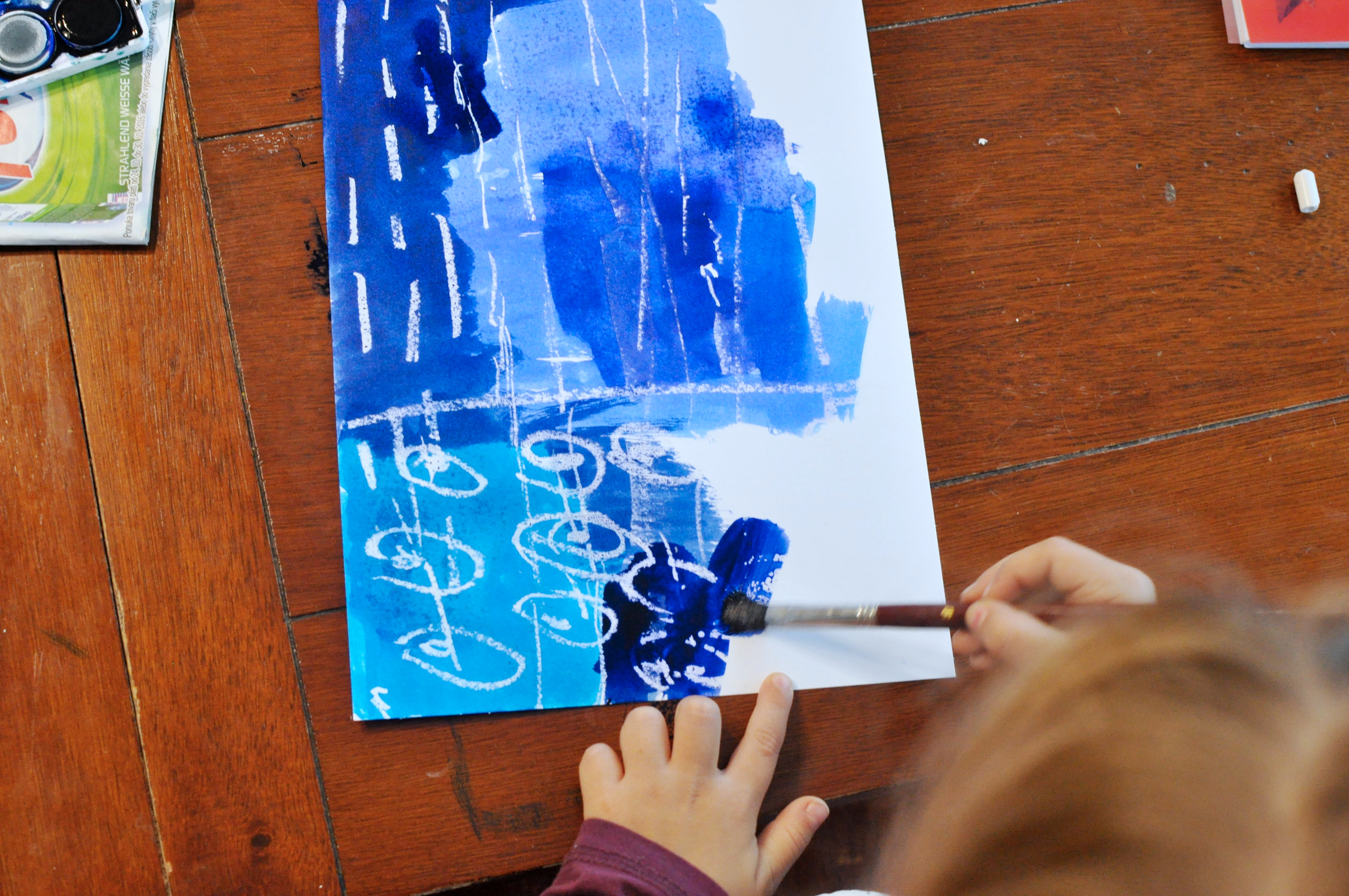 Musím ale uznať, že záverečné výtvory vôbec nie sú smutné, či depresívne, ako vie byť počasie tohto obdobia. A viete čo? Aj moja nálada počas nášho tvorenia začala stúpať hore. Zdá sa, že som našla liek na sivé dni.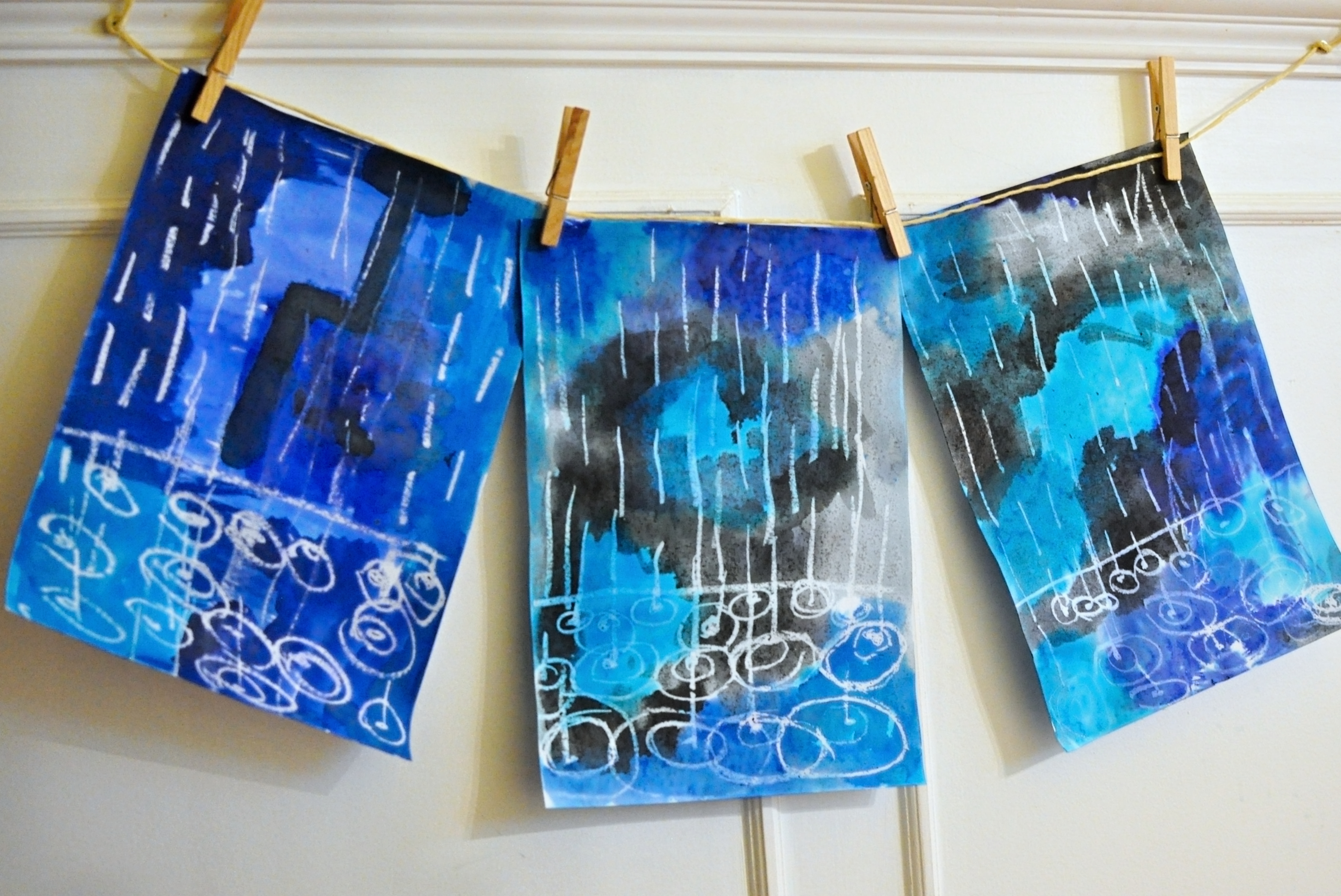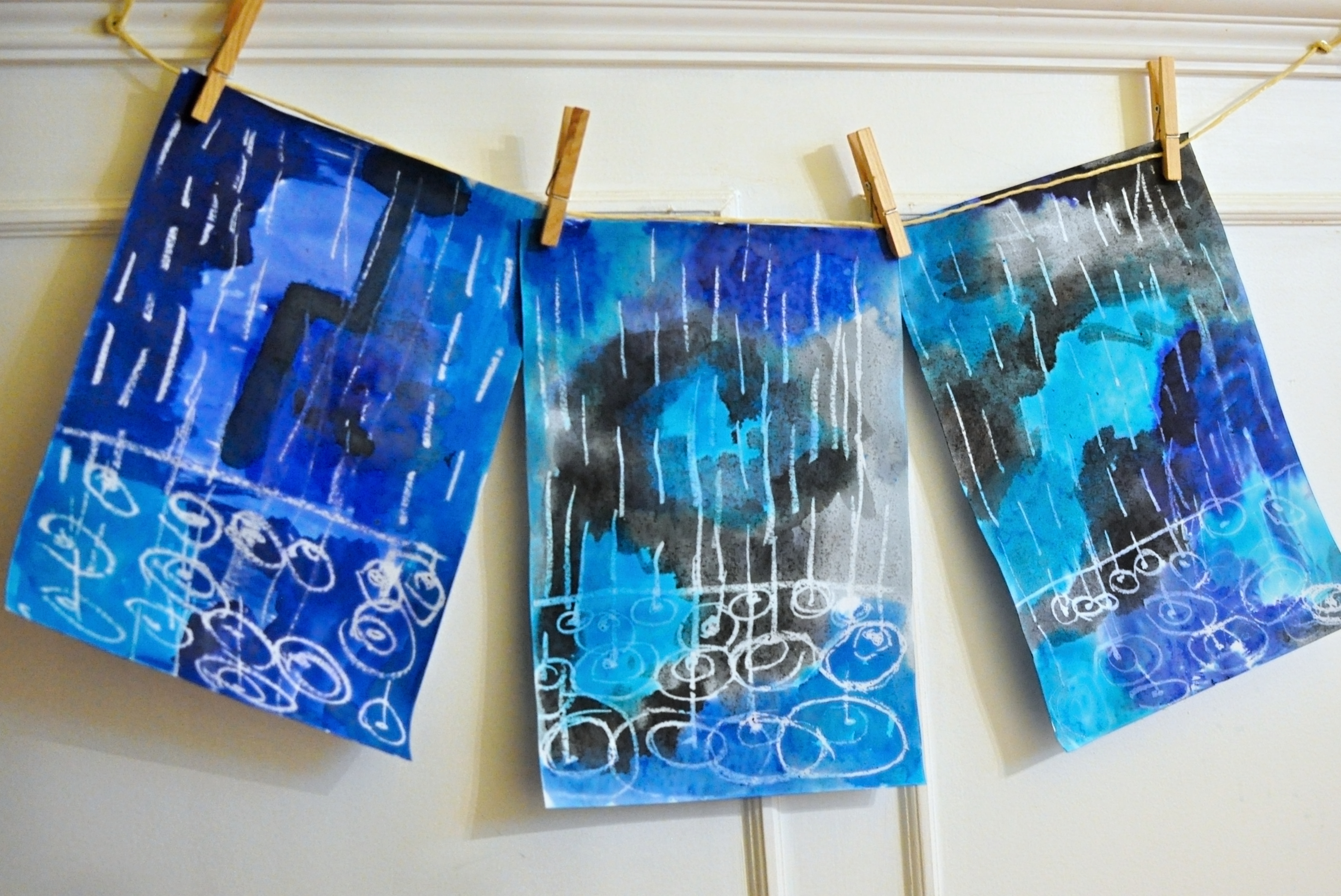 https://www.spolupozaskolu.sk/wp-content/uploads/2017/10/DSC_0138.jpg
2690
4026
Katka
https://www.spolupozaskolu.sk/wp-content/uploads/2021/04/logo-spolupozaskolu.jpg
Katka
2017-10-24 21:12:36
2017-10-24 21:14:43
Jesenný maľovaný dážď