Mojich 5 naj v roku 2017. Dotazník na stiahnutie
Asi každý človek na konci roka bilancuje. Obzrie sa dozadu, premýšľa o uplynulých mesiacoch a skladá účty sám sebe. Ani u nás doma nie sme výnimky. Aj keď si už niekoľko rokov nedávam žiadne novoročné predsavzatia a mojím jediným cieľom je prežiť každý ďalší rok v zdraví a pohode, vždy je čo zosumarizovať a hodnotiť.
Ale bilancovanie nemusí byť vždy len vecou dospelákov. Aj deti sa môžu zapojiť, spomínať a hodnotiť. Aby to pre nich nebolo len také obyčajné debatovanie a aby si aj svoje myšlienky mohli odložiť, pripravila som pre nich jednoduchý dotazník Mojich 5 naj v roku 2017.  A ktoré sú to teda tie naj?
Najväčší zážitok
Najzaujímavejšia informácia
Najnovší kamarát
Najobľúbenejšia kniha
Najkrajšie miesto
Dievčatám sa dotazník zapáčil a hneď začali spomínať. Bolo krásne sledovať, ako sa im z pamäte vynárajú rôzne spomienky (na niektoré veci som zabudla aj ja). No a potom sa začali vypytovať mňa. Na moje zážitky, obľúbenú knihu a veľmi zvedavá boli hlavne na mojich najnovších kamarátov. Tak som si dotazník vyplnila aj ja a toto z toho vzniklo.
Najväčší zážitok:
Najväčším zážitkom v roku 2017 je pre mňa stále to, že sme v júni úspešne ukončili prvý rok v domácom vzdelávaní, a že pokračujeme ďalej.  Ale, ak by vás zaujímal taký naozaj zážitkový zážitok, tak by to bol určite týždeň v karavane.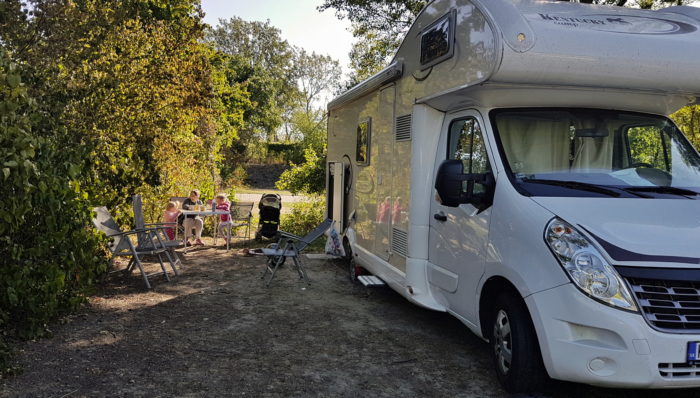 Najzaujímavejšia informácia:
Túto otázku som deťom dala preto, aby som zistila, čo z vecí, ktoré sa učia v nich rezonuje najviac. A čo teda utkvelo v pamäti mne? Informácia, ktorú som získala pri čítaní Terezkinej knihy, 10 panovníkov ktorý zmenili svet, že veľká ruská panovníčka Katarína Veľká nebola pôvodom vôbec Ruska. No, hotovo. Keď sme toto v škole preberali, asi som chýbala.
Najnovší kamarát:
Toto sa mojim deťom vypĺňalo najľahšie. Hoci sú doma a nechodia do školy, stále si nájdu nových kamošov. Ale ja na tom tiež nie som najhoršie. Aj keď možno nie som taká spontánna pri hľadaní nových priateľstiev ako ony, občas sa to podarí a môže z toho vzniknúť, napríklad, veľmi príjemná silvestrovská víkendovka.
Najobľúbenejšia kniha:
Tak tých mám viac. Ale keby som mala vybrať len jednu, vybrala by som knihu od Fredrika Backmana Tady byla Britt-Marie.
Najkrajšie miesto:
V roku 2017 sme pochodili veľa krásnych miest. Na Slovensku, ale aj mimo neho. Je mi ťažko vybrať len jedno miesto. Zo slovenských miest ma najviac očarili asi Čičmany, ale aj jesenný Vlkolínec a z tých zahraničných viedenský Schönbrunn, alebo žeby Zadar?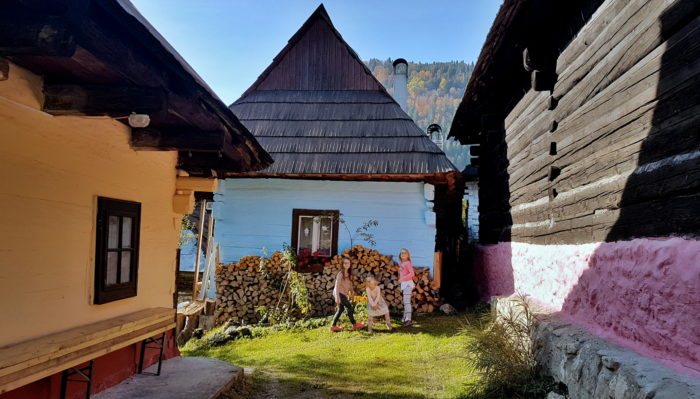 Ak by ste chceli s deťmi spískať niečo podobné,  môžte si dotazník stiahnuť TU.
Naše vyplnené dotazníky plánujem odložiť a mám v pláne vypisovať niečo podobné každý rok. A potom jedného dňa všetky vytiahneme a budeme spomínať a usmievať sa.
Štastný nový rok, priatelia!