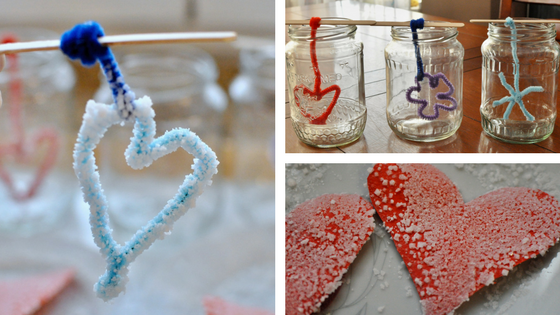 Dosť dlho sme doma nerobili žiaden pokus a začali sa u nás ozývať hlasy, že mám niečo zaujímavé vymyslieť. Tak som premyslela a spravili sme si ozdoby zo slaných kryštálov. A aby sme netrochárili, hneď na jeden šup, sme ich robili dvoma rôznymi spôsobmi.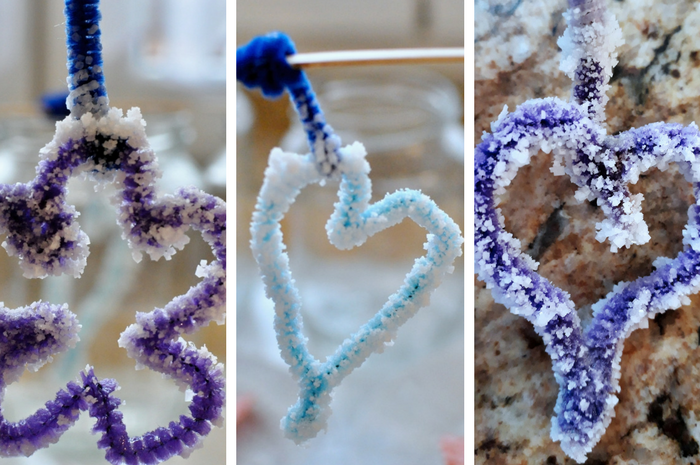 Čo budete potrebovať:
soľ
vodu
zaváraninové poháre
chlpaté drôtiky
nejaké drievko na zavesenie drôtika (lekárske paličky, štipec, špajla)
farebný papier
tanier
čas a trpezlivosť
Ozdoby zo slaných kryštálov z chlpatého drôtika
Na začiatku vášho experimentovania si musíte pripraviť poriadne nasýtený slaný roztok. Nalejte do hrnca vodu (množstvo záleží podľa toho koľko ozdôb v koľkých pohároch budete robiť), keď voda začne vrieť, vsypte do nej postupne soľ. Sypte dovtedy, dokým už nie je voda tak soľou presýtená, že sa už soľ nerozpúšťa. Na vode aj po bokoch hrnca sa vám vtedy začnu usádzať slané kryštáliky. My sme dali 1 kg soli do 2 litrov vody.
Kým sa soľ rozpúšťa vo vriacej vode, vyrobte si z chlpatých drôtikov rôzne ozdoby. Môj pôvodný zámer bol robiť snehové vločky, ale neprešlo mi to, baby mali svoje požiadavky. Tak u nás vznikali srdiečka a kvietky.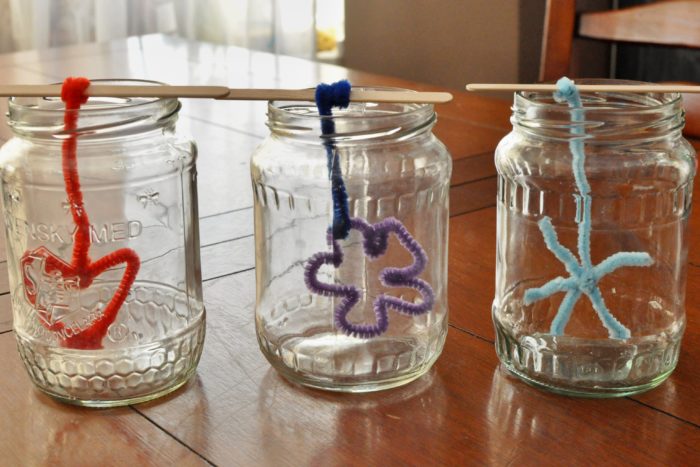 Ozdoby upevnite ďalším drôtikom na nejaké drievko, ktoré je dlhšie ako je priemer otvoru zaváraninového pohára. Toto drievko bude držať vašu ozdobu v pohári.
Slaný roztok nechajte trošku vychladnúť, nalejte ho do pohárov a ponorte do neho vaše ozdoby. Dávajte pozor, aby sa nedotýkali stien pohárov.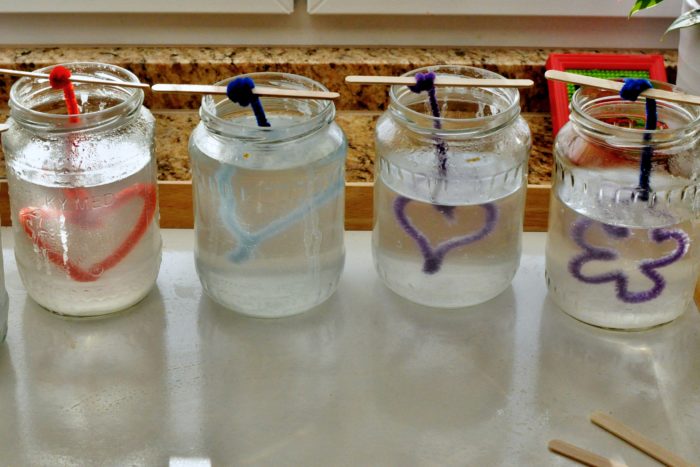 No a teraz už len čakajte a pozorujte. Soľ, ktorá sa už nevládala vo vode rozpustiť sa začne usádzať na vašich ozdobách a kryštáliky sa začnú spájať do väčších skupín.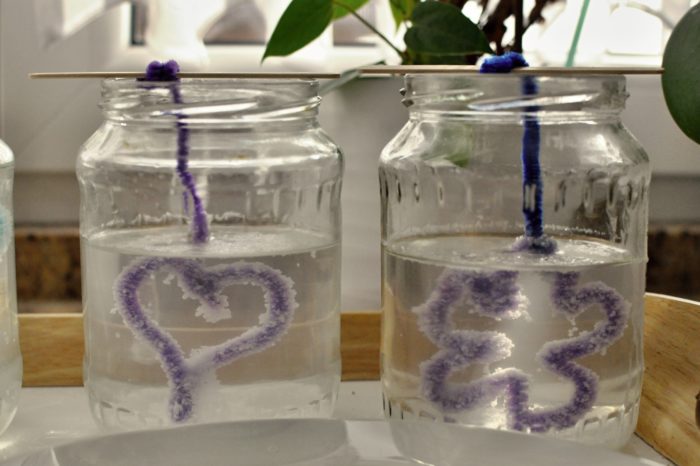 My sme nechali naše ozdoby vo vode 48 hodín, potom sme ich vybrali, nechali ich poriadne vyschnúť a pomocou lupy sme na nich pozorovali krystáliky soli.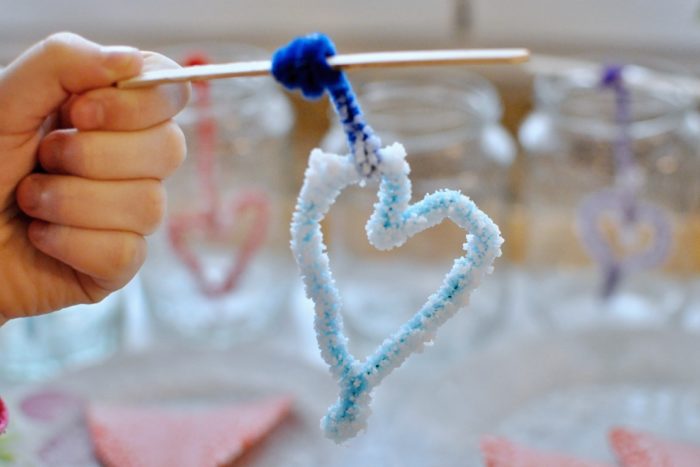 Papierové ozdoby
Druhý variant nášho experimentu je jednoduchší a rýchlejší.
Z farebného papiera si vystrihnite rôzne tvary. U nás zas vyhrali srdiečka (žeby sa blížil Valentín?).
Položte ich na tanier a zalejte slaným roztokom, ktorý vám ostal z prvého pokusu. Vody stačí toľko, aby bola ozdoba ponorená.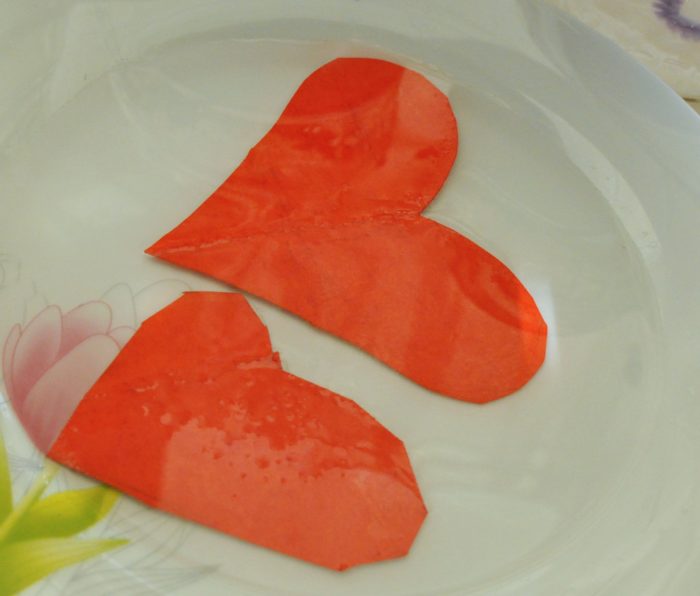 No a znova čakajte. Keď sa voda vyparí, na srdiečku vám ostanú krásne biele kryštáliky soli. Väčšie, či menšie. U nás to trvalo približne jeden a pol dňa.
Pri tomto pokuse si dievčatá spomenuli na múzeum soli, ktoré sme v lete navštívili v chorvátskom Nine. Tam sme sa rozprávali o tom, že sa soľ vyrába odparovaním z morskej vody. A práve na tomto pokuse videli ako to asi funguje.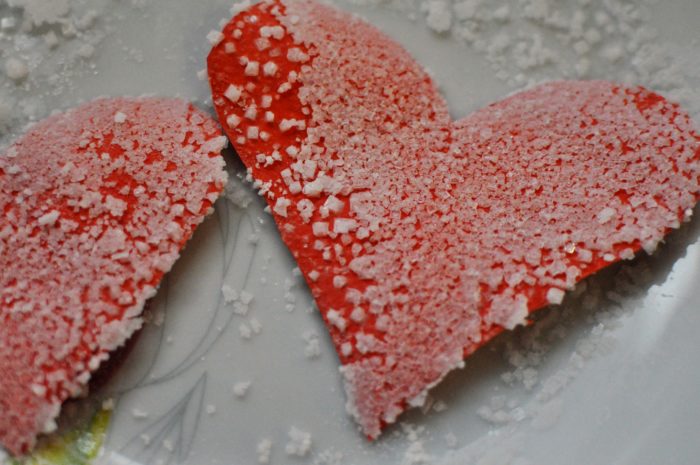 Keď sú ozdoby hotové, neostáva nič iné, len vziať lupu a pozorovať ich. Alebo zavesiť na šnúrku a darovať? 🙂
https://www.spolupozaskolu.sk/wp-content/uploads/2018/02/slane-krystaly.png
315
560
Katka
https://www.spolupozaskolu.sk/wp-content/uploads/2021/04/logo-spolupozaskolu.jpg
Katka
2018-02-05 20:25:15
2018-11-21 15:41:21
Ozdoby zo slaných kryštálov