Formy pevniny a vody. 3.časť. Trojzložkové karty na stiahnutie
A je tu posledná časť o tom, ako sme spoznávali rôzne formy pevniny a vody podľa montessori. Ak vás zaujíma ako sme začali, články o tom môžte nájsť tu a tu.
Posledné dve formy pevniny a vody, ktoré nám ostali na spoznávanie a preskúmanie, sú prieliv a pevninská šija. Nechala som si ich nakoniec, lebo sú to pojmy deťom takmer úplne neznáme. Dokonca som v niektorých zdrojoch našla ich rôzne pomenovania. Miesto pojmu prieliv pojem úžina a pevninská šija bola aj zemskou šijou, alebo len šijou. Ja som zvolila pojmy prieliv a pevninská šija s jednoduchého dôvodu. Zdali sa mi najlogickejšie k tomu čo predstavujú.
Prieliv je úzky pás mora ktorý oddeľuje dve väčšie plochy pevniny a spája dve väčšie vodné masy  a pevninská šija je jeho opak.  Prieliv sa proste cez dve pevniny prelieva 😉
Ako tradične sme si prieliv a šiju ukázali na kartách a vymodelovali sme ich z plastelíny v miske.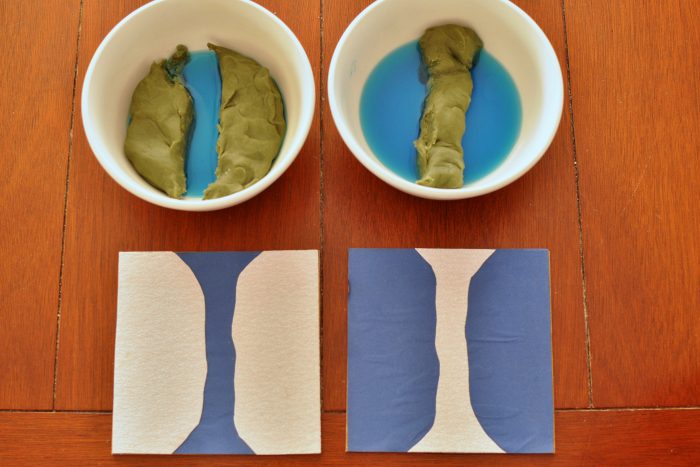 Toto je super aktivita aj pre menšie deti. Nepoznám dieťa, ktoré by nemalo v láske plastelínu a vodu. Naša Maruška sa tiež zapájala a pomáhala nám vyrábať niektoré formy pevniny a vody, a aj keď si možno nezapamätá toľko čo jej staršie sestry, určite si z týchto aktivít vezme to svoje, čo práve ona potrebuje. A potom sa kľudne stane to, že pri ceste autom okolo veľkej priehrady skríkne práve to 4 ročné dieťa: "Aha mami, aká veľká zátoka."
Po modelovaní sme si ako už tradične pohľadali nejaké prielivy a pevninské šije na glóbuse a na internete. Tentokrát nám výborným našepkávačom bola Wikipédia, ale veľa toho našli dievčatá aj samé. Na glóbus nedáme dopustiť. Terezka samozrejme nemohla vynechať Austráliu a tak našla Torresov prieliv medzi Austráliou a Novou Guineou.
Keďže sme sa od modelovania presunuli k 2D objektom, nastal ideálny čas na trojzložkové karty.
Vyrábala som ich sama a sú k dispozícii aj pre vás na stiahnutie tu. Stačí vytlačiť, zalaminovať, rozstrihať a môžte sa hrať. Keďže moje baby sú už väčšie, ku kartám som pripravila aj definície jednotlivých pojmov.
Najprv dievčatá spárovali karty s názvami, potom k nim pridali kontrolné karty, ktoré pomáhajú odhaliť a napraviť chybu a nakoniec sme si prečítali a priradili jednotlivé definície.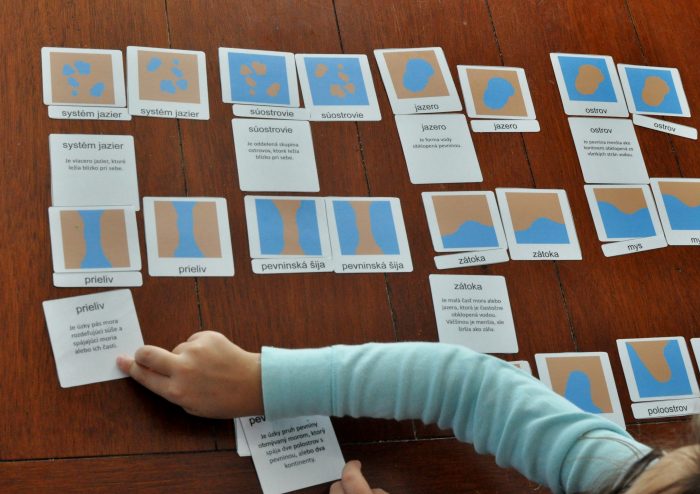 S trojzložkovými kartami môžu pracovať aj menšie deti, ktoré nevedia čítať. Keď napríklad spárujú model predmetu s príslušnou kartičkou.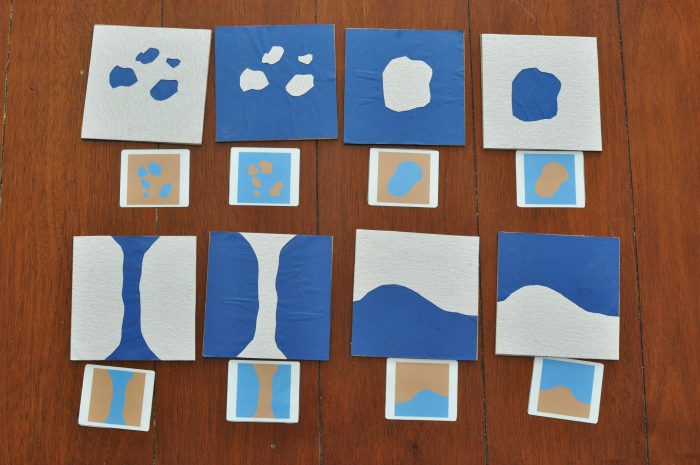 Neboli by to moje deti, keby nevymysleli niečo tvorivé. Už na začiatku pri spoznávaní prvých foriem povrchov zeme sa im veľmi páčili hmatové karty, ktoré som vyrábala. Zrejme ich oslovila tá odlišnosť šmirgľového a obyčajného papiera na dotyk. Terezka veľmi chcela vyrobiť niečo podobné, tak sme dali hlavy dokopy a vznikla z toho krásna mapa rôznych foriem pevniny a vody.
Dievčatá si najprv na výkres ceruzkou predkreslili ich krajinu (každá robila svoju), následne zo šmirgľového papiera vystrihli rôzne formy pevniny a zalepili ich. Vznikli im tak drsné miesta na pevnine a hladké vodné plochy.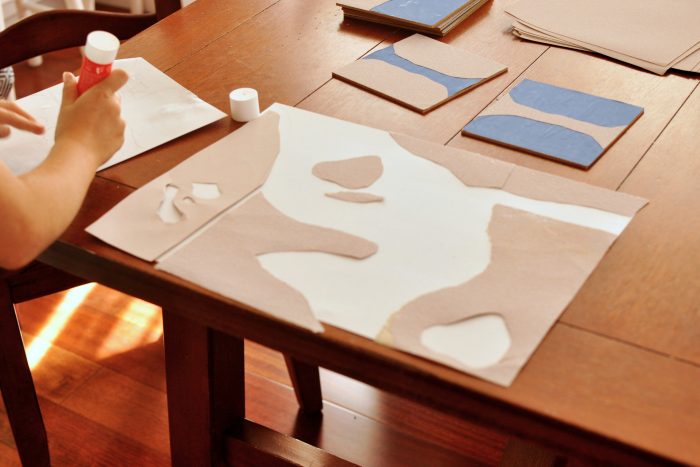 Mapu dotvorili voskovkami. Tie sa ukázali ideálne na tieňovanie, aby sa odlíšila rôzna hĺbka vody, alebo výška pohorí, či nížin na pevnine.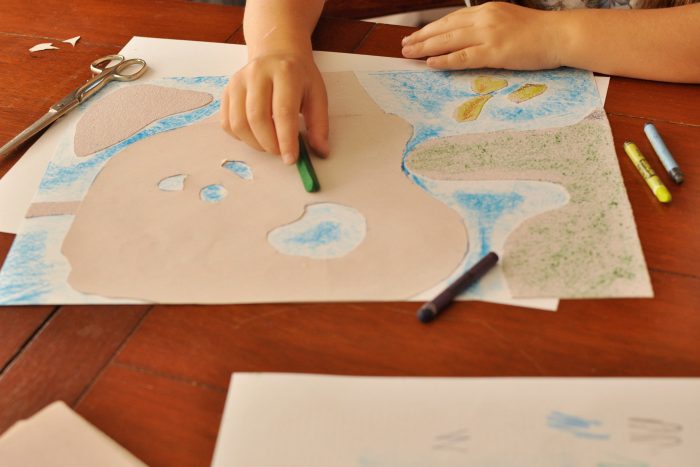 Oba výkresy sme potom spojili, dorobili sme k nim popisky a náš projekt bol zavŕšený.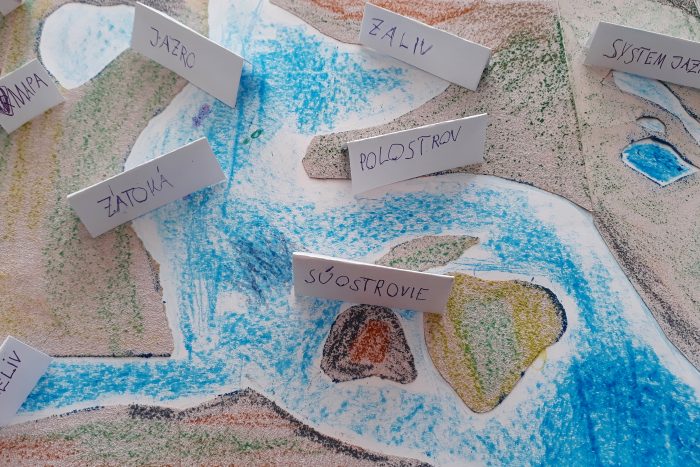 Teraz máme už len jeden problém. Na ktoré miesto v dome to zavesíme, lebo je to naozaj nádherné dielo.