Tento týždeň plynie akosi pomaly a pokojne. Ešte stále som v móde "zima", bez energie a bez nejakých väčších "wau nápadov". Najradšej by som väčšinu dni preležala pod dekou s nejakou dobrou knihou a zeleným čajom po ruke. Žiaľ, alebo našťastie (záleží kto sa na to díva), moje deti nezdieľajú moje pocity. Ako vždy sú neustále v pohybe, im je úplné jedno, že vonku je celý deň hmla a že ja sa mením asi na hibernujúceho medveďa. Takže nedá sa nič robiť, aj tento týždeň musím vstať z postele a zapojiť sa do víru života.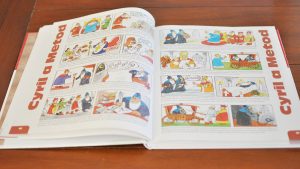 Teri má momentálne nejaké historické obdobie.  Dostala sa k nemu cez učebnicu vlastivedy, podľa ktorej by mali tretiaci spoznať určité dôležité historické osobnosti Slovenska. Začítala sa do nej a zasypala ma otázkami.
Ako vlastne vzniklo Slovensko? Akí ľudia tú kedysi žili? Čo tu robili? Mali sme nejakého kráľa? Či kráľovnú?  Učebnica jej nedala dostatočné odpovede, tak som sa poobzerala po inom zdroji.  Do oka a do rúk mi padla kniha Obrázkové dejiny Slovenska a stala sa nateraz našou učebnicou.
Kniha zachytáva slovenské dejiny od príchodu prvých Slovanov na naše územie, až po vznik samostatnej Slovenskej republiky. Je to vlastne jeden veľký komiks, preto je pre deti príťažlivá a ľahko sa im číta. My sa s Terezkou striedame v čítaní. Jeden príbeh ja, druhý ona. Takto veci vlastivedné spozná oveľa jednoduchším a pútavejším spôsobom.
Aby sme si to množstvo informácii aj nejako zvizualizovali  nakreslili sme časovú priamku a jednotlivé, pre nás zaujímavé udalosti do nej zapisujeme. Tak sme si zatiaľ prešli príchod Slovanov na naše územie, Samovu ríšu, vznik Veľkej Moravy (povesť o Svätoplukových prútoch nesmela chýbať). Trošku sme riešili aj Cyrila a Metoda a dostali sme sa až k príchodu valachov na naše územie a zistili sme, že naše bryndzové halušky vôbec nie sú naše. Sama som zvedavá, aké ďalšie zaujímavosti na nás čakajú.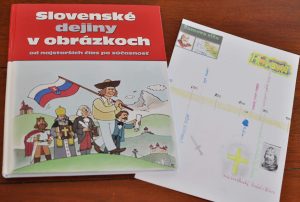 Keď konečne vyjde slnko, plánujeme zájsť na miesto archeologických vykopávok, tu v okolí. Nie sú to síce vykopávky z čias prvých Slovanov, siahajú oveľa ďalej, ale  tento záujem o veci historické treba podporiť. A to sa úplne bez mučenia priznávam, že to neskutočne baví aj mňa.
Nakoniec sa predsa len oplatilo prebrať sa zo zimného spánku.
https://www.spolupozaskolu.sk/wp-content/uploads/2017/03/DSC_0102.jpg
2370
4218
Katka
https://www.spolupozaskolu.sk/wp-content/uploads/2021/04/logo-spolupozaskolu.jpg
Katka
2017-02-16 17:07:24
2021-08-04 15:33:15
Komiksové dejiny Slovenska