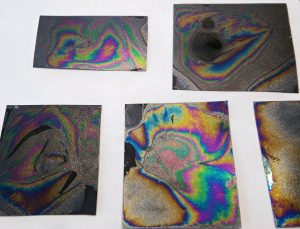 Tak sa nejak u nás stalo tradíciou, že piatky mame voľnejšie. Už na nás všetkých spoza rohu kýva víkend a naša energia vtedy prudko klesá, ale aby to zas nebolo len také lážo plážo, niečo robiť treba.
Už malé deti milujú pokusy a rôzne experimenty. Sú to ich prvé dotyky s fyzikou, či chémiou, v čase, keď ešte ani netušia, že nejaká fyzika či chémia vôbec existujú. Moje deti nie sú výnimka. Viem, že keď ohlásim, že dnes bude pokus, úspech mám zaručený. Kedže toho ma jedna mama na hlave fakt dosť, a učenie dokáže niekedy poriadne dať zabrať nielen deťom, ale aj mne, snažím sa väčšinou držať jedného pravidla, ktoré ma naučili na vysokej škole: aby minimálne úsilie z mojej strany prinieslo maximálny účinok.
Inými slovami: "za málo peňazi, veľa muziky."
Tak som večer googlila a našla som geniálny pokus, ktorý zvládnu aj malé deti, dokonca bez akéhokoľvek zásahu dospelého….a výsledok, krásny dúhový papier, je jedna nádhera, ktorá poteší nielen srdce vedecké, ale aj to umelecké.
Posúďte sami:
Čo budeme potrebovať:
1 väčšiu misku s vodou,
čierny papier
priesvitný lak na nechty
Do misky s vodou položíme papier, na vrch kvapneme jednu, dve kvapky laku. Lak vo vode vytvori povlak, cez ktorý potom papier vytiahneme von a dáme ho sušiť na pripravenú papierovú utierku (sušenie netrvá dlho) a môžme sa kochať dúhou na papieri.
Dá sa to robiť aj opačným postupom. Najprv teda kvapnúť lak a do miesta, kde sa roztiahol ponorime a následne vytiahneme papier. Tu sa môžme aj chvíľu zastaviť a pozorovať ako sa farby menia keď papier ponárame, prípadne rozvinúť debatu o rozklade svetla
.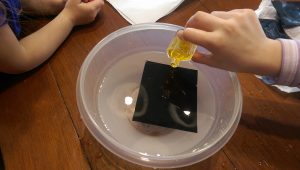 Aby bol pokus úspešný, treba ho robiť rýchlo. Lak na povrchu vody pomerne rýchlo schne a potom sa už na papier neprilepí. Ak sa to aj stane, nevadí, stačí uschnutý lak vybrať a začat odznova.
S papiermi sa dá potom robiť všeličo, od pozorovania pod rôznym svetlom a pod rôznym uhlom, po hľadanie tých najrôznejších farebných odtieňov. My ich plánujeme neskôr využiť na ďalšie tvorenie .
Ale o tom nabudúce 🙂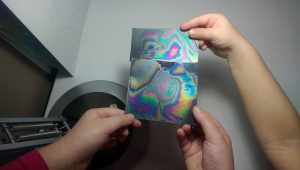 https://www.spolupozaskolu.sk/wp-content/uploads/2017/03/DSC_0060-1-e1489248982360.jpg
2248
3721
Katka
https://www.spolupozaskolu.sk/wp-content/uploads/2021/04/logo-spolupozaskolu.jpg
Katka
2017-03-02 18:15:26
2017-04-22 13:25:45
Pokusný piatok: Dúhový papier