Leonardo da Vinci. Seriózne aj s humorom
Včera sme sa doma pustili do novej témy. Vybrala ju Terezka. Veľmi ju zaujíma Leonardo da Vinci, tak som sa toho chytila a pripravila pre baby na túto tému rôzne aktivity.
Deň sme začali rozprávkou. Keby toto teraz čítali deti sediace v školskej lavici, asi by nám závideli. Ale rozprávka to bola k téme. Presne povedané,  7. diel seriálu Bol raz jeden vynálecza. Kto tuší, že je práve o Leonardovi, tuší správne.
Tento príbeh prevedie deti celým jeho životom a ukáže im, že Leonardo da Vinci nebol len maliar, ale naozaj génius, ktorý sa venoval toľkým oblastiam, že sa z toho až hlava krúti.
Po rozprávke prišli na rad knihy. Nemáme ich doma o výtvarnom umení veľa, ale niečo sa predsa našlo. Prvá bola na rade minibiografia Leonarda da Vinci. Z tejto série sme si už čítali biografiu o Newtonovi. Je písaná pre detského čiateľa, ale jej veľkou nevýhodou je, že je v českom jazyku. Preto som ju čítala dievčatám ja nahlas.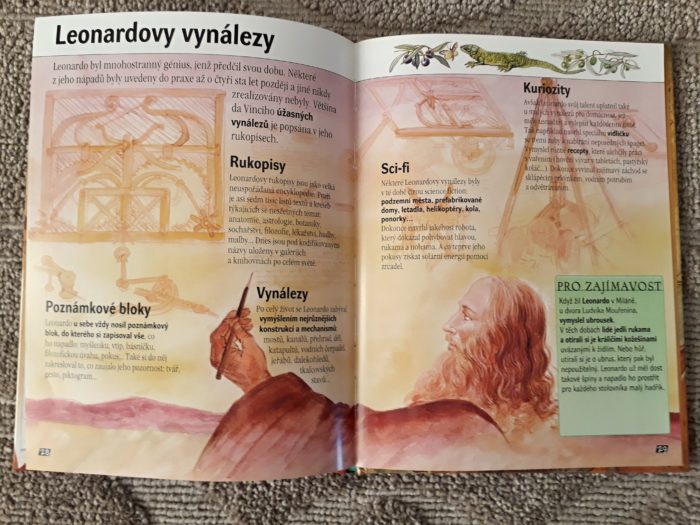 Nedávno sa ma niekto spýtal, ako to robím, že baby pri mne sedia a počúvajú keď čítam. Je to preto, že väčšinou čítam vtedy, keď sú ich ruky niečim zamestnané. Napríklad teraz, pri čítaní biografie o Leonardovi, som im dala maľovanku Poslednej večere. Takto sedeli na mieste, ruky pracovali a uši počúvali.
Potom sme si ich výtvory porovnali s "originálom". Žiaľ, nemáme možnosť vidieť slávne diela osobne (možno sa nám to raz podarí), tak nám opäť poslúžila kniha. Konkrétne veľká encyklopédia Umenie. A napríklad Monu Lisu si môžte pozrieť zblízka aj na tomto linku. (Moje baby, po jej pozornom preštudovaní, prišli s celkom zaujímavými teóriami v čom spočíva jej záhada.)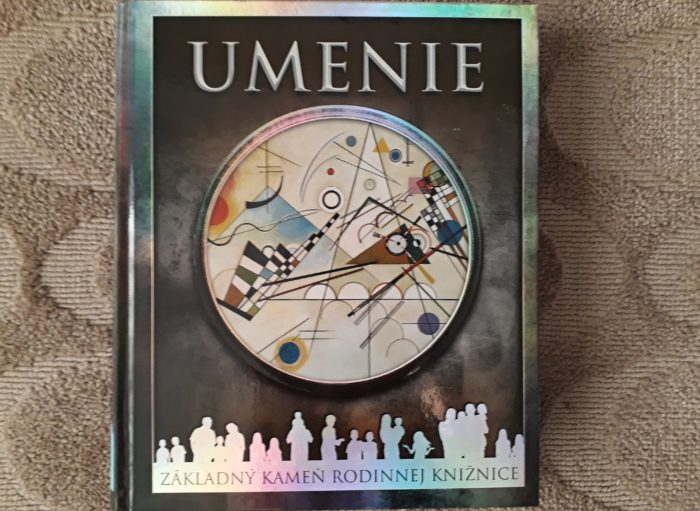 Aby baby poznali aj iné diela Leonarda da Vinci, pripravila som pre nich 3 zložkové karty s jeho maľbami. Niektoré boli dievčatám známe, iné videli prvýkrát.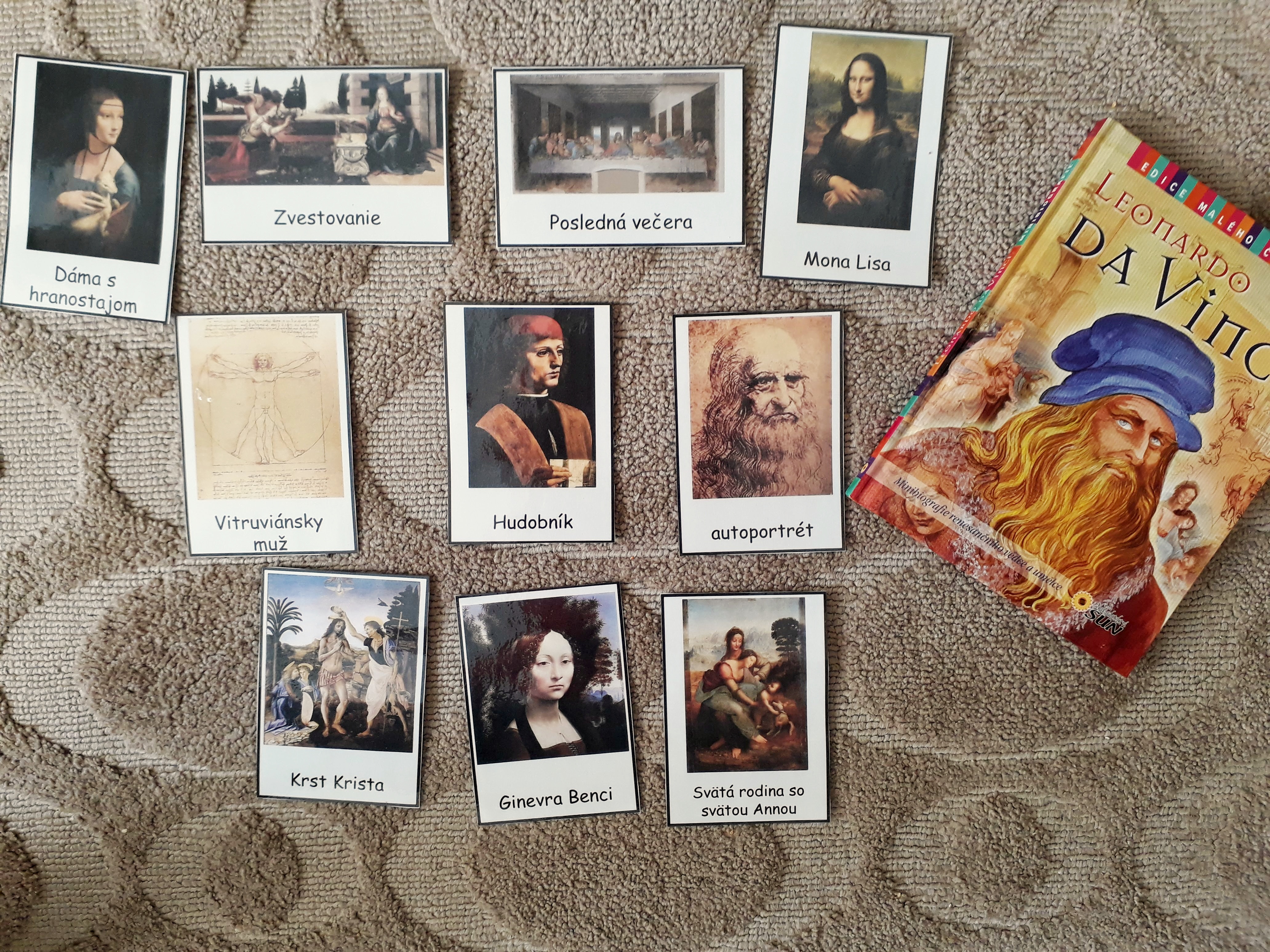 Ak máte záujem, môžte si ich u nás stiahnuť. Nech sa páči.
No a ak sa vám žiada aj nejaká zábavná aktivita spojená s Leonardom da Vinci, čo tak nakresliť si vlastnú Monu Lisu. Na internete som našla takúto zábavnú aktivitku. Stačí stiahnuť, vytlačiť a nechať deti tvoriť.
My sme si najprv ku každému obrazu vymysleli príbeh. Maruškina Mona Lisa oslavuje narodeniny, Julinkina Mona Lisa sa premenila na "supermanku" a Terezkina, ktorá je praprapravnučka pôvodnej modelky stojí na balkóne a pózuje podobne ako jej predchodkyňa.
Detská fantázia nemá hranice.
Aj v tom je krása domáceho vzdelávania. Máme čas aj na také témy, ku ktorým by sa deti bežne v škole nedostali a doma by už na ne nemali čas.