Aj minulý týždeň sme u nás doma vládla tvorivá atmosfére. Babám sa veľmi páči grécka mytológia, preto sme sa nechali  inšpirovať starogréckym umením a maľovali sme grécke nádoby.
Veľmi nám pri tom pomohla, ako inak, kniha. Vydavateľstvo Fonibook vydalo nedávno sériu skvelých obrázkových historických kníh, ktoré mapujú históriu ľudstva od praveku až po stredovek. No a jedna z nich sa zaoberá aj starovekým Gréckom. Takéto knihy zatiaľ čítame tak, že si z nich vyberáme len to čo nás aktuálne zaujíma, keďže mapujú dosť veľké časové obdobie.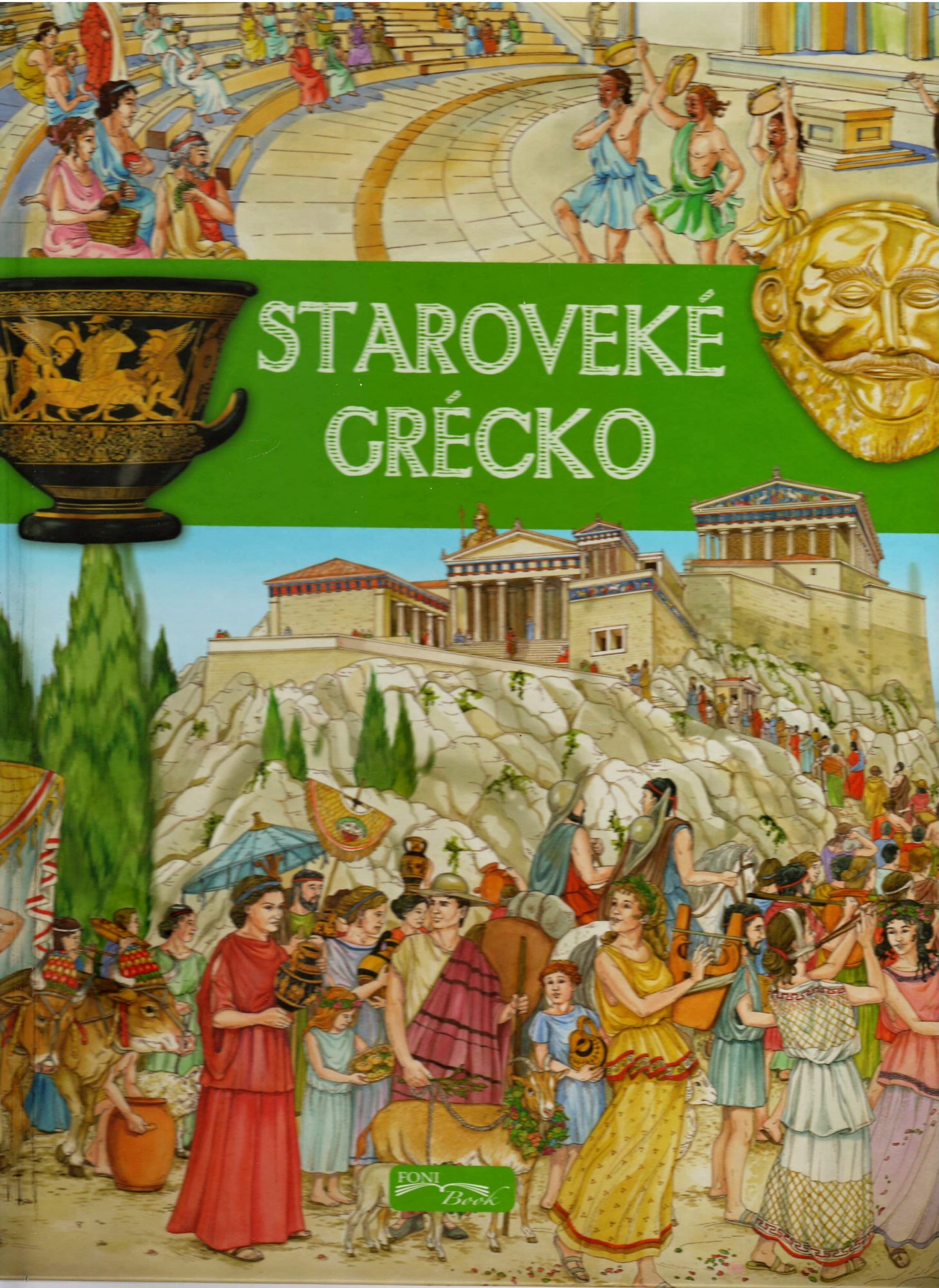 Z tej o Grécku, nás už dávnejšie zaujala ilustrácia gréckeho chrámu, na základe ktorej sme potom robili rôzne pokusy. Tentokrát sme si niečo prečítali o grécky hrnčiaroch a poľnohospodároch a to nás inšpirovalo k tvoreniu. Keďže baby boli tento týždeň choré, muselo to byť niečo jednoduché, pretože veľmi nevládali  (aj keď veľmi chceli).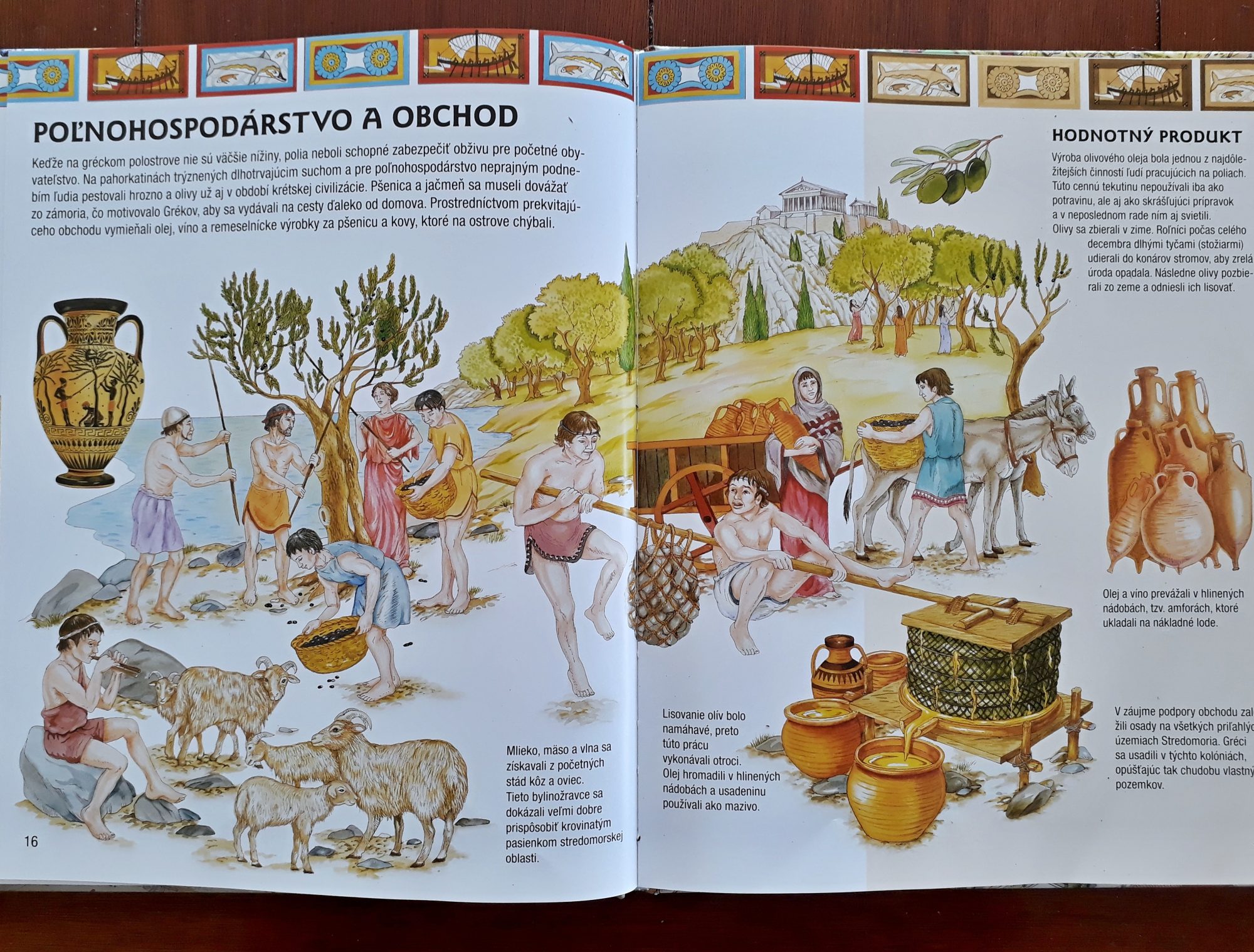 Vzala som teda rôzne oranžové papiere (lebo typické grécke nádoby a vázy boli červené, či oranžové) a pustili sme sa do práce. Najprv bolo treba nakresliť tvar nádoby. Google nám pomohol a ukázal aké kadejaké starogrécke nádoby môžeme vytvoriť. Z knihy sme sa dozvedeli, že najstaršie ornamenty na nádobách boli  geometrické vzory  a neskôr k nim pribudli rôzne figúry.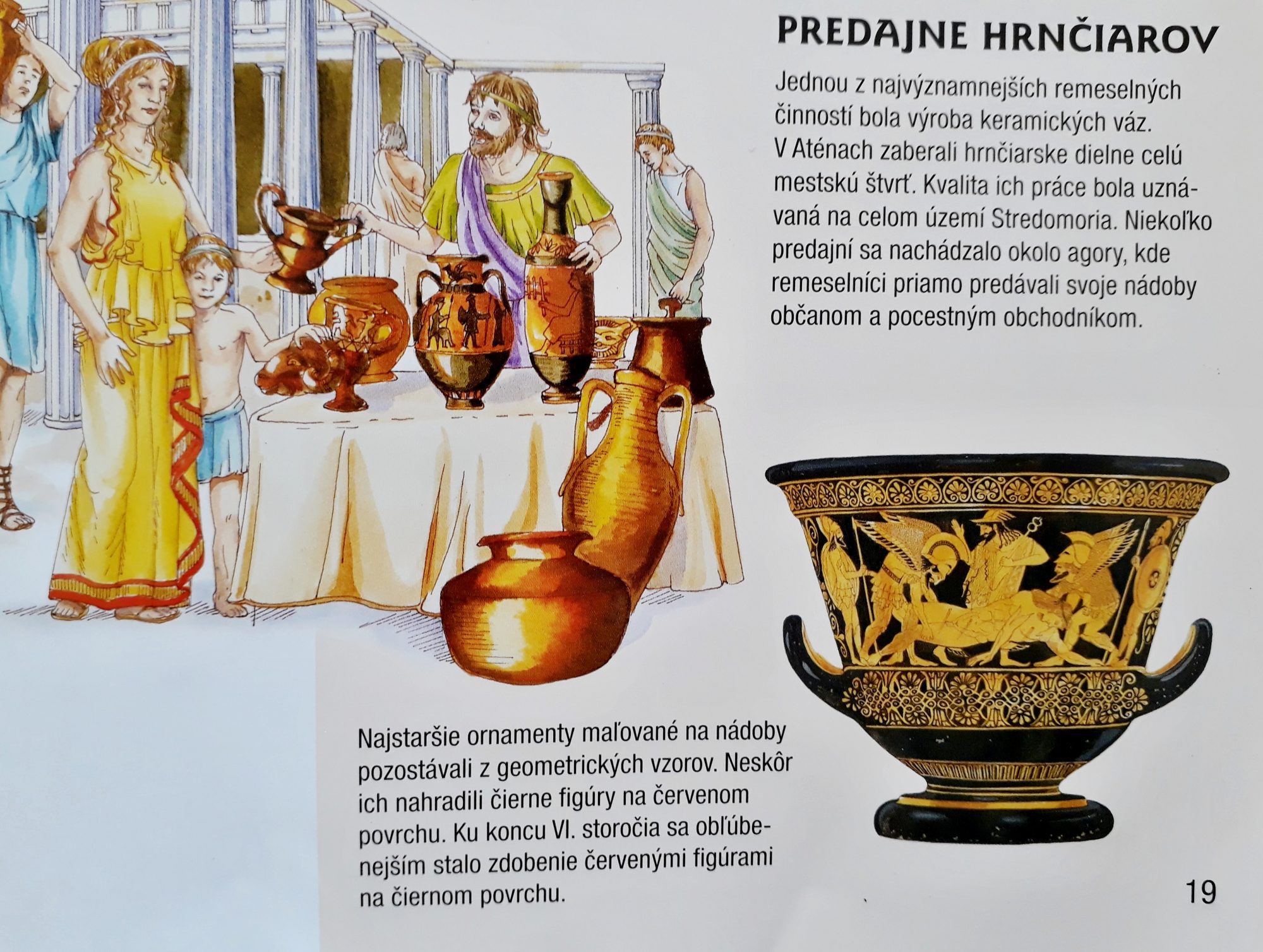 Znova som si pomohla googlom a ukázali sme si aké sú typické grécke geometrické vzory. Potom sme nádobu rozdelili na tri časti a baby začali kresliť. Najprv sa pohrali s geometriou a potom začali dumať nad figúrami.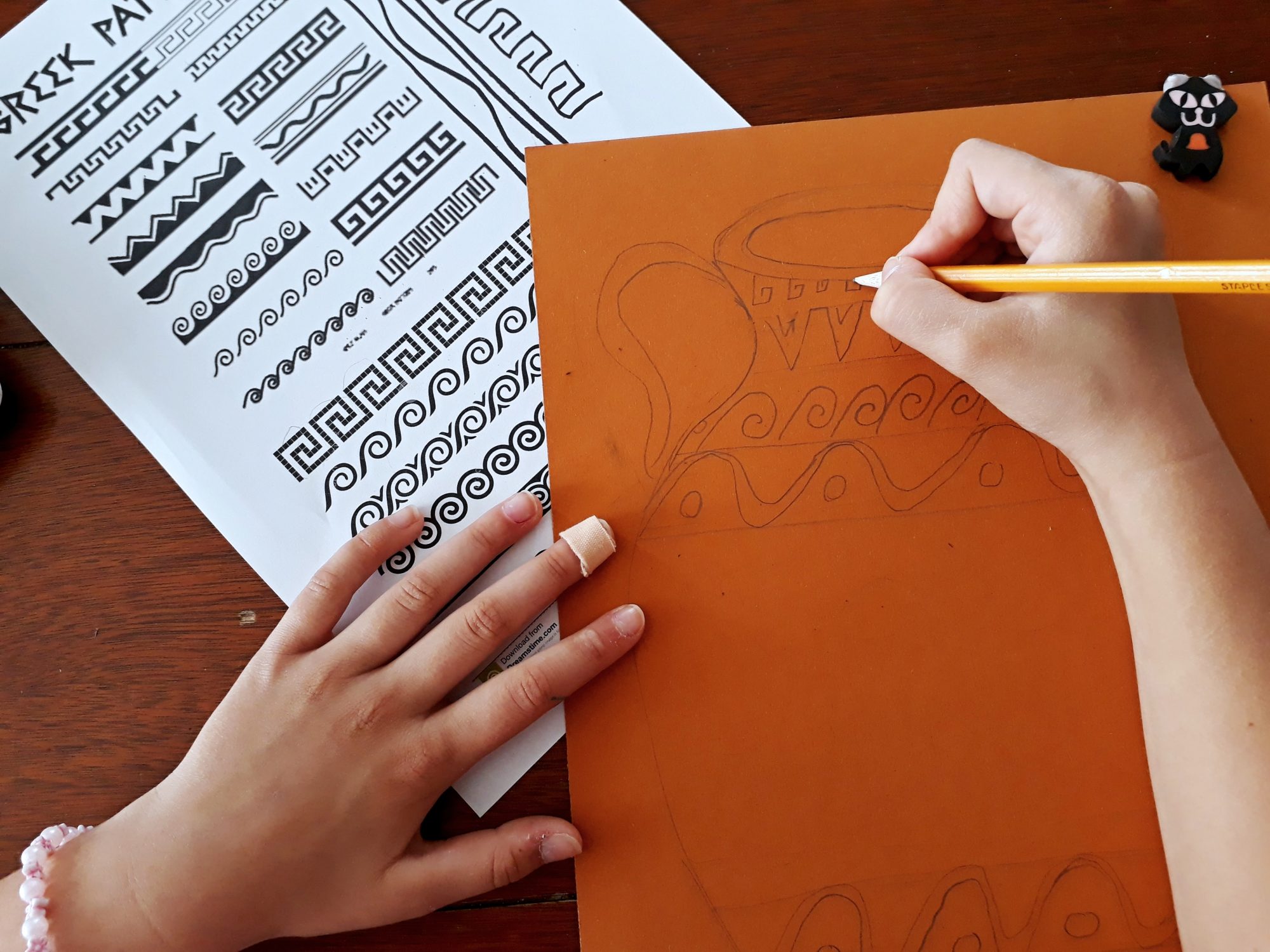 Máme už za sebou knihu Grécke mýty pre deti, Teri prečítala 5 častí Percyho Jacksona (a samozrejme všetky časti reprodukovala každému, kto bol ochotný ju počúvať), takže už čo-to o gréckej mytológii vieme.
Preto si obe do stredovej časti vázy nakreslili to čo ich najviac z tejto oblasti zaujalo. Juli, Pegasa a Teri boj kentaura s hrdinom.  Všetko to kreslili najprv ceruzkou ("aby sme sa náhodou nepomýlili, mami") a potom obťahovali čiernou fixou.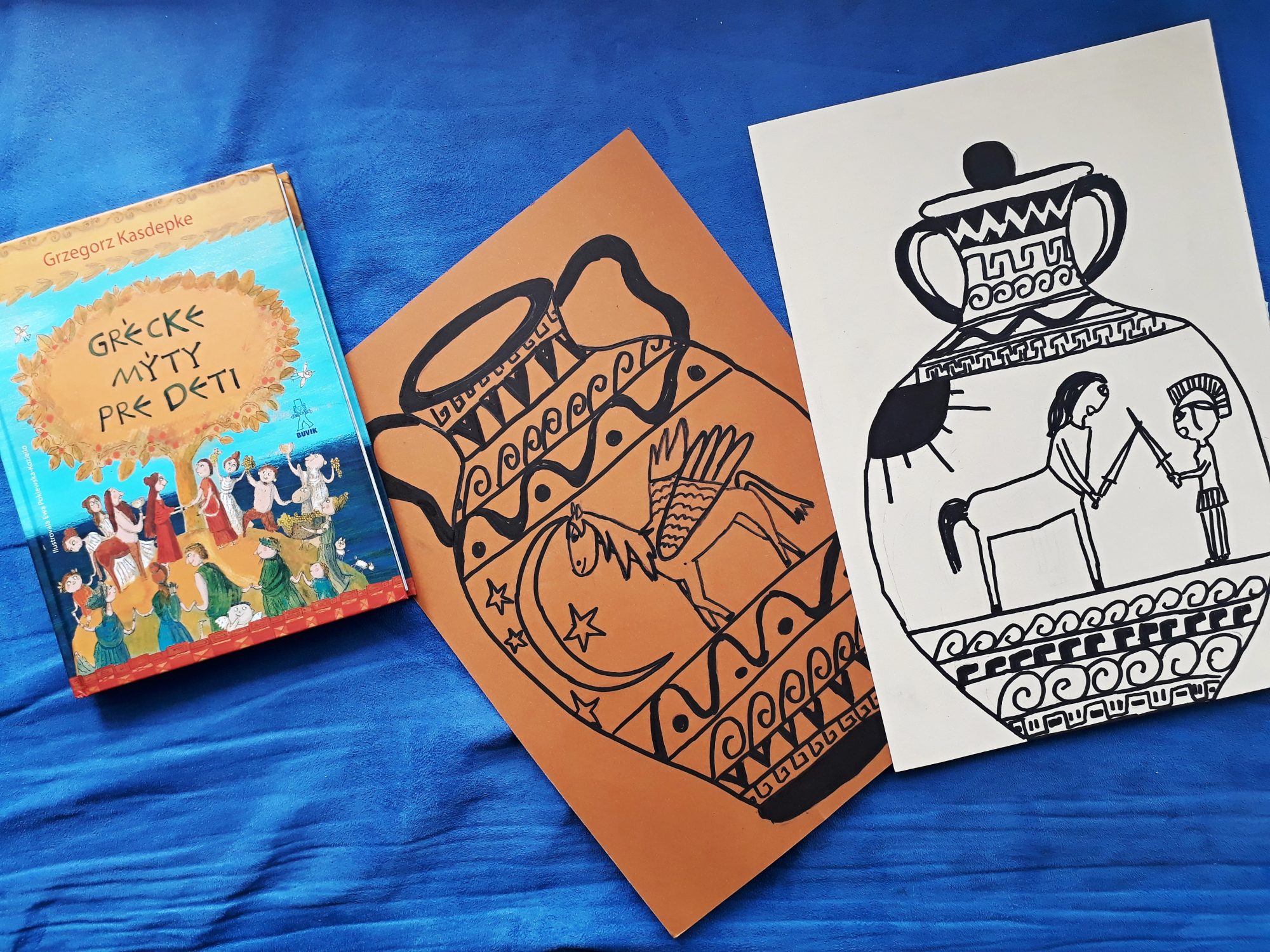 Najviac sa mi pri ich tvorení páčilo, ako začali spolu debatovať o rôznych hrdinoch a rôznych situáciách z grécky mýtov. Len som ich tíško sledovala a usmievala sa popod fúz. Taká jednoduchá a podnetná aktivitka, to sa nám všetkým páči.