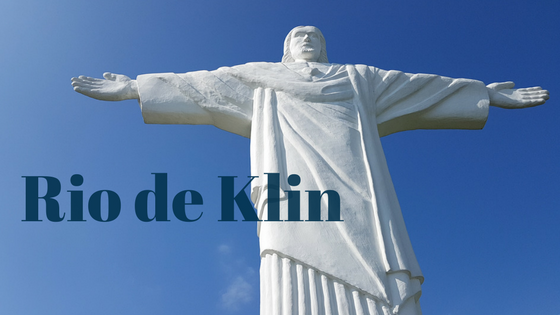 Tak sme sa znovu ocitli na mojej milovanej Orave. Je to krásny kraj a pre mňa jeden z najkrajších na Slovensku. Myslím, že každý si tu nájde to svoje. Či turisti, či vyznávači kultúry, alebo športoví nadšenci. Aj my sme sa tento predĺžený víkend rozhodovali, čo podniknúť. Počasie síce bolo ešte také kadejaké, chvíľami svietilo slnko, chvíľu lialo ako z krhly, ale aj napriek tomu nás to ťahalo von. Práve kvôli tomuto premenlivému počasiu padli naše plány na väčšie túry, ale nakoniec sme aj tak našli vhodnú náhradu. Šli sme sa pozrieť na Rio de Klin.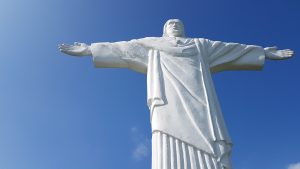 Že čo to je? Je to socha Ježiša Krista nad malou oravskou dedinkou Klin. A prečo Rio de Klin? Pretože socha je vernou kópiou tej z Ria de Janeira, akurát je o trošičku menšia. Tá pôvodná v Riu meria 30 metrov a táto  naša oravská 9,5 metra. Dozvedela som sa, že je vraj treťou kópiou sochy Krista z Brazílie, ale je  najväčšou sochou Spasiteľa na Slovensku.
Ak niekedy budete na Orave, určite sa tam choďte pozrieť. Dedinku Klin nájdete v okrese Námestovo a cesta k soche je celkom dobre značená, nemali by ste zablúdiť. Autom sa dá vyviezť od dediny k parkovisku pod kopcom, na ktorom Rio de Klin stojí a odtiaľ už pôjdete pekne po svojich. Cesta to nie je dlhá, ale je to celkom dobrý strmák, prevýšenie okolo 100m. Ja, s mojím živým 11 kilovým nákladom na chrbte, som sa síce trošku zapotila, ale za tú námahu to stálo.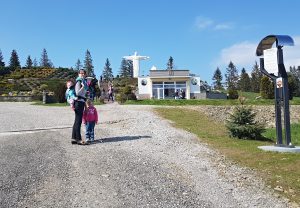 Hore na kopci je naozaj krásne. Vidno, že domáci sa o toto miesto dobre starajú. Okrem sochy sa tam nachádza aj krížová cesta Sedembolestnej Panny Márie, kaplnka Božieho milosrdenstva, socha modliaceho sa Jána Pavla II,  ale aj oddychová zóna s lavičkami na načerpanie novej energie. Okrem toho je z kopca Grapa nádherný výhľad na okolitú krajinu. Za dobrého počasia vidno aj Západné Tatry a Poľsko. My sme to šťastie nemali, viditeľnosť ten deň bola horšia, ale obzreli sme si aspoň Oravskú priehradu v celej svojej kráse.  No možno je to pre nás znamenie, že sa tam ešte niekedy máme vrátiť. S radosťou, to miesto vyžaruje pozitívnu energiu.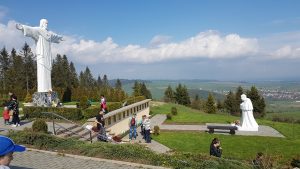 https://www.spolupozaskolu.sk/wp-content/uploads/2017/05/Rio-de-Klin.png
315
560
Katka
https://www.spolupozaskolu.sk/wp-content/uploads/2021/04/logo-spolupozaskolu.jpg
Katka
2017-05-08 22:46:25
2017-07-07 18:11:17
Rio de Klin. Aj toto sa dá vidieť na Orave.