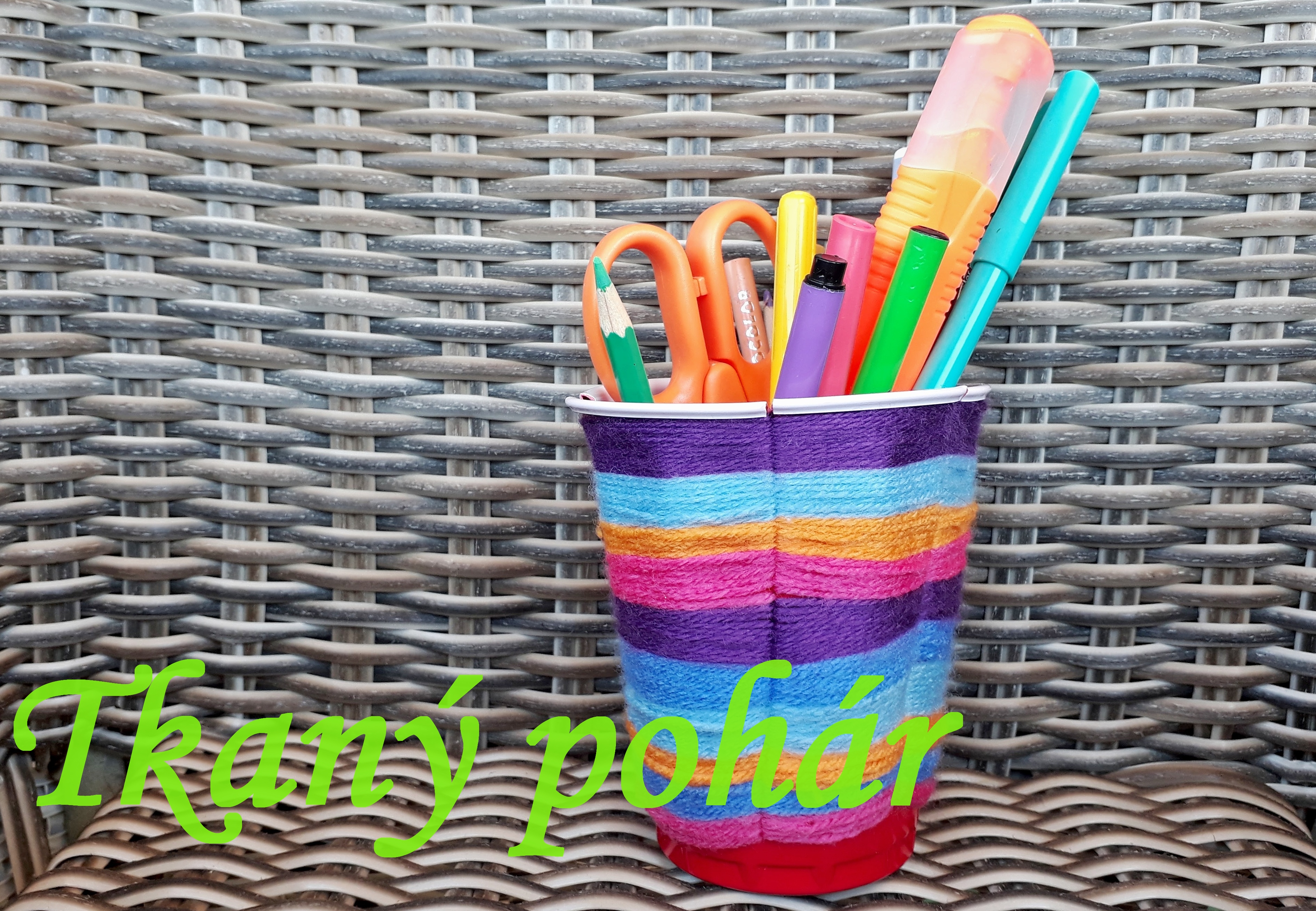 Minulý týždeň sme sa v Prečítanom lete venovali rukám. Úplne ideálna téma pre naše kreatívne duše. V takom týždni sa dá robiť kadečo. Našou hlavnou náplňou bola výroba šampónového slizu, ale Terezke očividne nestačilo a došla za mnou s požiadavkou, že chce niečo vyrábať. Na takéto prípady sa snažím mať v zálohe niečo jednoduché a hlavne niečo čo nevyžaduje dlhú prípravu. Tak sme si vyrobili tkaný pohár.
Už dlho som mala v oku túto jednoduchú vec. V Julinkinej izbe chýbal nejaký pekný pohárik na ceruzky a je jasné, že taký vlastnoručne vyrobený sa nám viac hodí ako nejaký kupovaný. A že každý jeden je originál, to snáď netreba dodávať. Tak poďme na to.
Čo budete potrebovať:
plastový pohár
vlnu (stužky)
nožnice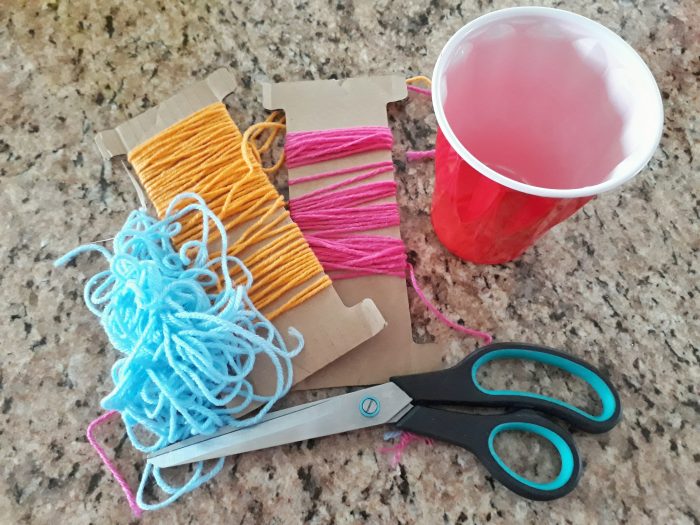 Najprv si pohár rozstrihajte na nepárny počet častí. My sme ten náš nerozstrihali až po spodok, lebo Terezka sa tak rozhodla, vraj je to takto pekné, keď vidno aj kus pohára, ktorým bolo jej dielo na začiatku.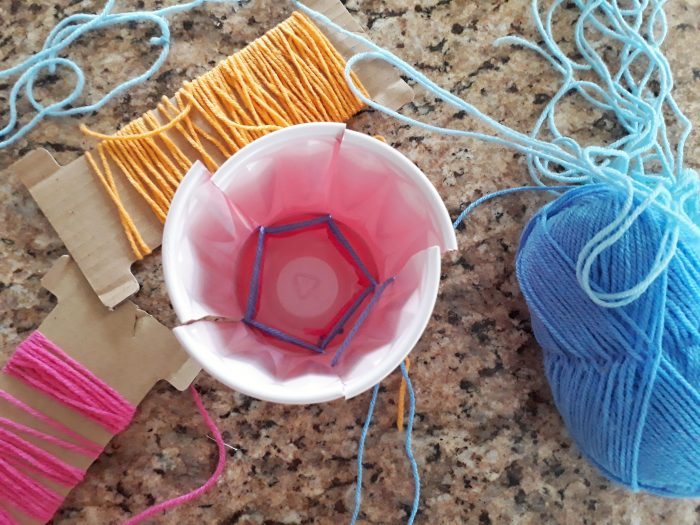 A prichádza na rad vlna. Na konci urobte uzlík, zasuňte ho do jedného výrezu a začnite omotávať vlnu dookola pohára. Najprv navrch, potom cez výrez dovnútra, zas navrch, zas dovnútra a tak dookola a dookola a dookola….Veľmi vlnu neuťahujte, lebo pohár stratí svoj tvar.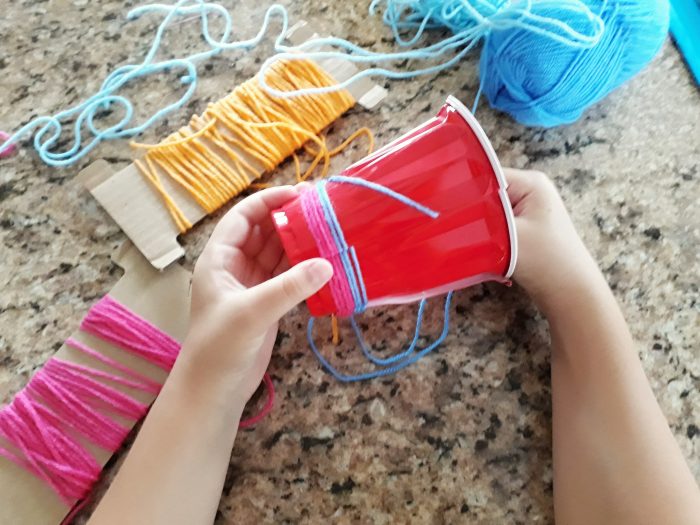 Keď chcete zmeniť farby, jednoducho zviažte novú vlnu so starou, uzlík skryte dnu do pohára a pokračuje. Navrch, dovnútra, navrch, dovnútra. Celé dielko zakončite uzlíkom a zvyšok vlny môžte prevliecť popod utkané pásy vo vnútri pohára a tak ešte istejšie zabezpečiť proti páraniu.
A tkaný pohár je hotový.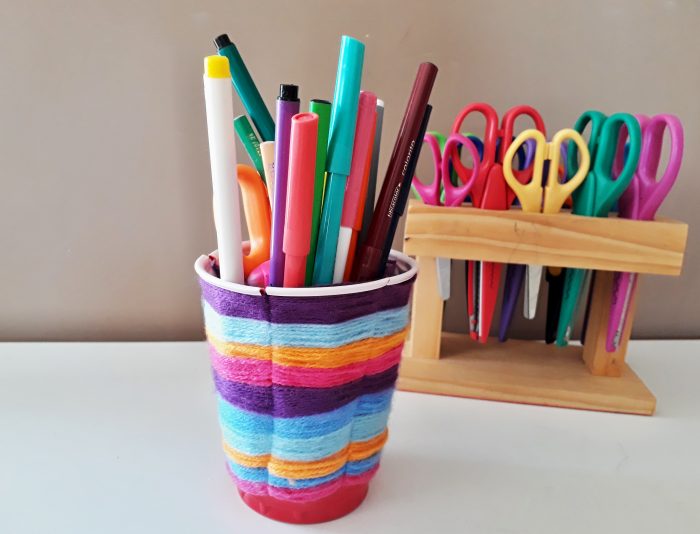 Pekné, že?
Človek by ani nepovedal, že sa taká obyčajná fádna vec dá takto jednoducho zmeniť na niečo užitočné a príjemné na pohľad. Raz to určite vyskúšame aj so stužkami. Myslím, že by to zvládla aj 4 ročná Maruška.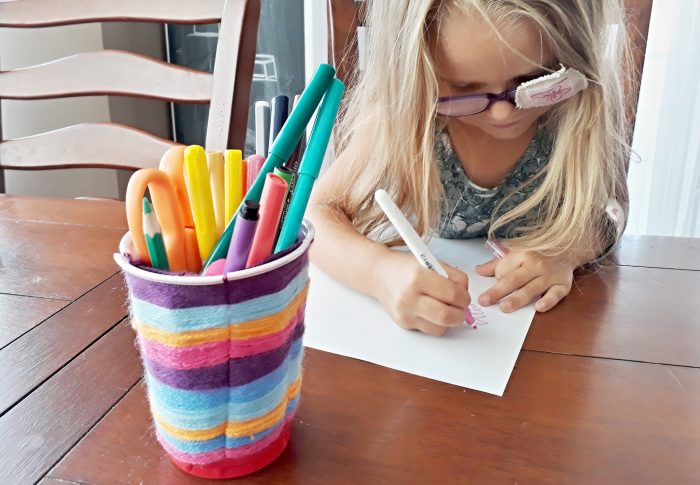 Idem ja ďalej škrečkovať po internete nové nápady, pre prípad, že nás zase kopne tvorivá múza.
https://www.spolupozaskolu.sk/wp-content/uploads/2017/07/20170731_111500-1.jpg
2620
3784
Katka
https://www.spolupozaskolu.sk/wp-content/uploads/2021/04/logo-spolupozaskolu.jpg
Katka
2017-07-31 14:16:57
2018-11-23 18:54:51
Tkaný pohár