Domáce zvieratá – projekt
Maruška si vymyslela projekt. Domáce zvieratá. Tak sme sa teda do neho spoločne pustili.
Tí, ktorí nás poznajú vedia, že u nás sa takmer každý projekt začína knihou. Niekedy čítame knihy len tak pre zábavu, či motiváciu a niekedy sú pre nás zdrojom nových informácií.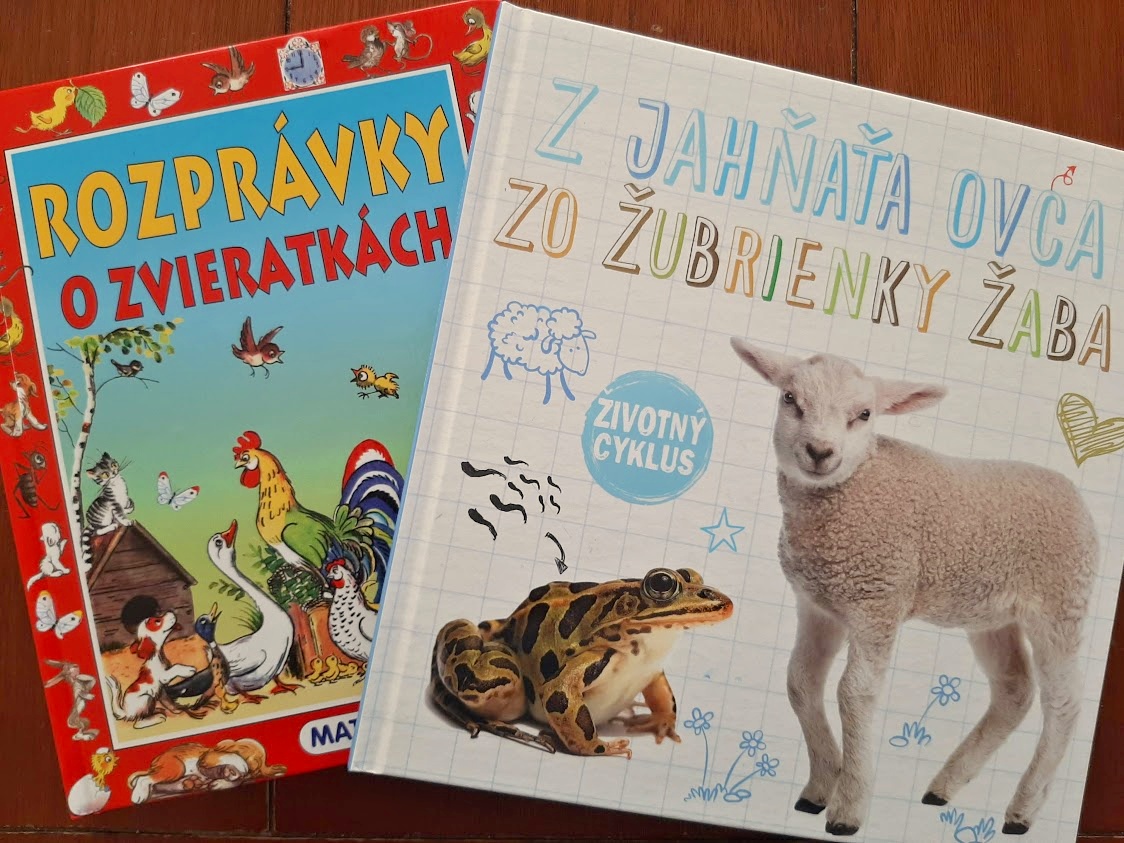 Tentokrát sme siahla po knihe. Príbehy o zvieratkách od V.G.Sutejeva, ktorú sme s Maruškou čítali na striedačku a knihe Z jahňaťa ovca, zo žubrienky žaba, z ktorej sme dozvedeli niečo nové o ovečkách. (Z tejto vydarenej edície máme aj druhú knihu, Z larvy včela, z kukly motýľ.)
Aby neostalo len pri rozprávaní a čítaní, rozhodli sme sa nové poznatky nejako zaznamenať. Najprv sme sa zamerali na zvieracie rodinky. Väčšinu domácich zvierat deti zvládnu pomenovať ľavou zadnou, ale niektoré vedia potrápiť detskú hlavičku. Také slová ako jahniatko, či žriebätko je fakt niekedy ťažké vydolovať z pamäti.
Obrázky zvierat som pre Marušku nachystala vopred, takže keď boli rodinky hotové, nalepila ich na papier, pripísala k nim ich mená. Aby toho nebolo málo, zvieratkám sme dopísali aj ich české a anglické názvy.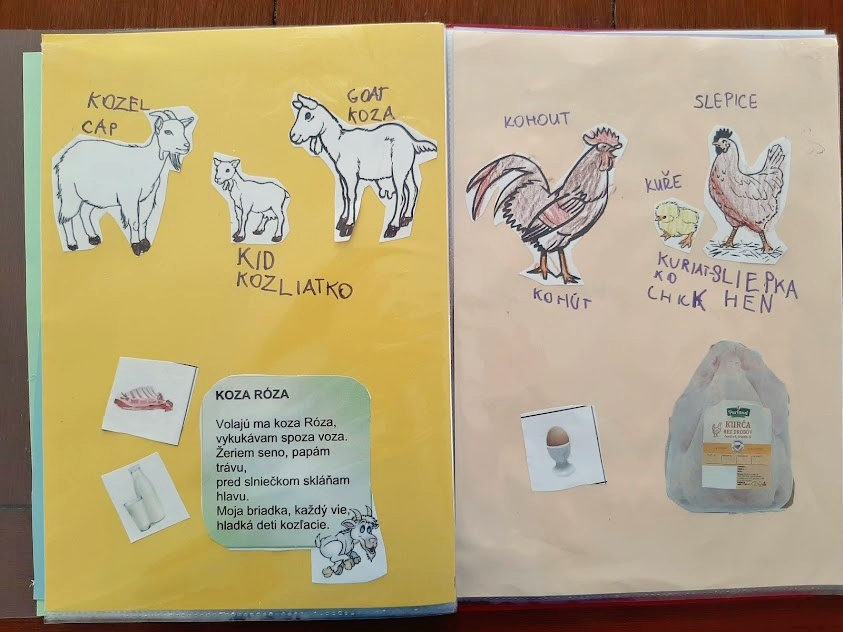 V ďalšej fáze sme sa rozprávali o tom, na čo nám vlastne domáce zvieratá slúžia. To, čo sme zistili, sme ku každému zvieratku dolepili. Pomohli sme si letákmi a znova obrázkami z internetu (Maruške sa nechcelo kresliť, tak len strihala a lepila dopredu prichystané obrázky).
K niektorým zvieratkám bolo treba ich úžitok dopísať. Maruška, ešte neovláda napísať všetky písané písmenká, tak to kombinovala.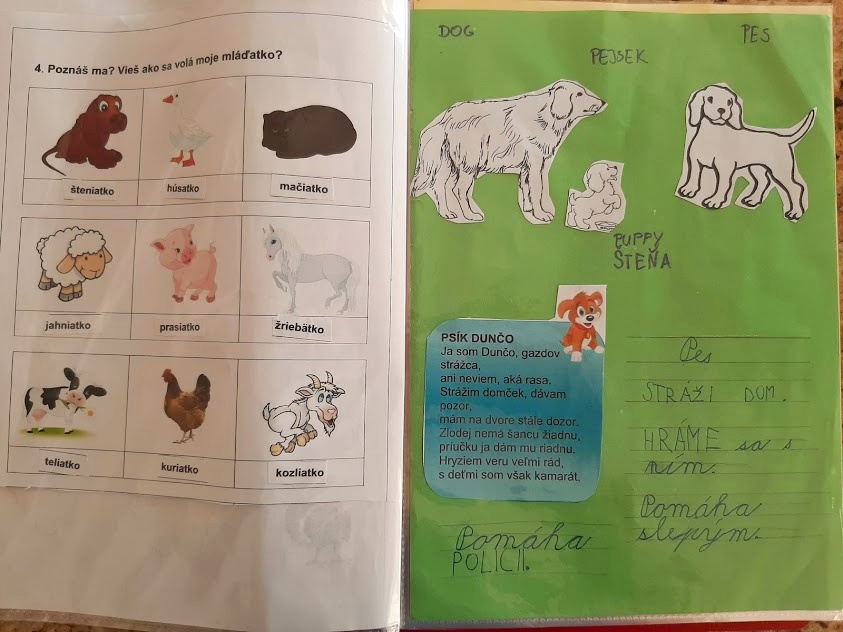 Keďže ale škola nie je len o písaní a čítaní, ale aj o rozvíjaní tvorivosti, náš projekt sme obohatili o zopár výtvarných aktivít. Prvou bola táto vzorovaná mačička. Zadanie bolo jednoduché. Nakresli domáce zviera, rozdeľ ho na menšie časti a každú časť pokry iným vzorom.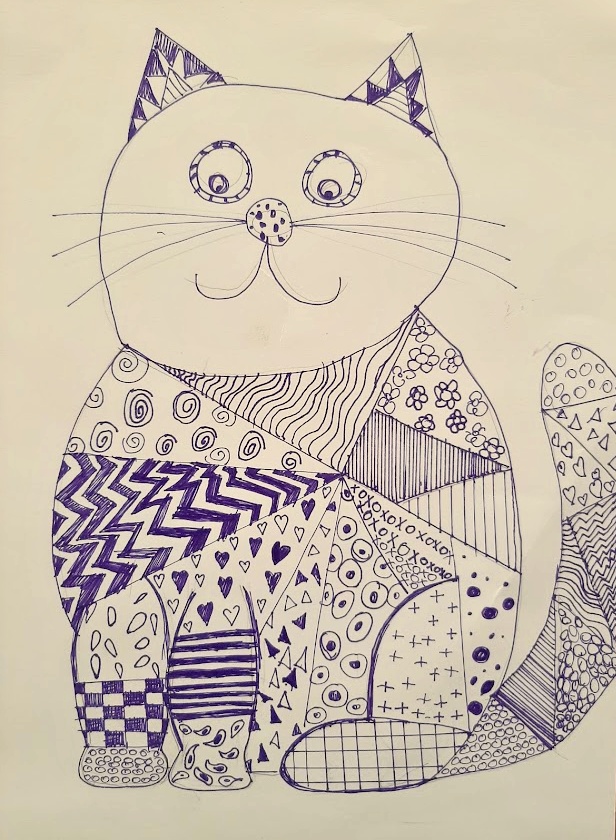 Druhá tvorivá aktivita "zabrdla" aj do geometrie. Z papierového tangramu mala Maruška za úlohu poskladať nejaké domáce zviera, prilepiť ho na výkres a dotvoriť obrázok.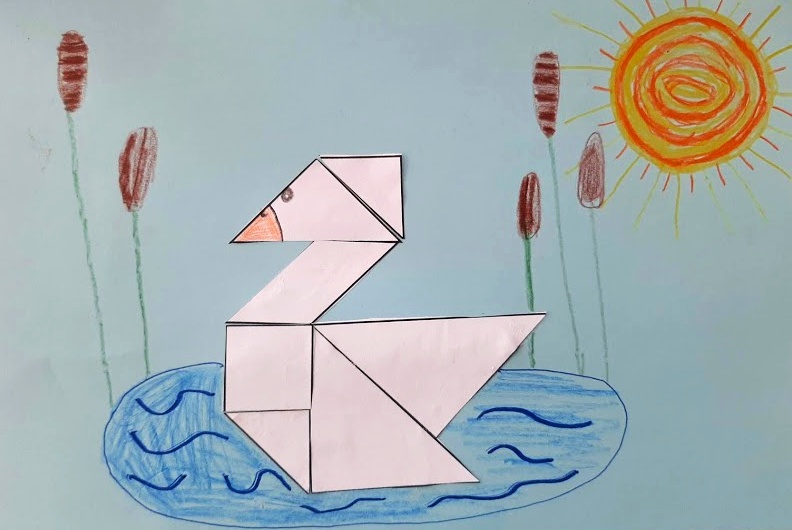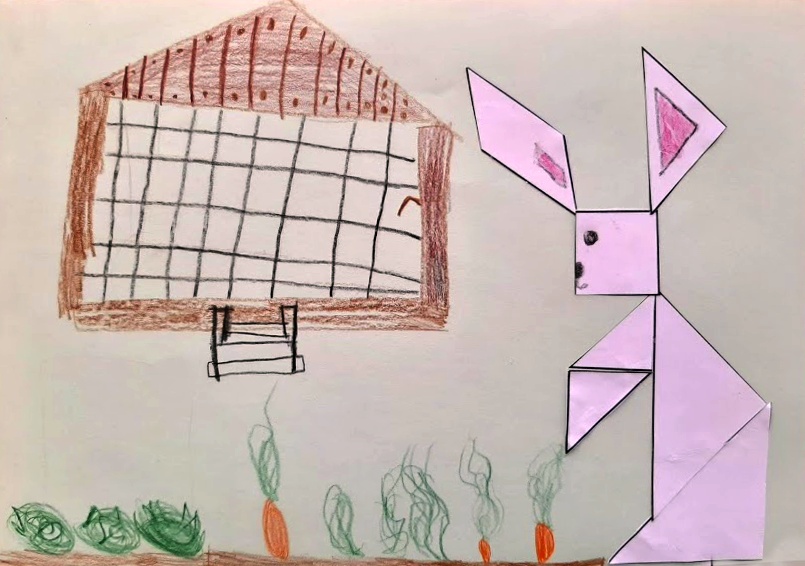 PDF s tangramom si môžte stiahnuť aj tu.
Stačí vytlačiť rozstrihať a tvoriť. Ak by ste potreboval predlohy, tých je na internete nespočetné množstvo, napríklad tu alebo tu, ale krásne výtvory deti vyrobia určite aj bez predlôh.
No a na záver, nesmieme zabudnúť na angličtinu. Na učenie domácich zvierat je asi najideálnejšie pesnička Old McDonald had a farm. K nej som našla takúto aktivitu. Zvieratká a obrázky s ich zvukmi som vytlačila a zároveň so spievaním sme si ich prikladali do textu piesne. Bolo to zábavnejšie ako len samostatné spievanie.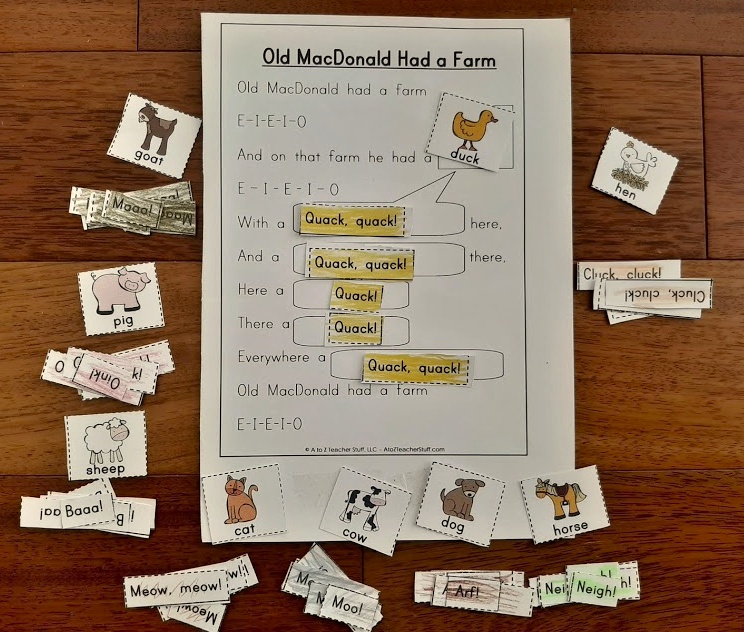 Kto rád pracuje s pracovnými listami, našla som na internete tento, podľa mňa, výborný materiál k téme o domácich zvieratách. Je voľne dostupný, takže si ho dovolím zdielať aj cez náš blog. My sme z neho čerpali niektoré úlohy a obrázky.
Celkom sme sa na tomto projetke namakali, čo poviete? A do jednej témy sme zahrnuli viacero školských predmetov. Čítanie, písanie, geometriu, výtvarnú, prvouku aj angličtinu. Už nám len chýba vychádzka na nejakú farmu. Takže keď pominie karanténa, už viem kam budú smerovať naše kroky.