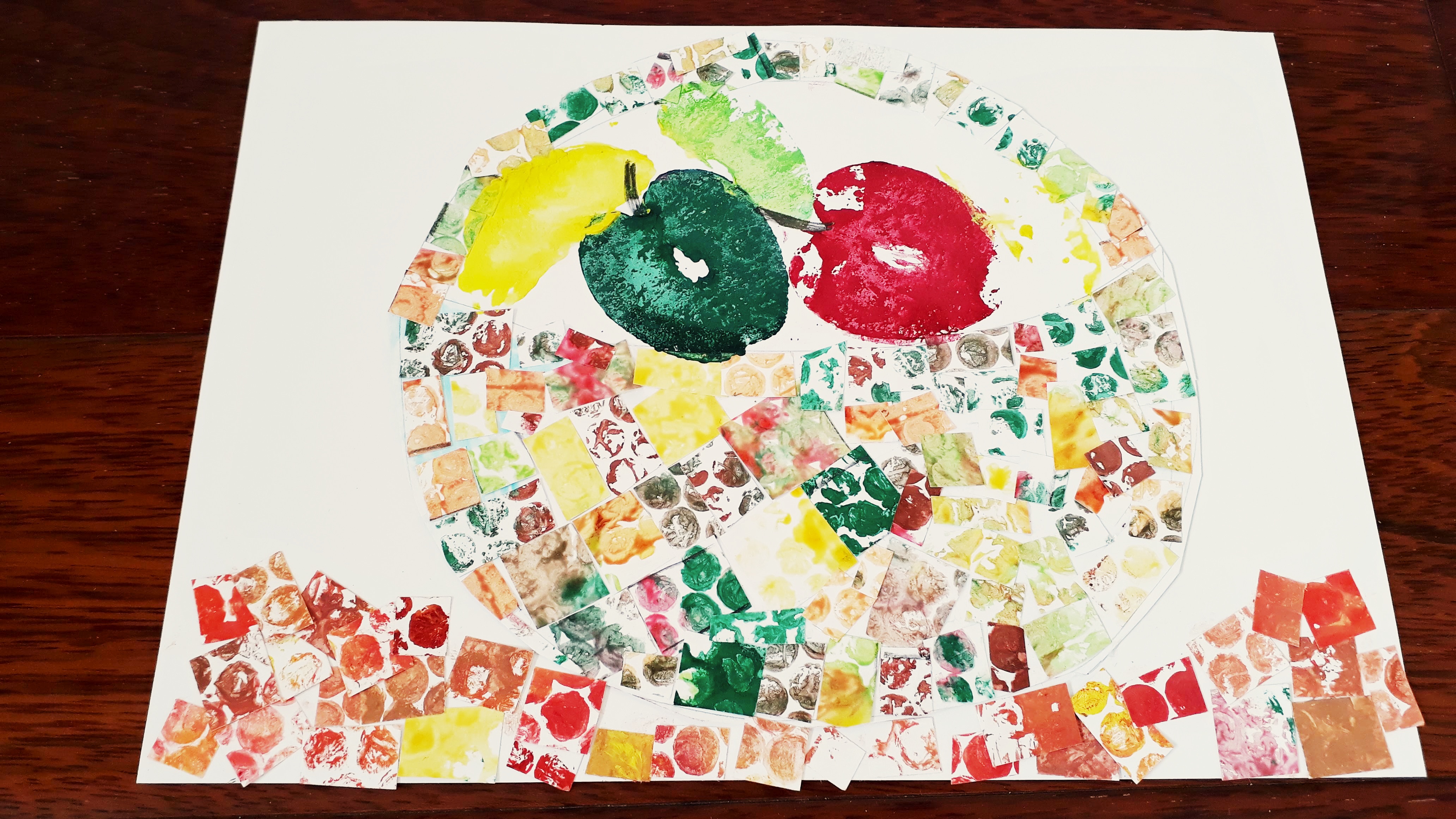 Bublinková fólia je u nás hit.  Nedávno sme pomocou nej vyrábali s mladšími babami zapichovátka do kvetináčov a niekoľko poodláčaných výkresov nám zostalo nevyužitých. Premýšľala som, čo s nimi. Hanka ma teraz obdobie strihania, tak tieto bublinkové výkresy padli za obeť jej momentálnej vášni.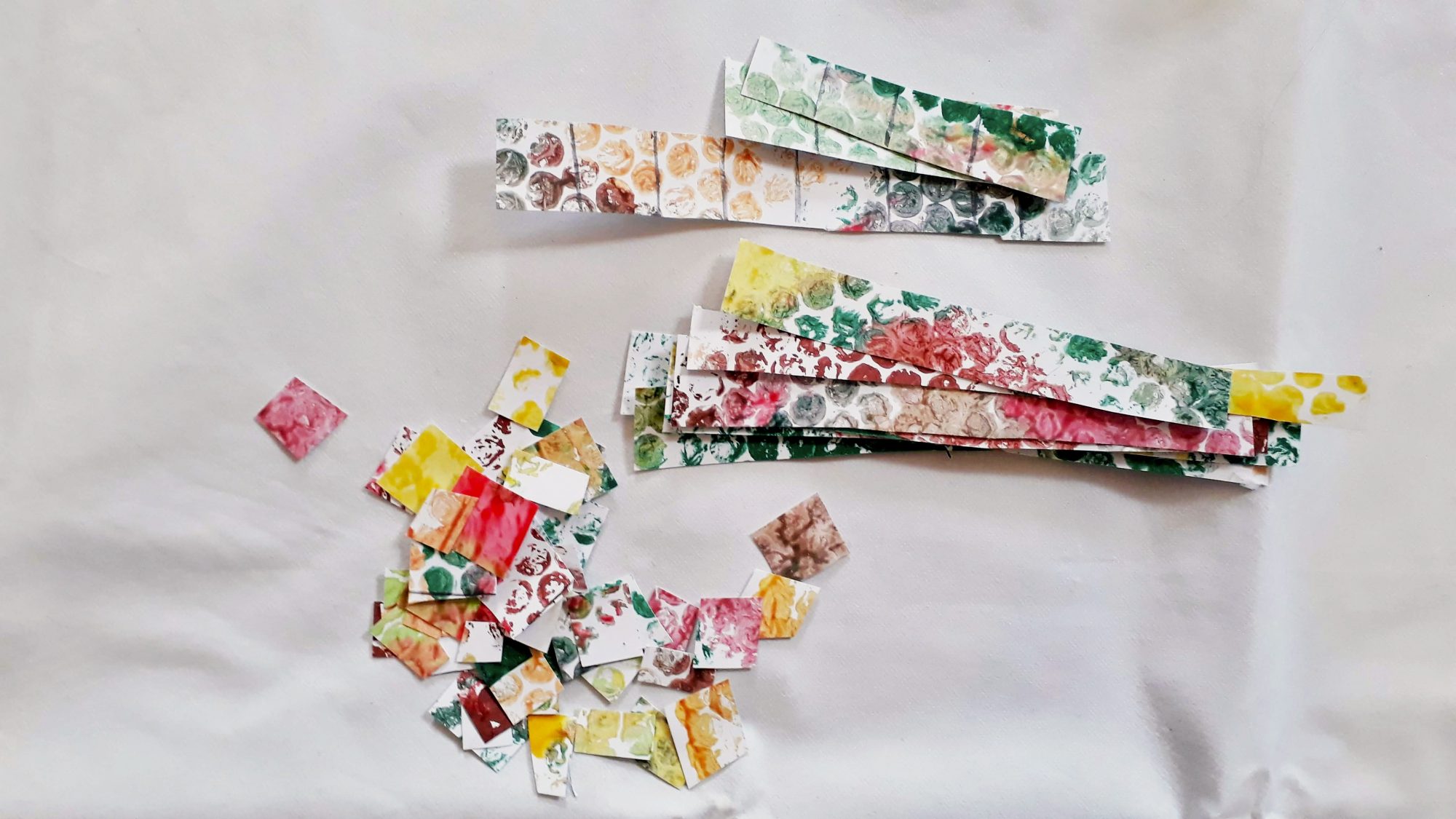 Zatiaľ je vo prvej strihacej fáze, keď už vie postrihať pásik papiera na malé kúsky. Preto som jej výkresy nastrihala na pásiky a ona ich trpezlivo postrihala na menšie kúsky. Občas jej ešte bolo treba pomôcť, ale zdokonaľuje sa každým dňom. Striháva s dvojitými nožnicami buď sama, alebo to robíme spolu.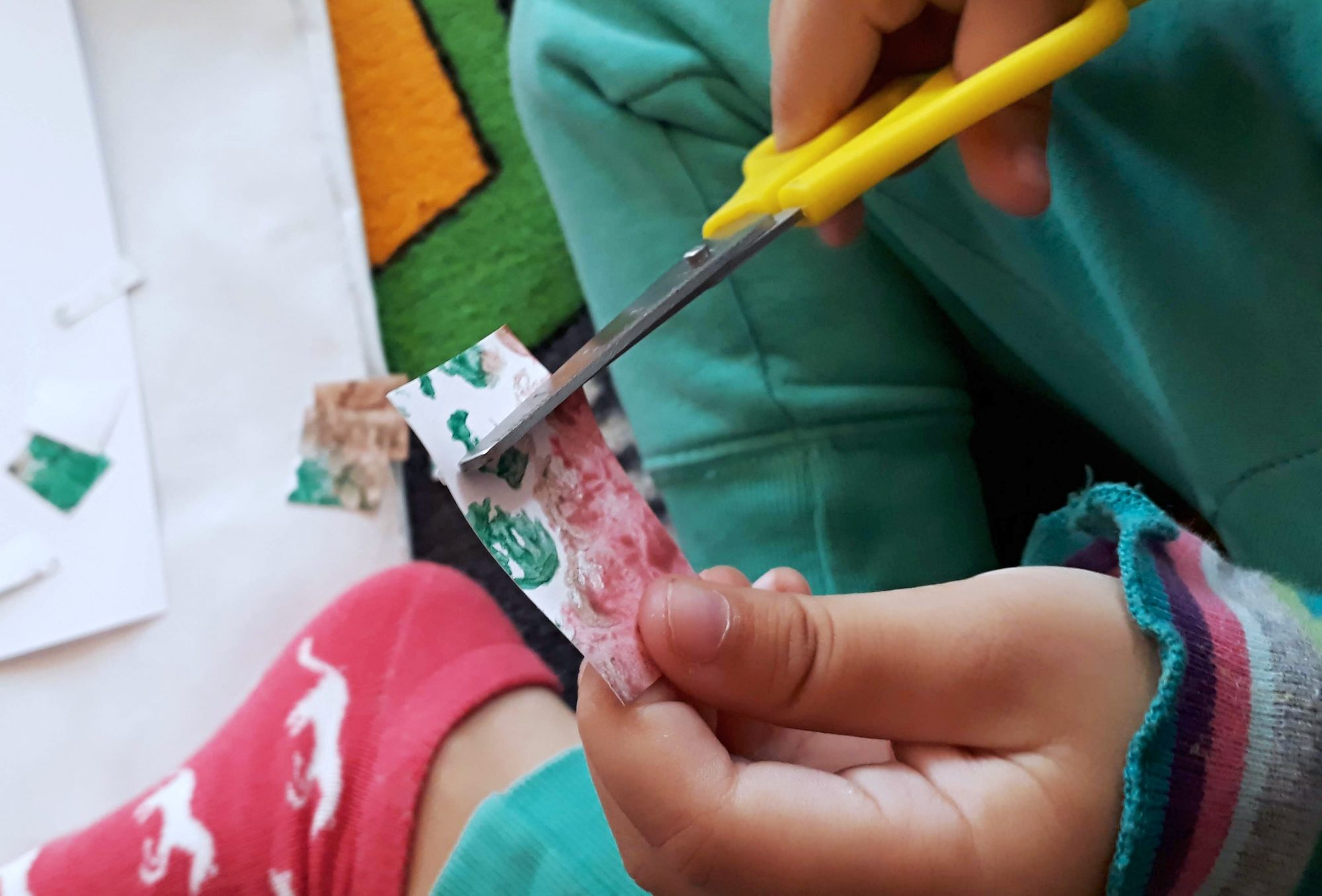 No a čo teraz s tými malými nastrihanými štvorčekmi? Bude z nich mozaika.
Najprv sa do práce pustila len Maruška s Hankou, ale keď staršie baby videli, aké pekné dielko im vzniká, pridali sa k nám. Maruška s Hankou spoločnými silami spravili mozaikový košík a Terezka s Juli vyrobili tekvice.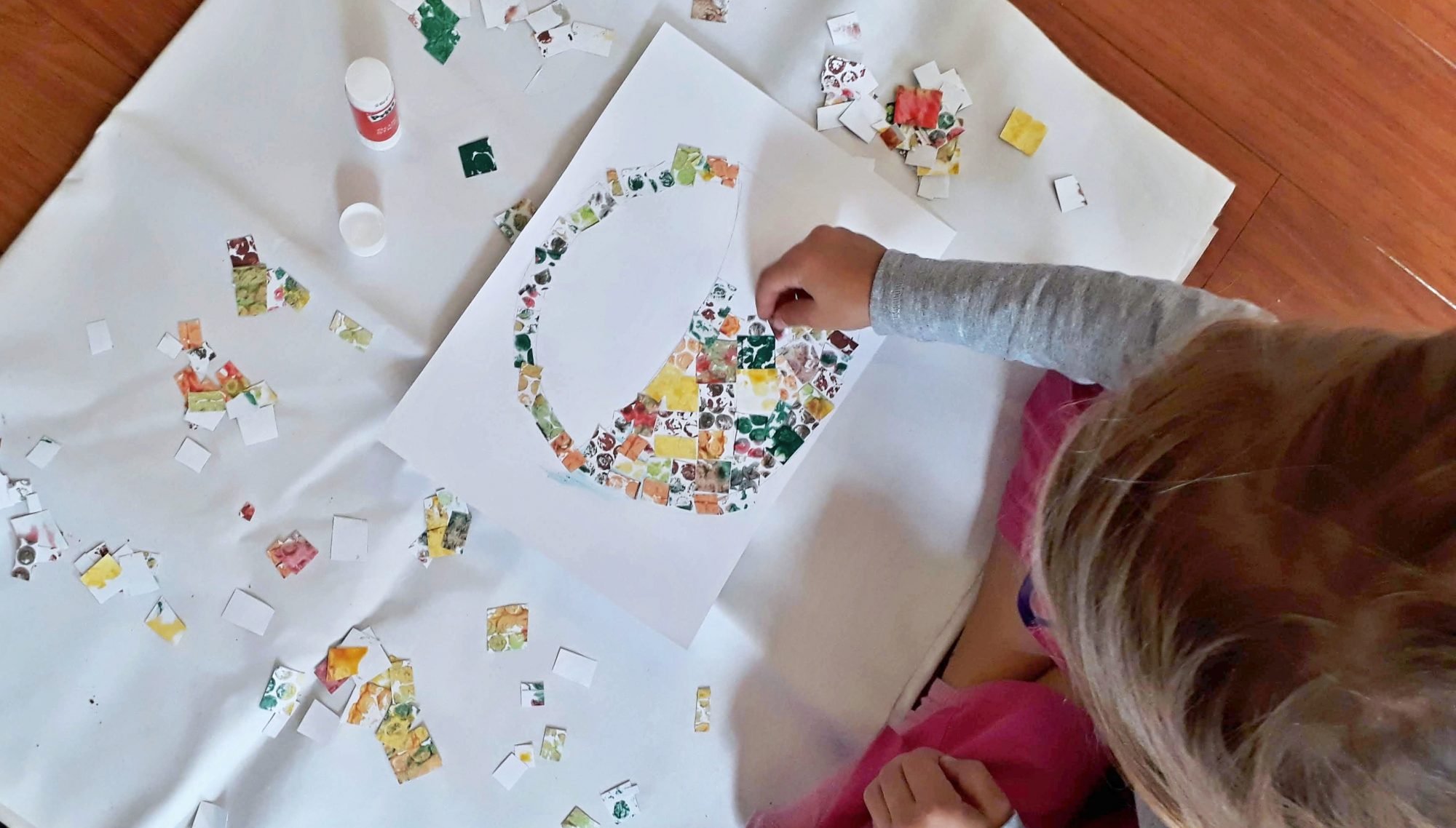 Postup bol jednoduchý. Na výkres si predkreslili, čo budú formou mozaiky skladať, tento motív natreli lepidlom a postupne naň prilepovali  jednotlivé nastrihané štvorčeky. To, že sú nastrihané z odtlačenej bublinkovej fólie, im dodáva špecifický ráz. Žiadne dva štvorčeky nie sú rovnaké, preto ani dve tekvice nebudú rovnaké.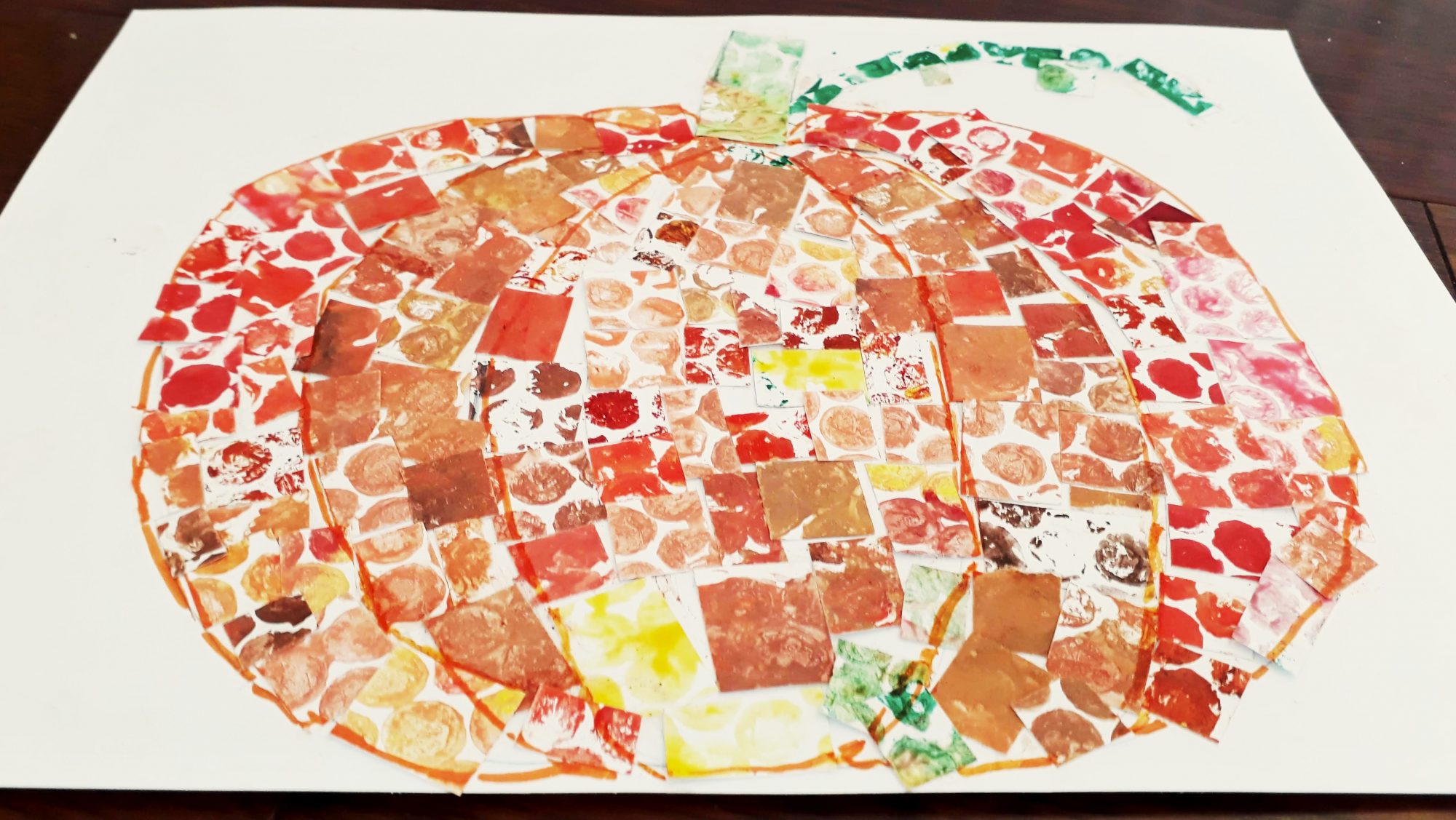 Keď bol košík hotový, dievčatá skonštatovali, že mu niečo chýba. Na jeseň, keď všade padajú jablká a všade rozvoniavajú jablkové koláče zbierame orechy, či gaštany, bude náš košík prázdny? No, to teda nie. Zaplnili sme ho teda s Hankou odtlačenými jabĺčkami. Za obeť padlo najmenšie jabĺčko, ktoré sme doma našli. Prekrojila som ho na polovice, polovičky sme poriadne natreli temperkou a odtlačili na výkres. A hotovo. Takto to má na jeseň vyzerať.  Mozaika bola hotová.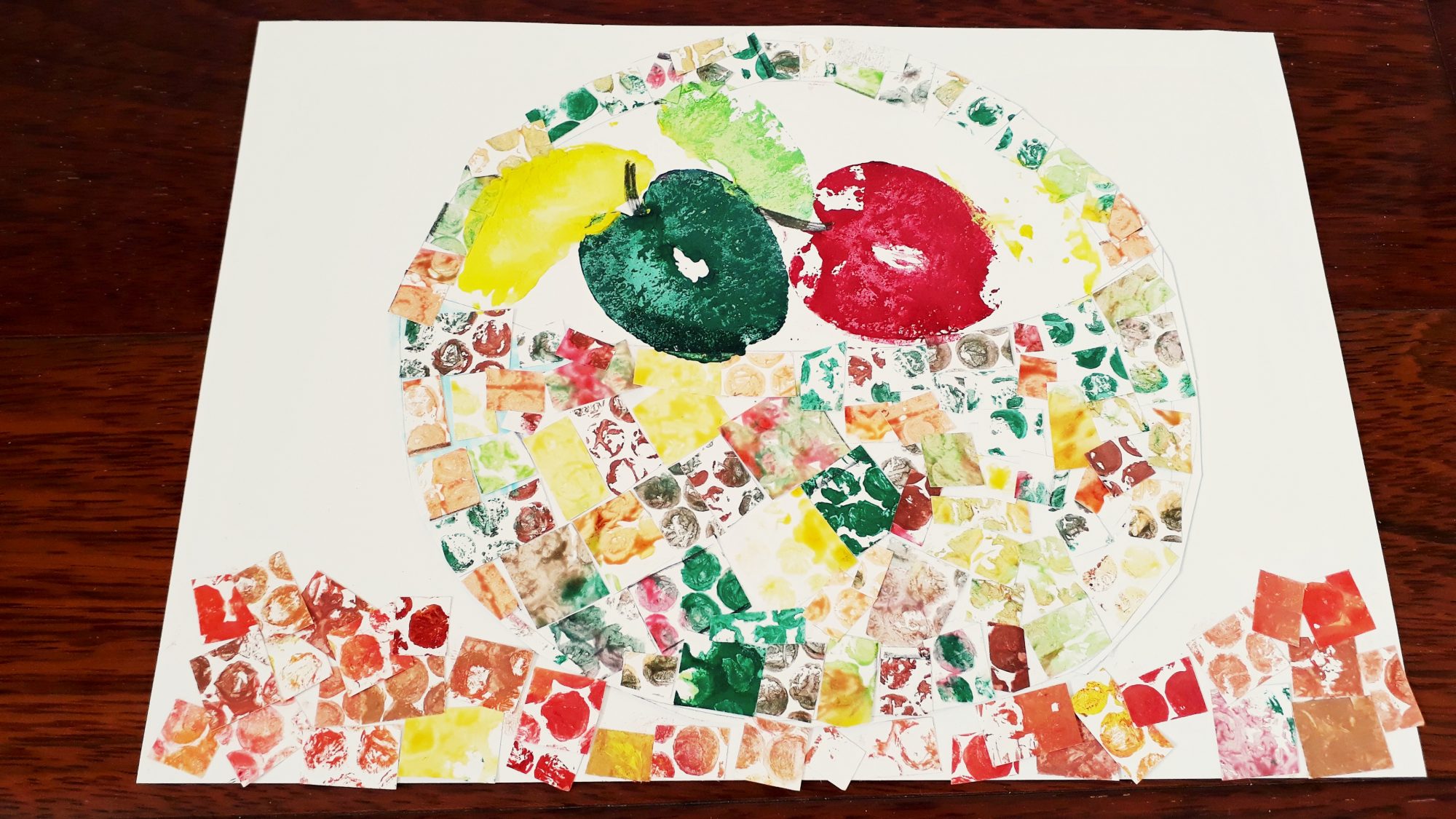 A prečo práve takto? Prečo práve na jeseň pečieme najviac jablkových koláčov? Prečo sme na bublinkovú fóliu nanášali najviac oranžovej, žltej a hnedej farby? Ako sa jeseň líši od ostatných ročných období? Ako by to u nás vyzeralo, keby sme nemali jeseň?
Popri lepení tých malých farebných dielikov začali padať takéto otázky. Takže nakoniec z toho nebola len "hodina výtvarnej", ale aj prírodovedy, či dokonca filozofie. Toto ma vie vždy prekvapiť. Ako sa vždy nenápadne dostaneme niekde inde, kde sme pôvodne ani nemali byť.
https://www.spolupozaskolu.sk/wp-content/uploads/2018/10/20181003_114424.jpg
2322
4128
Katka
https://www.spolupozaskolu.sk/wp-content/uploads/2021/04/logo-spolupozaskolu.jpg
Katka
2018-10-04 21:33:05
2018-11-21 15:20:40
Jesenná papierová mozaika