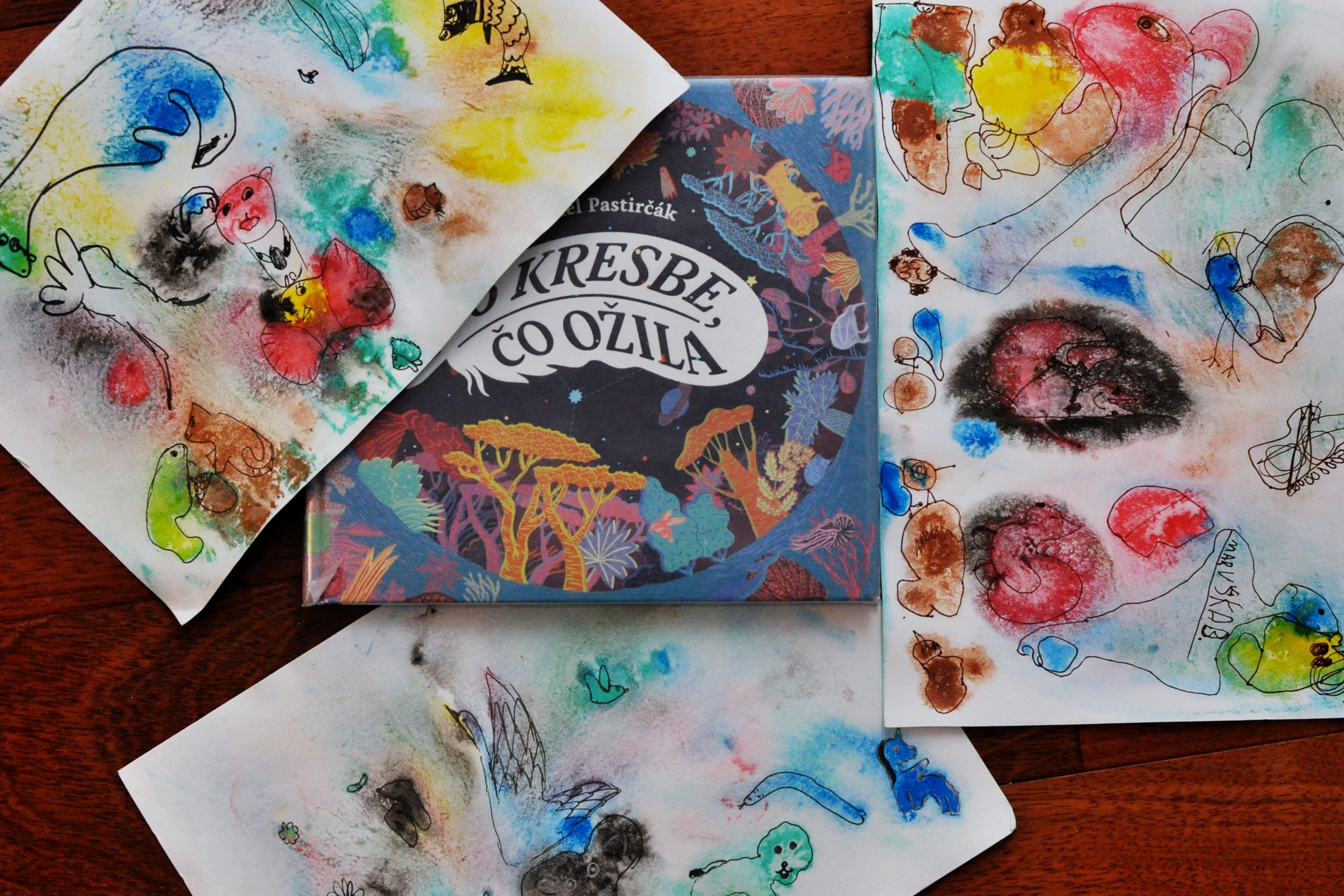 Keď som nedávno dávala dokopy knihy a rôzne pomôcky, ktoré budeme potrebovať pri našom vesmírnom putovaní (o ktorom som začala písať nedávno tu ),natrafila som na jednu nádhernú knihu. Je to kniha od Daniela Pastirčáka, O kresbe, čo ožila.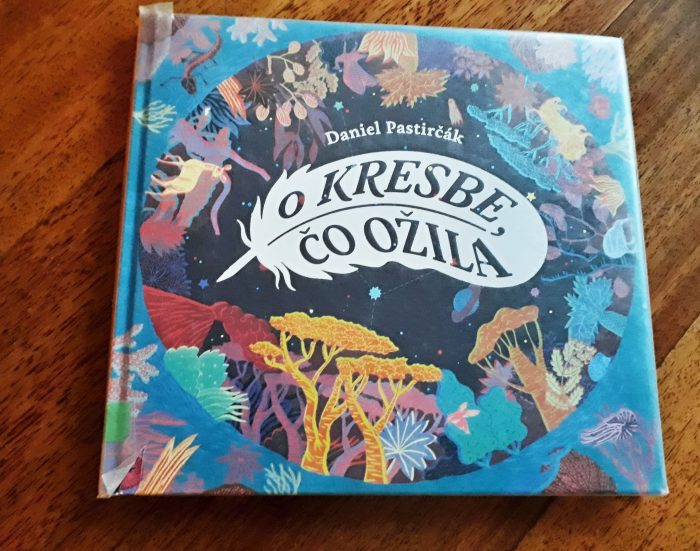 Ide o jednoduchý príbeh Veľkého kresliara, ktorý sa rozhodne, že z ničoho stvorí niečo. Z malej bodky, nakreslenej pierkom, čo neváži nič, vytvára celý vesmír. Povedala som si, že sa to perfektne hodí k téme. Veď sa nemusíme o vesmíre učiť len vedecké fakty, môžme to poňať aj trošku umelecky a prepojiť tak obe mozgové hemisféry.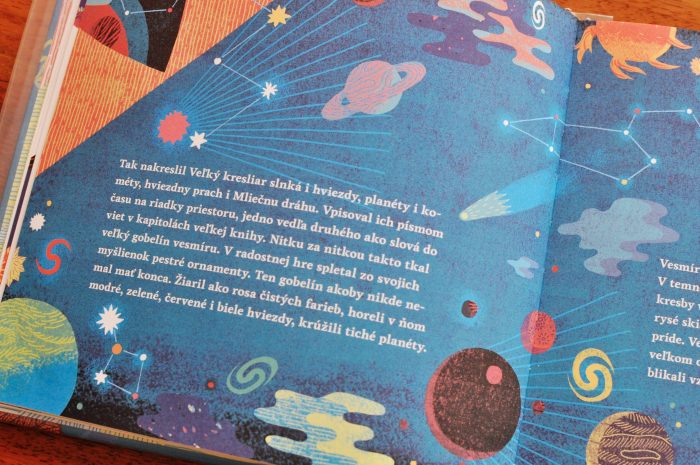 Tak sme si knihu prečítali. Veľmi sa nám páčila. Je to nádherný, poetický príbeh. Miestami veselý, ba až smiešny, no miestami aj smutný, ale zároveň plný nádeje (viac o knihe si môžte prečítať tu).
Neostalo, ale len pri čítaní. Táto kniha vám totiž sama našepkáva, aby ste sa ňou inšpirovali a boli kreatívni, tak ako Veľký, či Malý kresliar. A keď už teda prepájame tie naše obe mozgové hemisféry, jej našepkávanie sme počúvli a začali sme tvoriť.  Na chvíľu sa z dievčat stali Kresliari, ktorí tvoria nový papierový vesmír.
Potrebovali sme naň len výkresy, vodu, špongie a farebné tuše.
Najprv sme poriadne špongiami namočili papiere a potom sme pomaličky, do mokrého výkresu, zapúšťali farebné bodky tušu.
Dievčatá nanášali tuš bez nejakého pravidla, len tak, kde sa im páčilo a sledovali ako sa jednotlivé farby do seba vpíjajú a prelínajú. Zrazu sa nám vo farebných škrvách začali objavovať obrazce. Niekto videl sovu, niekto hlavu holuba, dokonca sa tam niekde objavil aj dinosaurus.  Tušom sa snažili pokryť celý výkres.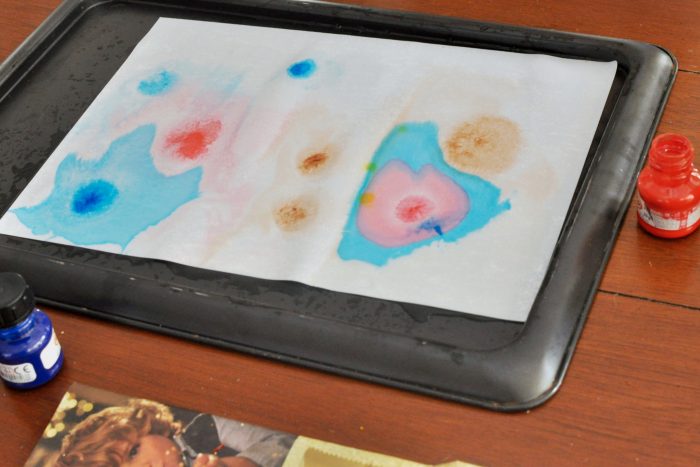 Papiere sme potom nechali poriadne vyschnúť. Boli také mokré, že schli takmer 24 hodín. Prezieravo som papiere ešte pred tvorením dala dievčatám na staré plechové pekáče. Rátala som s tým, že papiere budú poriadne zmáčané a že sa po tvorení budú ťažko prenášať. Takto som mala problém vyriešený.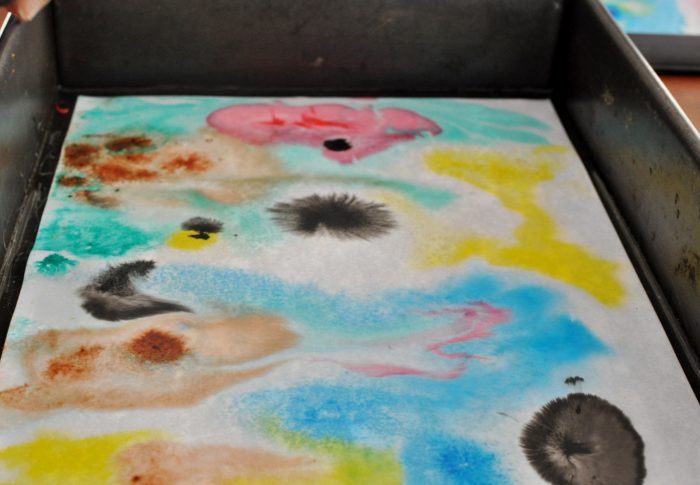 Zaujímavé bolo sledovať aj schnúce výkresy, niektoré obrazce počas schnutia mizli, ale namiesto nich vystúpili do popredia iné. Na druhý deň sme si vzali fixy a tenké perá a pustili sme sa do skúmania našich nových svetov. Hľadali sme tvory, či rastliny a možno aj hviezdy a planéty.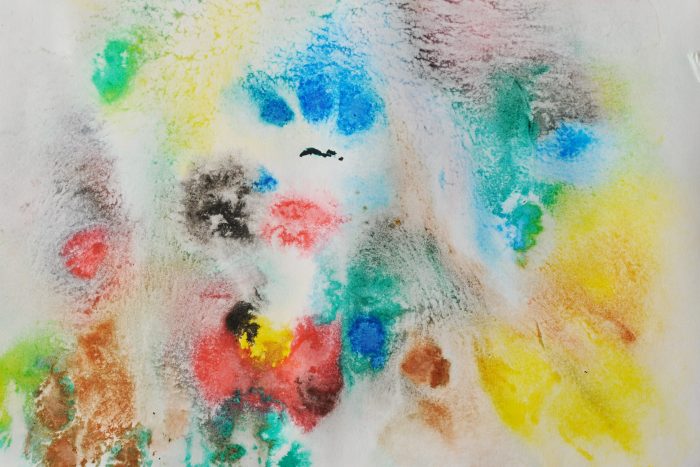 Takto to vidí Juli (ešte aj Kvak z obľúbenej knihy sa jej tam, v ľavom dolnom rohu, objavil 🙂 ).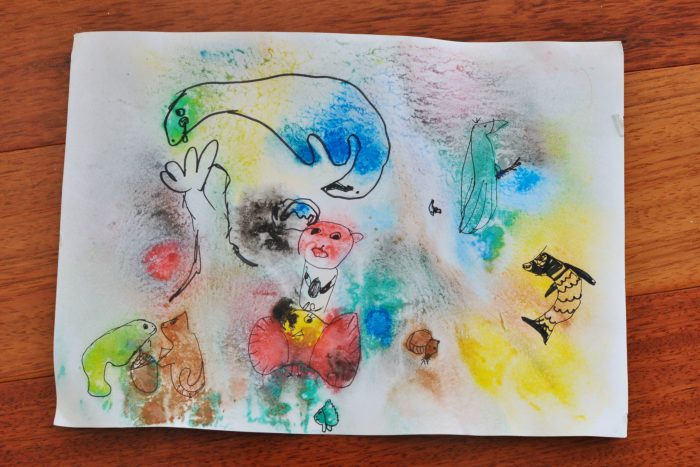 Maruška si toto tvorenie maximálne užívala.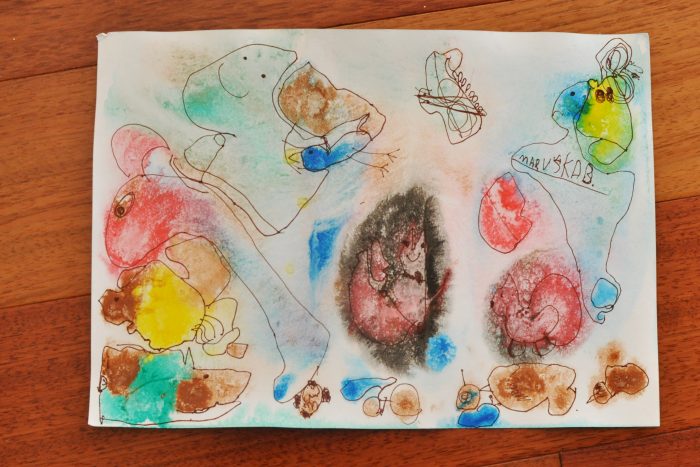 A Terezkine dielko.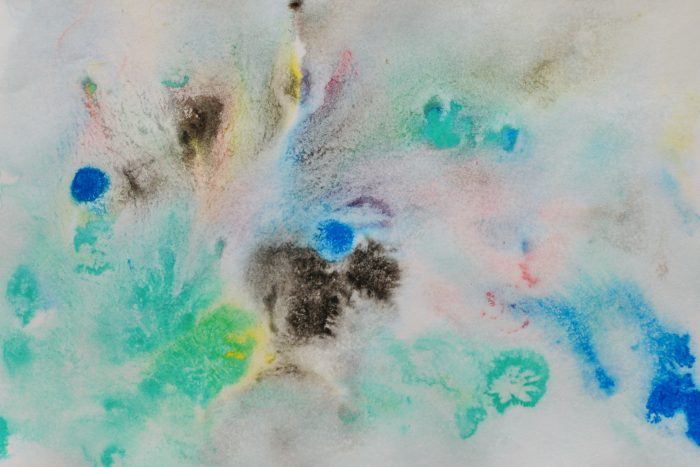 Krása pri tomto tvorení bola v tom, že každá sme vo farbách videli niečo iné. Fantázia pracovala na plné obrátky. Nič nebolo dopredu dané, nikto netušil, čo mu na obraze vznikne. Toto tvorenie bolo veľmi zábavné a dievčatám sa veľmi páčilo. Musíme sa asi častejšie inšpirovať literárnymi dielami.
https://www.spolupozaskolu.sk/wp-content/uploads/2017/11/DSC_0461.jpg
2407
3611
Katka
https://www.spolupozaskolu.sk/wp-content/uploads/2021/04/logo-spolupozaskolu.jpg
Katka
2017-11-16 19:55:51
2017-11-16 16:09:54
O kresbe, čo ožila