Štipcovačka. Hra na stiahnutie
Poznáte hru Štipcovačka?
Ide o kartičky, na ktorých je znázornený nejaký problém, pod ktorým sú rôzne možnosti odpovede a dieťa má štipcom zaštipcovať tú správnu. Napríklad prvú hláska v slove, alebo počet vecí na obrázku.
Správna štipcovačka by navyše mala byť autokorektívna, to znamená, že dieťa si samo dokáže skontrolovať, či zaštipcovalo naozaj správnu odpoveď (na zadnej strane kartičky, je správna odpoveď označená).
Ja som sa touto hrou inšpirovala a vyrobila som pre Juli takú, pri ktorej si precvičí písanie i/y po tvrdých a mäkkých spoluhláskach.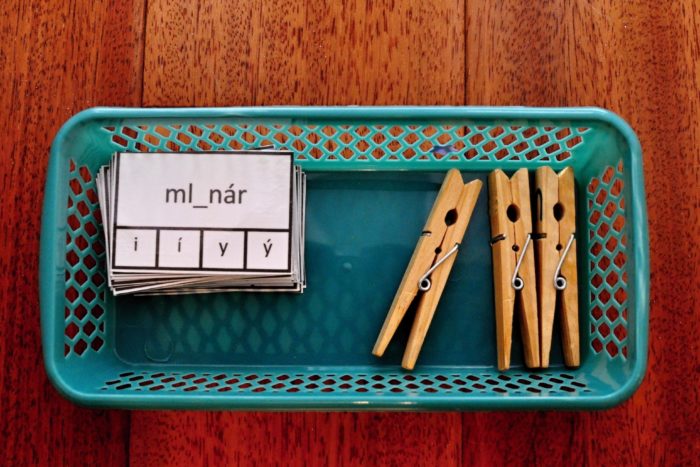 Na prvý pohľad je to zdanlivo jednoduché učivo. Po tvrdých bude tvrdé y, po mäkkých mäkké. Ale my vieme, že to v slovenskom jazyku také ružové nie je. Máme kopu výnimiek. A hoc dieťaťu tie výnimky vysvetľujeme dookola (a pri niektorých slovách možno ani my niekedy netušíme, prečo sa to tak píše), nie je to vždy pre nich jednoduché.
Hovorí sa, že kto veľa číta, má menší problém s gramatikou ako tí, čo čítaniu neholdujú. Je to preto, že ich mozog podvedome jednotlivé slová načítava a zapamätáva si ich správnu formu. Veď koľkokrát ste správne napísali niekde i a sami ste si zdôvodnili, že vám to tam jednoducho tak pasuje?
Niekto môže namietať, že správne písať i a y v slovách sa treba učiť písaním. Áno, súhlasím. Ale zároveň dodávam, že to pre 7- 8 ročné dieťa môže byť veľmi náročné. Len nedávno sa naučilo správne písať, niektoré majú ešte počas druhého ročníka problém so správnymi tvarmi písmen a pri písaní sa sústredia hlavne na toto. Premýšľať potom ešte pri diktáte nad mäkkým a tvrdým i môže byť pre takéto deti hotová pohroma.
Neskôr, keď sa písanie viac zautomatizuje dokážu gramatické pravidlá deti zvládať oveľa ľahšie. Preto si myslím, že je lepšie najprv sa s gramatickými pravidlami hrať.
Takže my doma s Juli hlavne štipcujeme, vystrihujeme slová z časopisov, triedime ich, lepíme, čítame a nechávame mozog načítavať ich.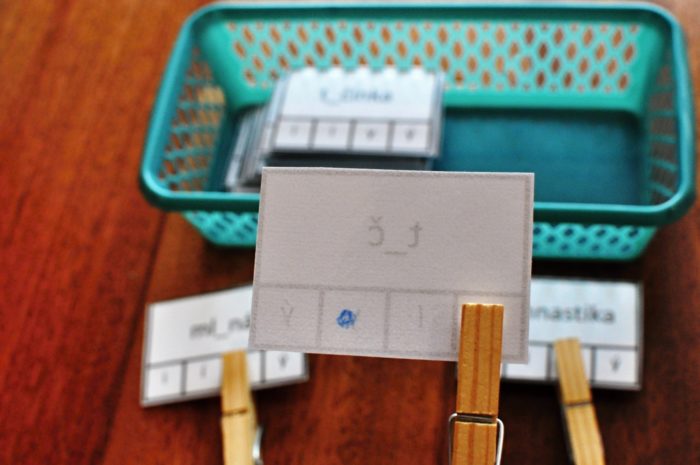 Príjemnú zábavu s gramatikou!
Ak sa aj vy chcete zahrať hru Štipcovačka, môžete  si ju stiahnuť
Keď si ju vytlačíte, nezabudnite z opačnej strany označiť správnu odpoveď, aby sa deti mohli samé kontrolovať.