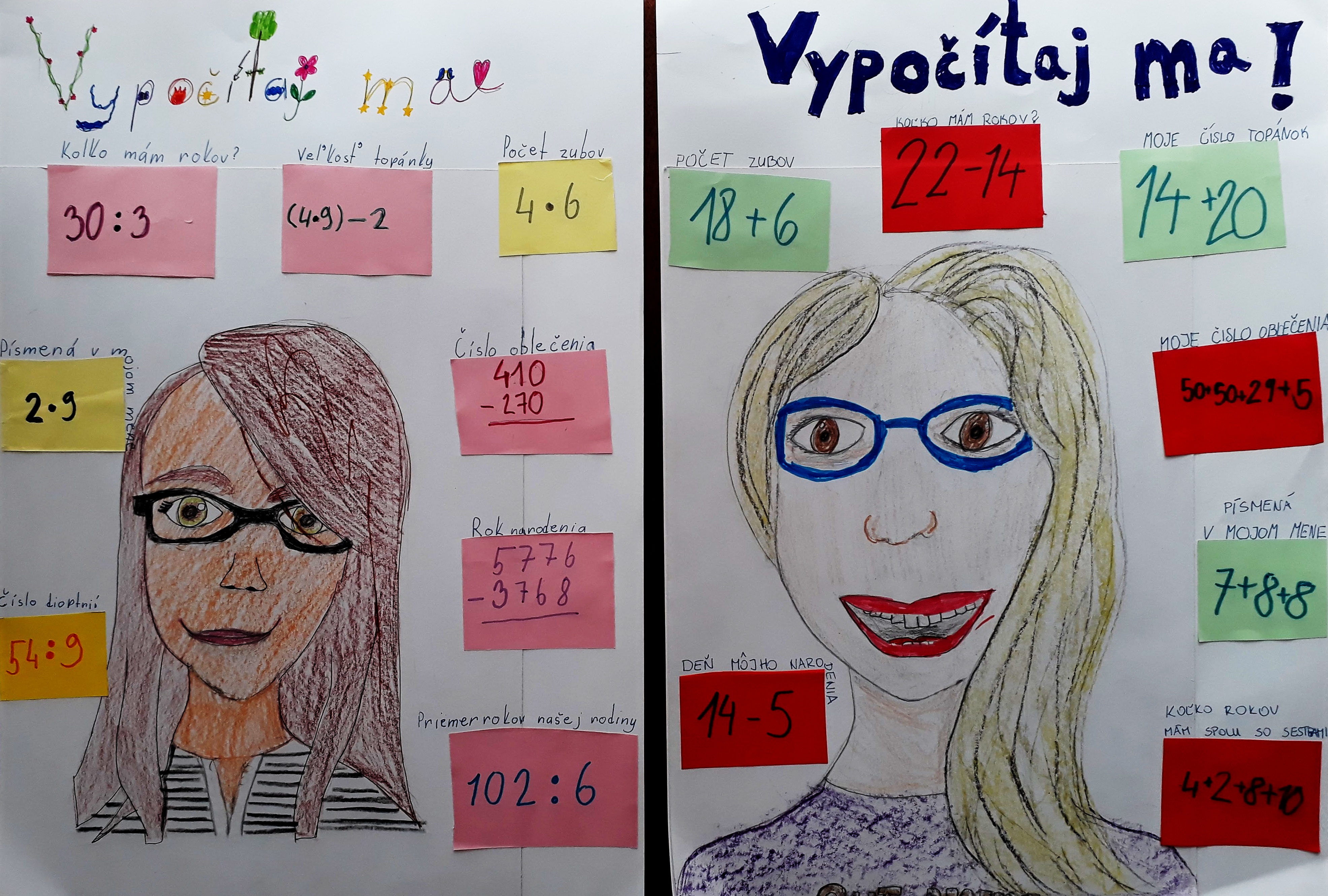 Matematika všeobecne nepatrí v škole medzi obľúbené predmety. Ale u nás to tak nie je. My doma celkom rady plávame v matematických vodách. Určite je to aj vďaka tomu, že ju prepájame so životom a občas do nej vnesieme aj trochu netradičnej zábavy.
Na internete, na zahraničných stránkach, som našla jednu zaujímavú aktivitu, ktorá v sebe spája výtvarnú výchovu s matematikou. Hneď som vedela, že toto je niečo pre moje baby. Podľa očakávania sa do nej pustili s radosťou.
Ako prvé, mali za úlohu nakresliť svoj portrét. Vzali to vážne, odfotili sa mojím mobilom a podľa fotky sa snažili vystihnúť svoje črty. Nie som odborník na výtvarné umenie, ale ich portréty sa mi veľmi páčia. Juli presne vystihla jej večne strapatý účes a Terezka ma presne také oči ako sú tie nakreslené. Ja by som to nenakreslila krajšie.
No a teraz prichádza na rad matematika. Najprv sme si podebatovali o číslach v našich životoch. Kde všade sú, čo všetko o sebe vedia povedať číslami. Ako prvé im, samozrejme, napadol dátum narodenia a čísla topánok. Juli prišla s počtom zubov (pri pohľade na jej portrét sa ani nečudujem), Terezka sa pýtala na číslo dioptrií. Našli sme aj iné čísla, ktoré s nimi súvisia a všetky sme si zapísali.  Dievčatá potom museli na dané čísla vymyslieť príklady.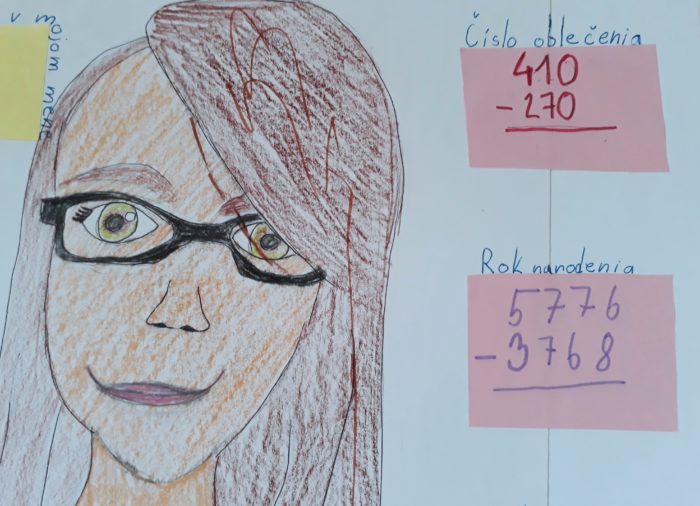 Samozrejme podľa svojich možností. Deti majú občas tendenciu si všeličo zľahčovať (veď to každý poznáte), takže dostali dopredu odo mňa zadanie, že to musia byť príklady akými sa práve teraz zaoberajú. Terezka sa na mňa ale pohoršene pozrela, že či som teda očakávala, že ONA štvrtáčka si tam dá prvácke príklady. Veď to by bola hanba.  Lekcia pre mňa. Vďaka dieťa.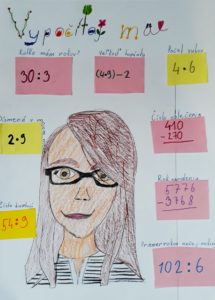 Vymyslieť takéto rôzne príklady dáva niekedy zabrať. Je oveľa ľahšie už hotové vypočítať. Takže baby si dobre ponamáhali hlavy a celkom sa popri tom zabavili. Najviac ich ale bavilo, keď svoje dielka ukázali druhým a nechali ich počítať.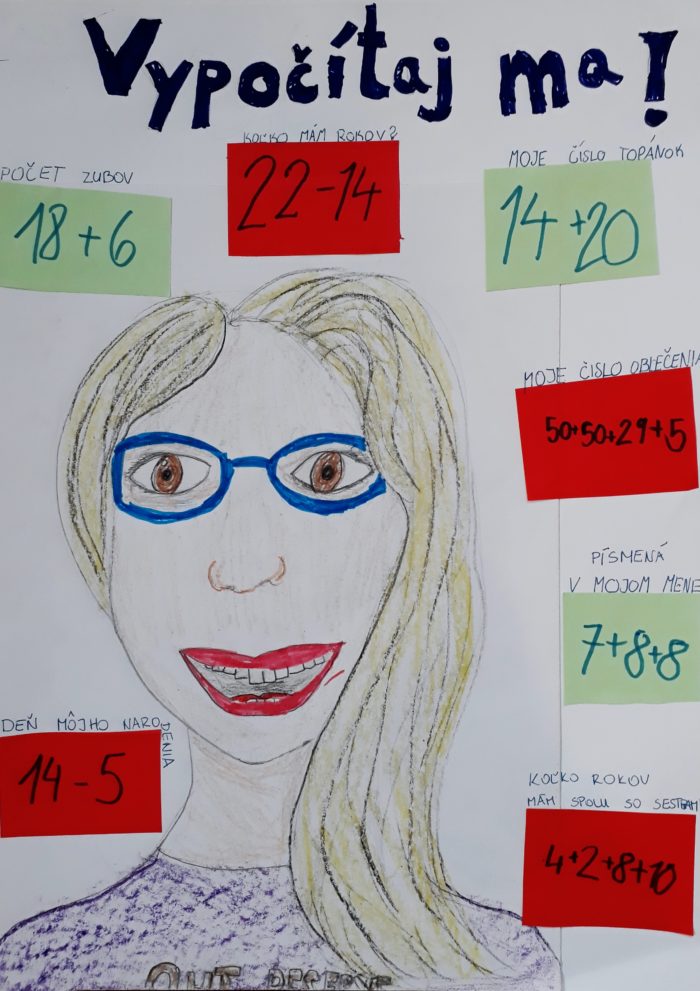 Tak nech sa páči, vypočítajte si naše dievčatá.
A ak sa vám zábavnej matematiky máli, môžte sa napríklad zahrať tieto hry.
https://www.spolupozaskolu.sk/wp-content/uploads/2018/01/20180126_114502.jpg
2661
3942
Katka
https://www.spolupozaskolu.sk/wp-content/uploads/2021/04/logo-spolupozaskolu.jpg
Katka
2018-01-26 11:41:34
2018-11-23 18:46:49
Vypočítaj ma! Zábavná matematika