Zábava s rímskymi číslami
Zase sme sa doma presvedčili, že matematika nemusí byť nuda. Najväčšiu zásluhu na tom majú rímske čísla. Hrali ste sa už niekedy s nimi? Je to ako lúštiť nejakú tajnú šifru a to takmer všetky deti milujú. Nám rímske čísla robili spoločnosť posledných pár dní.
Keďže zastávam názor, že niektoré veci sa ľahšie učia naspamäť, keď v nich vidíme logiku, trošku sme sa s Terezkou povŕtali v histórií. Zistili sme, ako vznikli a najviac nás zaujali číslice L, C, D a M.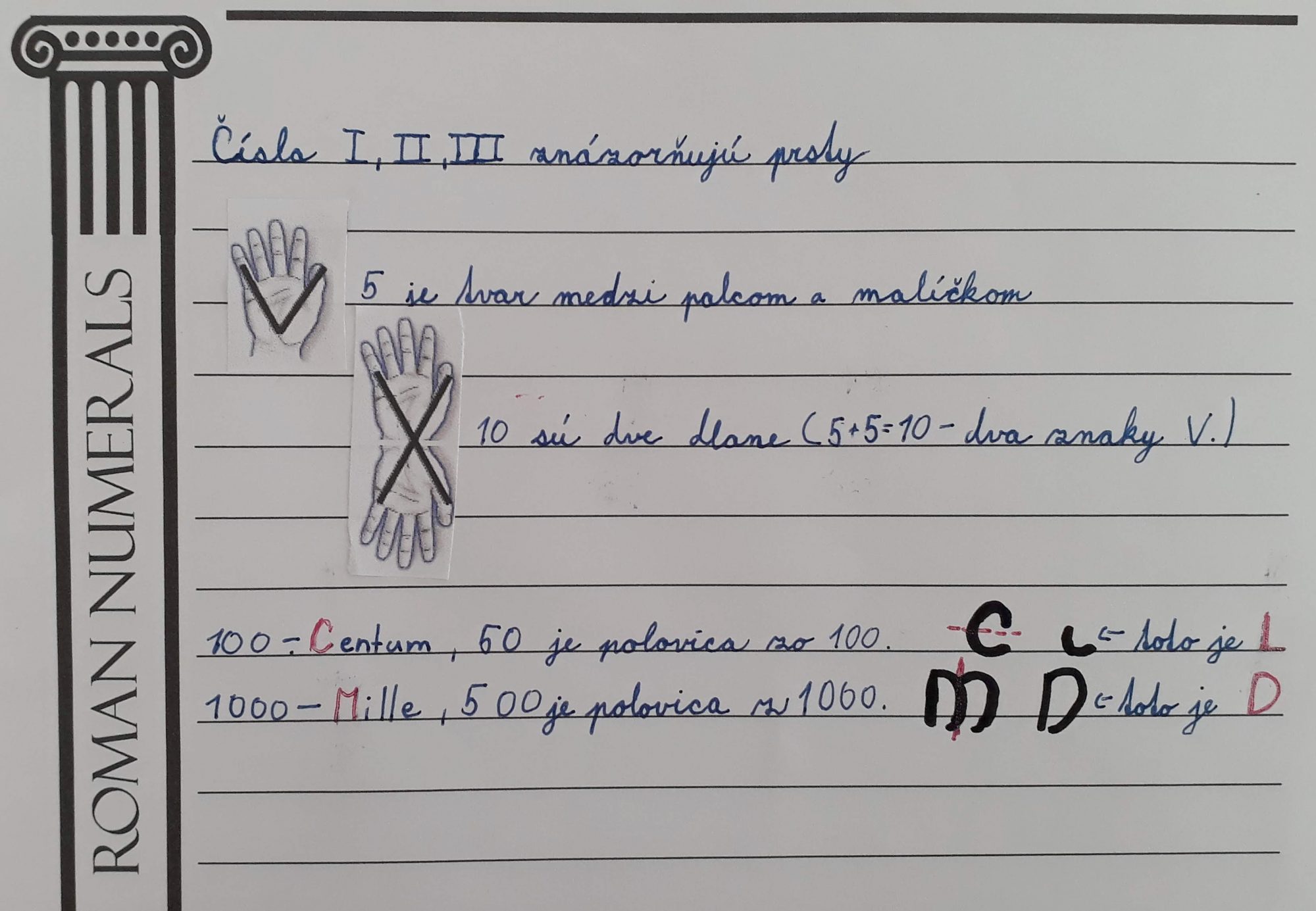 C je skratka pre centum (po latinsky 100) a keď ho prepolíte vertikálne vznikne niečo podobné ako  písmeno L, ktoré je polovicou zo 100, čiže 50. Podobne je to s písmenom M (mille) 1000. Toto zas prepolíme zvisle a dostaneme znak podobný písmenu D, ktoré vyjadruje číslo 500.
Akonáhle toto deti zistia, a sami si jednotlivé písmená prepolia (napríklad si ich môžu vymodelovať z plastelíny), verím tomu, že sa pre nich stanú rímske číslice zábavkou.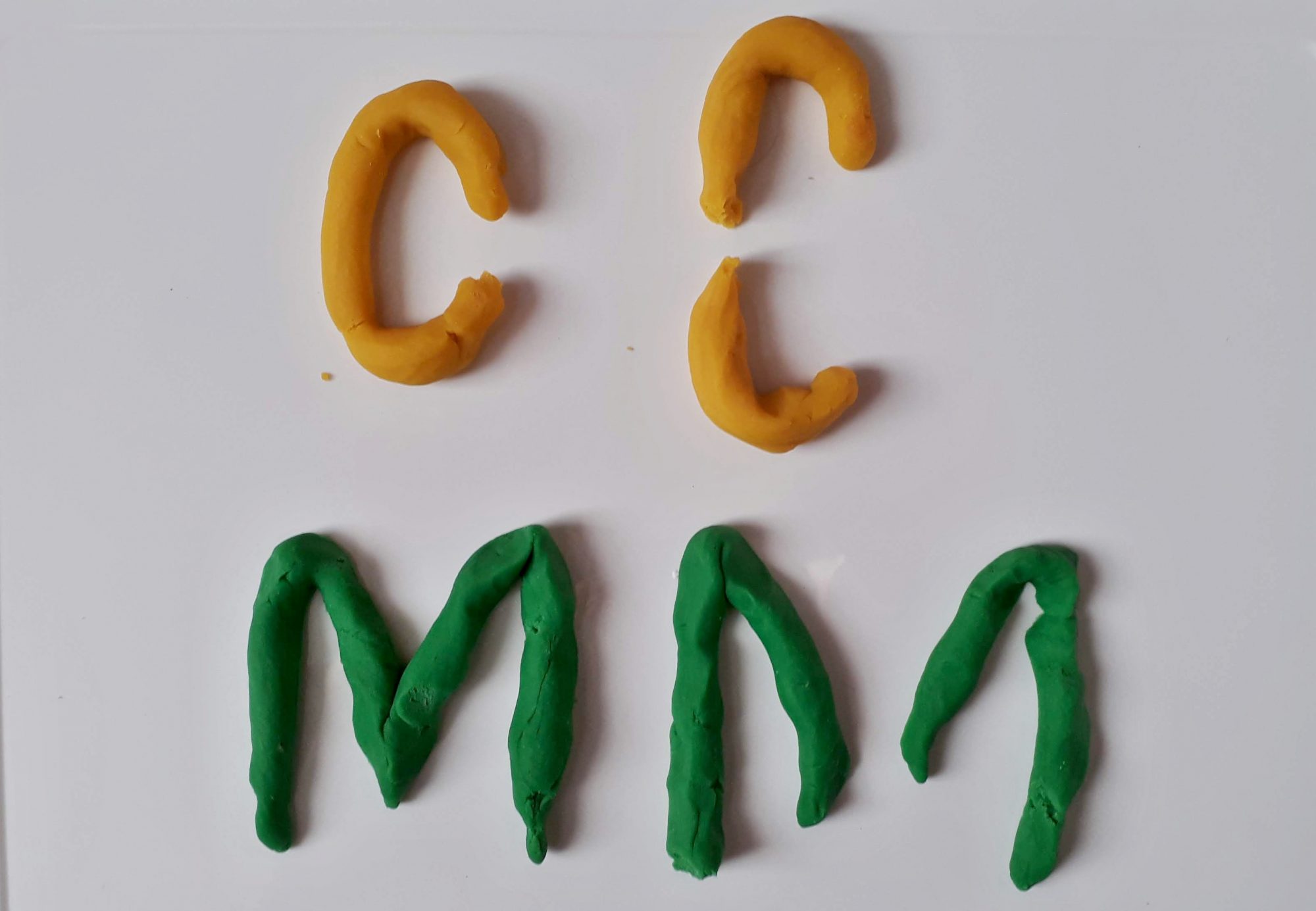 Alebo si môžte pomôcť rôznymi pomocnými vetami. Ja ich poznám niekoľko. Terezke sa najviac páčila táto:
Ivan Viedol Xavera Lesnou Cestou Do Mesta.
Zvýraznené písmená predstavujú rímske číslice v poradí 1,5,10,50,100,500,1000. Keďže deti zvyčajne nemajú problém s číslami do 12. lebo ich často vidia hlavne na ciferníku hodín, s ostatnými im môže pomôcť napríklad veta Lacná Cibuľa, Drahé Mäso.
Pravidlá pisovania rímskych čísel
Písanie rímskych čísel má svoje pravidlá. Pre nás sa javilo najdôležitejšie pravidlo, že číslice V,L a D sa nesmú v zápisoch opakovať a číslice I, X, C a M sa môžu, ale najviac ako 3krát. Na to nadväzuje pravidlo o odčítaní. To znamená, že ak číslo 30 vieme zapísať ako XXX, číslo 40 už nemôžme, vtedy si pomôžeme číslom 50 a odčítame od neho 10. Takže to bude vyzerať takto XL.
Aj pri tomto pravidle samozrejme existujú výnimky. Viete napríklad prečo na ciferníkoch sa číslo 4 píše aj ako IV ale nájdete aj ako IIII hoci štyri jednotky za sebou by nemali byť? No pretože IV je začiatok mena IVPITER (Jupiter) a to je meno najvyššieho rímskeho boha, a to sa predsa nerobí, jeho meno len tak kade tade dávať.
Že je to zložité? Vôbec nie. Ak sa niečo pravidelne opakuje, má to nejaký rytmus. Ak to má rytmus, poďme ho skúsiť nájsť.
S Terezkou sme vystrihli niekoľkokrát rímske číslice I, V a X. Odlíšili sme ich aj farebne. S týmito troma základnými si vystačíme až do čísla 30. Začali sme ich postupne ukladať ako dlaždice na dlážku. Každé číslo do jedného radu, pekne pod seba, zachovávajúc systém.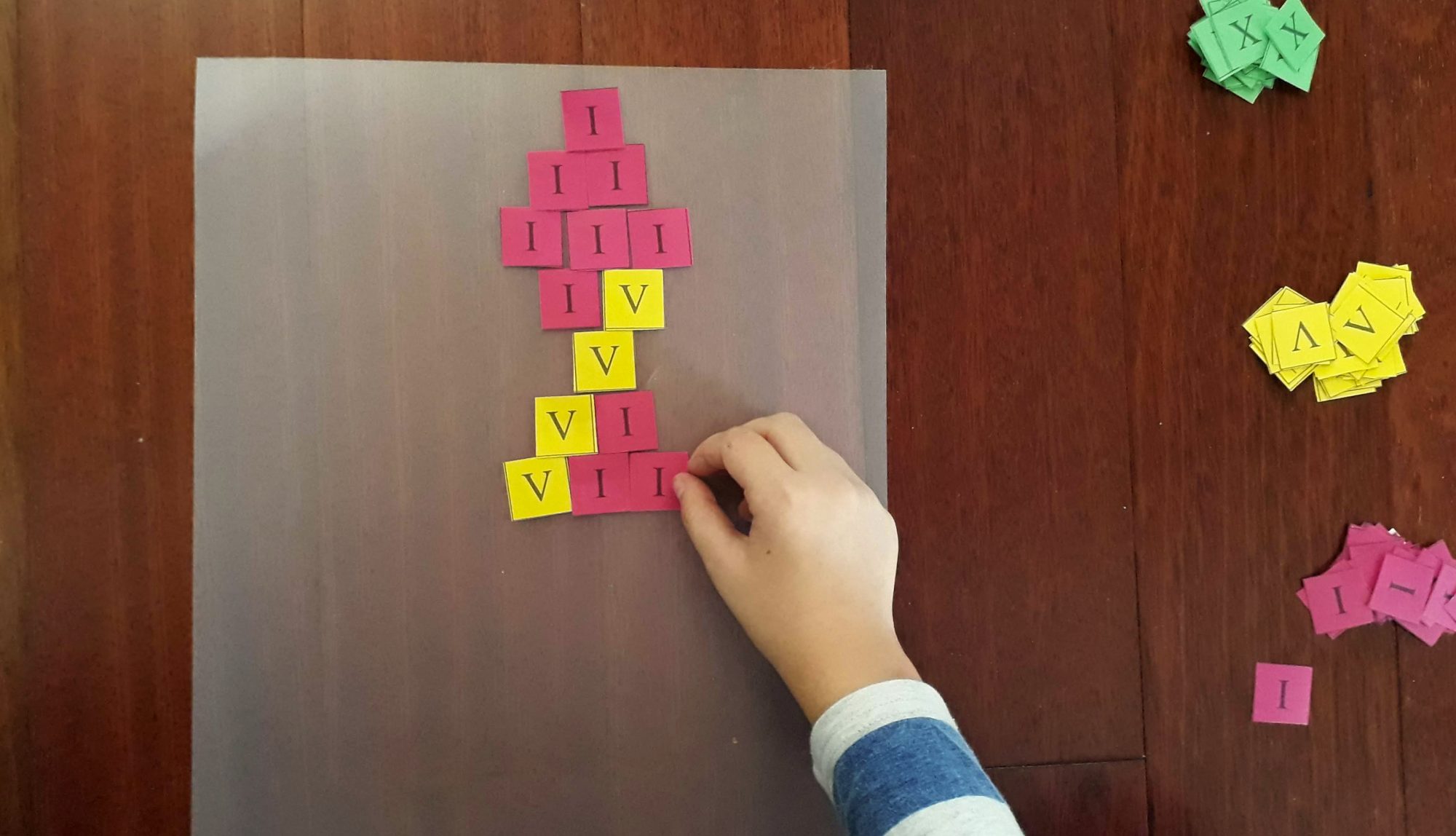 A pozrite aký krásny vzor nám vyšiel. To je ten rytmus, ktorý určuje pravidlo vyššie spomenuté.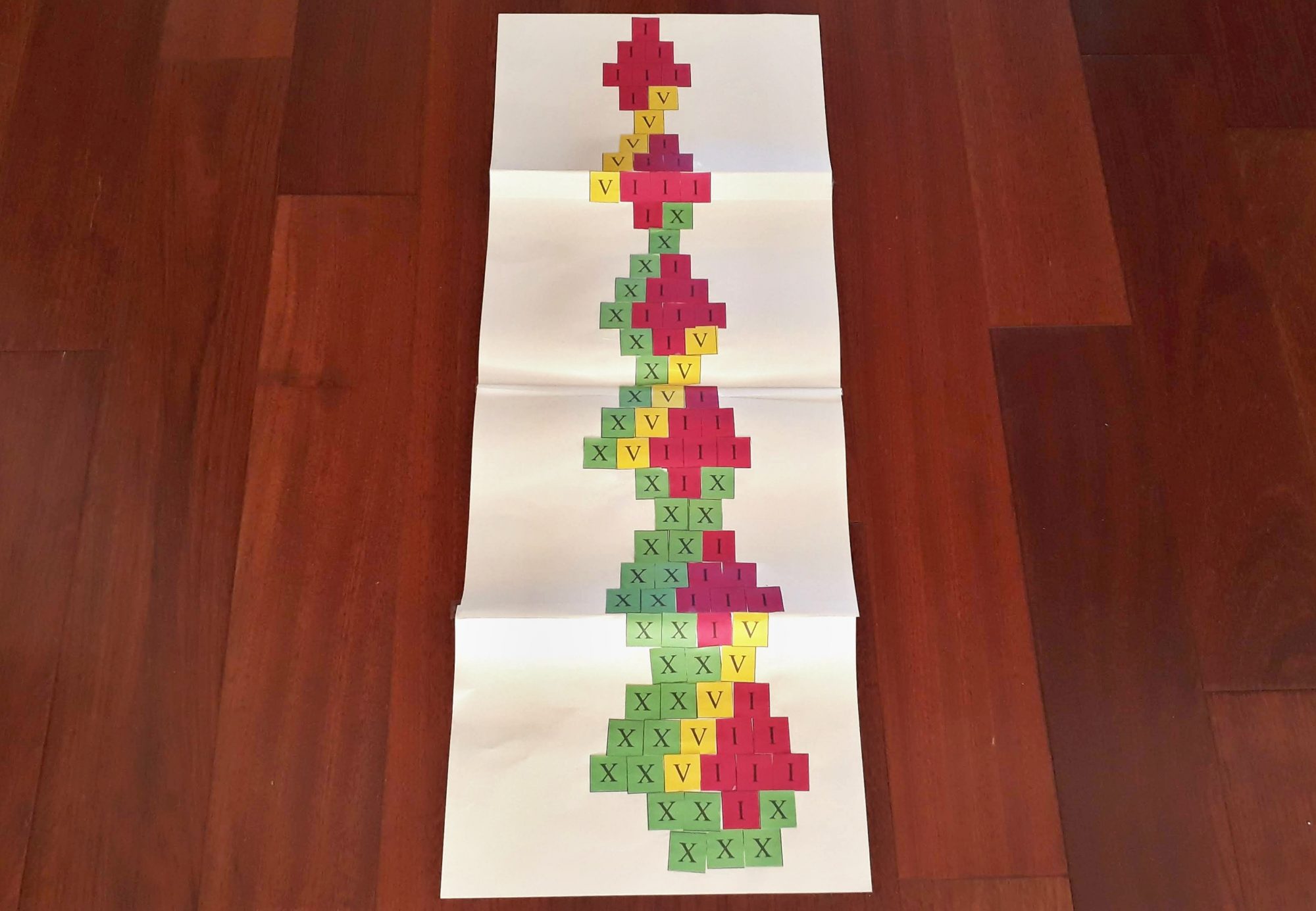 Už to nevyzerá tak zložito, že?
Aby sa nám tie rímske čísla ešte ľahšie dostali do pamäte, vyrobila som pre moje baby pexeso. Obsahuje čísla do 12, ktoré sú najbežnejšie a potom niektoré záludnejšie ako napríklad 40, či 90. Pexeso je farebne kódované, takže ho môže hrať aj začiatočník a sám sa odkontroluje.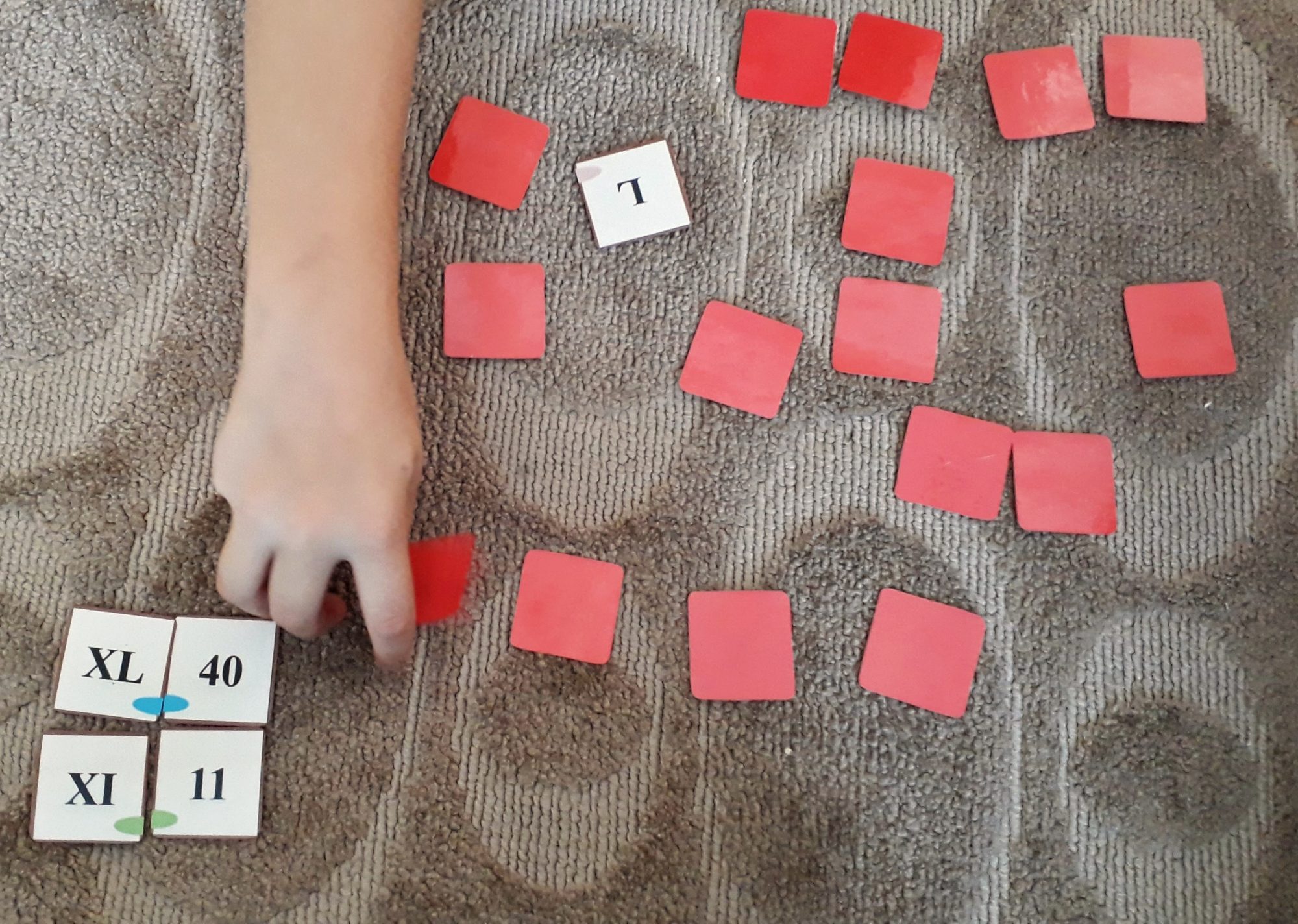 Samozrejme ho požičiam aj vám. Nech sa páči, STIAHNITE SI HO TU.
Učiť sa o rímskych číslach bola pre Terezku zábava. Ale ani sa veľmi nečudujem. Spojili s tu jej dva obľúbené predmety, matematika a história. Teraz kade chodí, tade premieňa a šifruje rôzne čísla a občas ju počujem ako si zahundre C ako centum, to je 100, alebo IV ako IVpiter.