Lapbook Leonardo da Vinci
A nedám pokoj s tým Leonardom.
Dnes vám chcem ukázať ako sme to všetko, čo sme sa o Leonardovi da Vinci dozvedeli a naučili, dali dokopy. Asi nikoho, kto už dlhšie číta moje články neprekvapí, že z toho vznikol nový lapbook. Je v ňom zopár vecí, ktoré som našla voľne na stiahnutie na iných blogoch, tak sa o zdroje rada s vami podelím.
Obálka oboch lapbookov vyzerá takto. Pre mňa je vždy zaujímavé sledovať, ako sa dve deti rozdielne postavia k rovnakej úlohe. Terezka chcela mať na obálke da Vinciho diela, Juli sa rozhodla nápis vytvoriť v grafickom programe Tux Paint.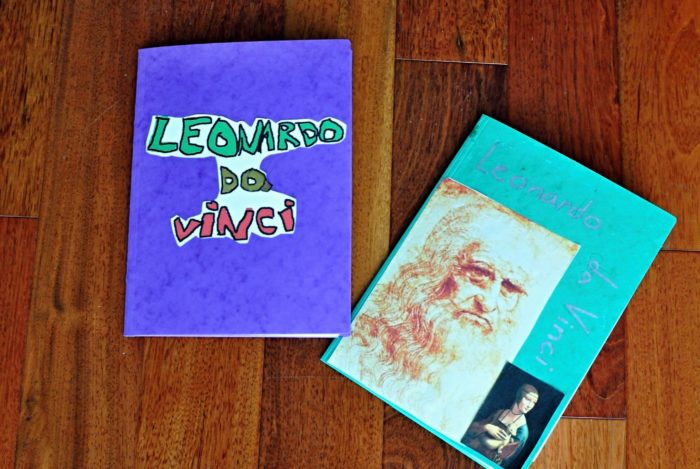 Na prvej strane lapbooku máme mini knihu o Leonardovi. Našla som ju na tomto blogu kde si ju môžte voľne stiahnuť.  Na jednotlivých stránky dievčatá napísali čo zaujalo ich z Leonardovho života, ktoré diela sa im najviac páčili, akými vynálezmi sa Leonardo zaoberal. Posledná strana ich samozrejme bavila najviac.
Ďalšiu časť lapbooku tvoria rôzne aktivity súvisiace s témou. Tajničku, v ktorej sa skrývajú názvy slávnych diel, ale aj nové slová na obohatenie slovnej zásoby.
Z druhej strany tajničky je naša aktivita, ktorú som detailnejšie popísala v minulom článku Matematika s Leonardom.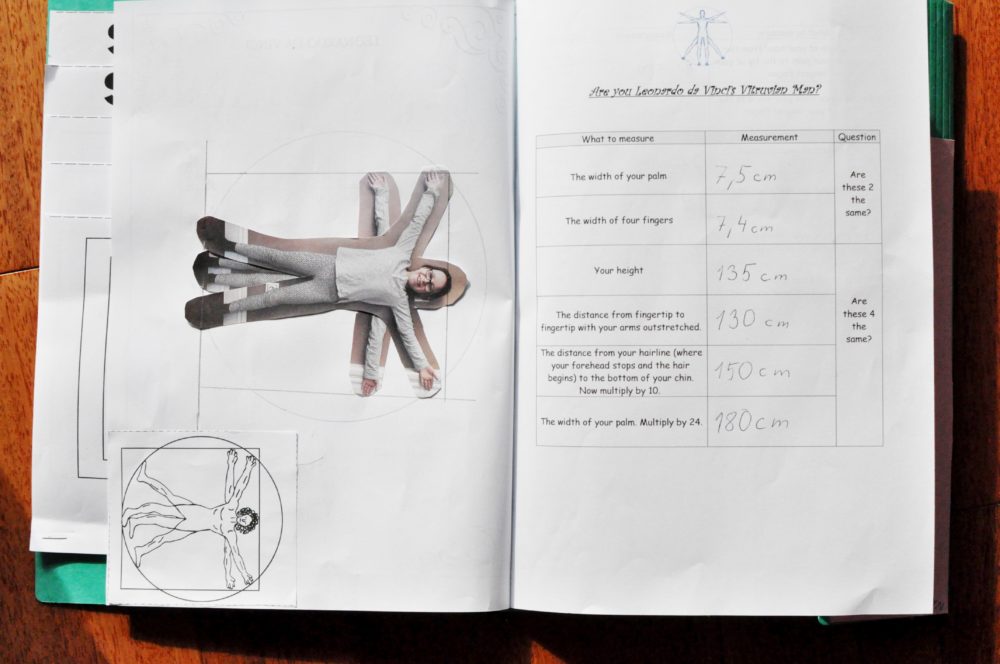 Druhá polovica lapboooku vyzerá takto: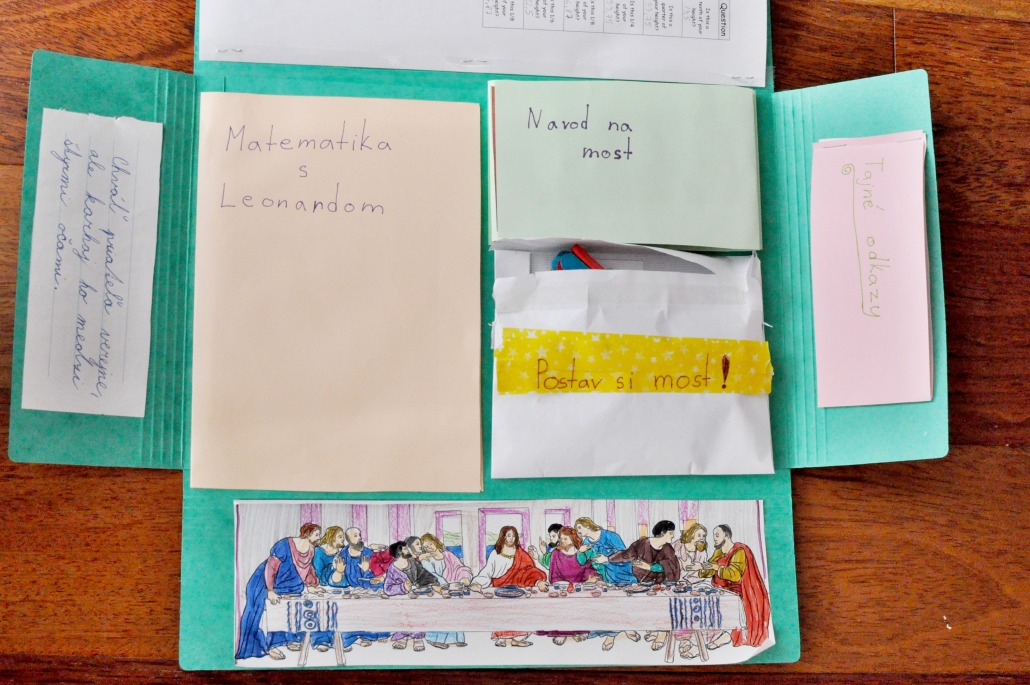 V obálke sú paličky, z ktorých sme vyrábali most Leonarda da Vinci. Ktokoľvek, kto si lapbook v budúcnosti vyberie, može si ho poskladať, pretože nad obálkou je nalepený aj nafotený postup.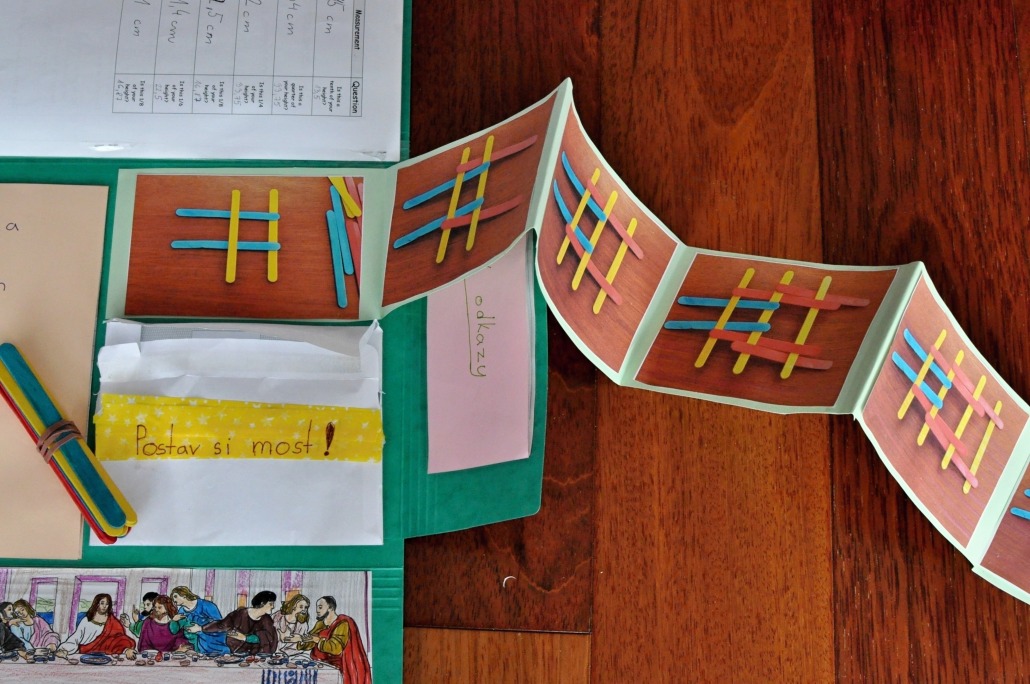 Keďže Leonardo da Vinci bol aj filozof, vybrala som niektoré jeho slávne výroky, ktoré sú tiež súčasťou lapbooku. Niektoré dostali dievčatá na prepis, iné som im diktovala. Obaly na spisy, do ktorých my robíme lapbooky, majú niekoľko malých záložiek, ktoré sa nám na to perfektne hodili.
Možno ste vedeli, možno nie, že Leonardo da Vinci si svoje poznámky zapisoval "tajným písmom". Písal sprava doľava. My sme si takéto odkazy skúšali písať. Tlačeným písmom to ako tak ide, ale písané dáva zabrať. Vyskúšajte to. Aby sa takéto odkazy ľahšie čítali, vezmite si na pomoc zrkadielko.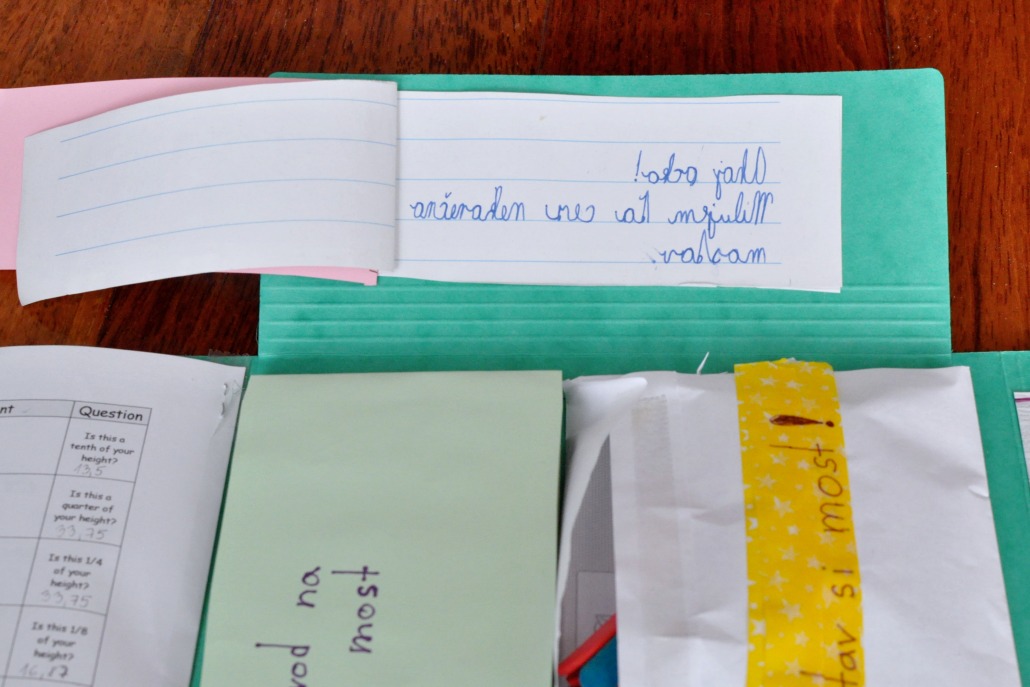 Ak sa na to deti necítia, ale predsa to chcú skúsiť, môžu tak urobiť na tejto stránke . Stačí dolu do bieleho rámčeka napísať nejaký odkaz. Ten bude automaticky prepisovaný do tajného zrkadlového písma.
Lapbook uzatvára jednoduchá časová os Leonardovho života.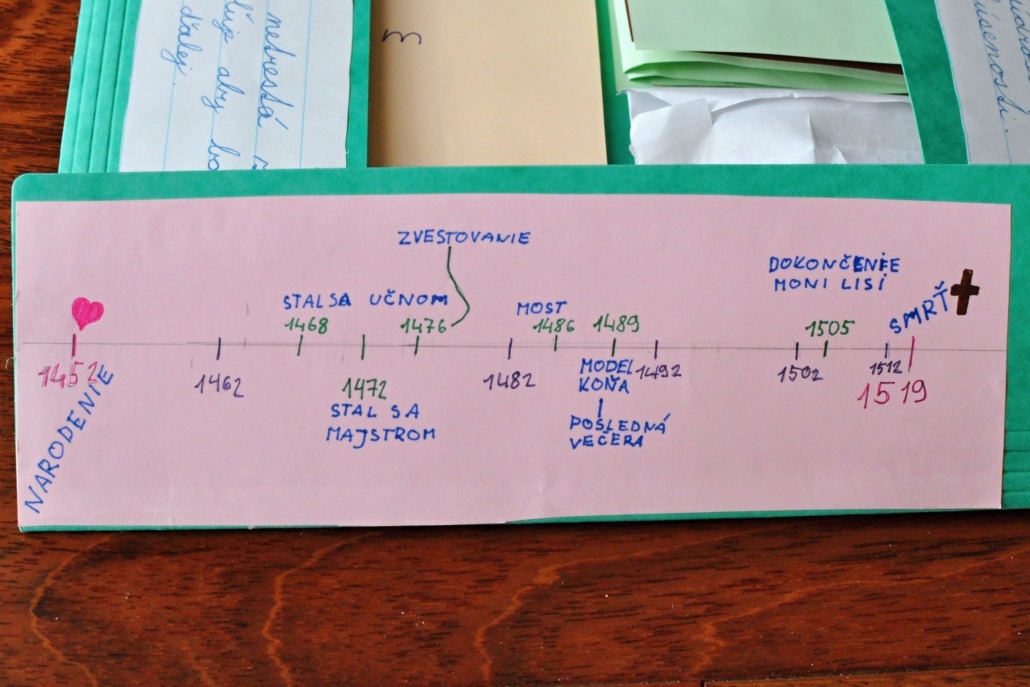 Zadná obálka bola jasná od začiatku. "Funny" Mona Lisa to dievčatám celé pekne dotvára. Ak si chcete podobnú spraviť, môžte si ju stiahnuť na tomto linku.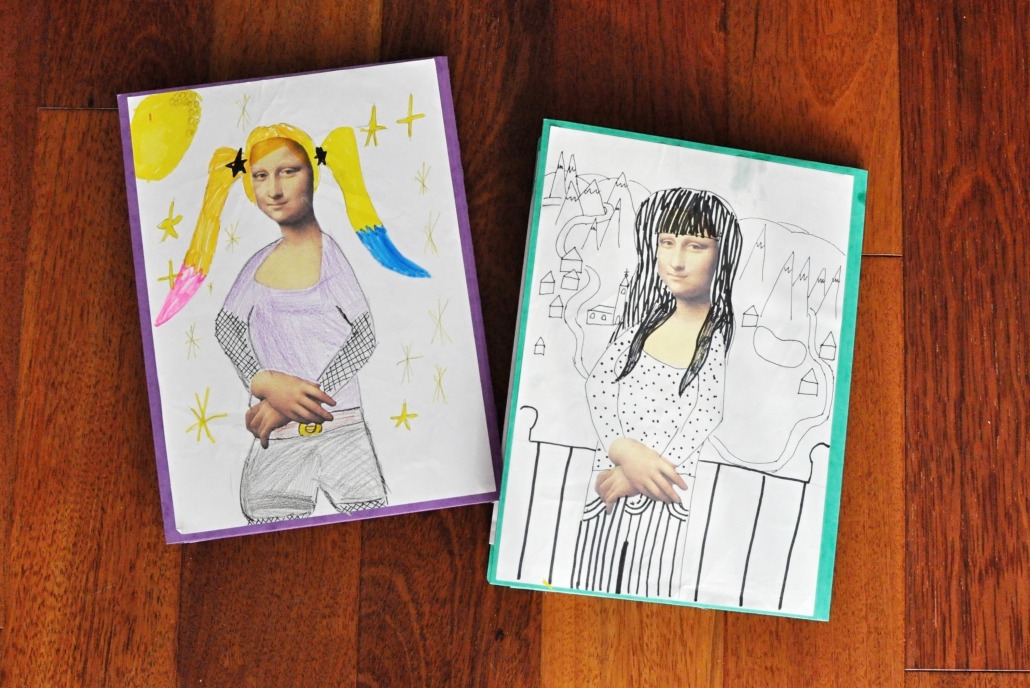 Takto nejako u nás doma vyzerajú projekty. Vezmeme si do parády jednu tému a tú sa snažíme spoznať prostredníctvom rôznych aktivít. Pre deti je to takto zaujímavejšie a zábavnejšie a priznávam, aj mňa to veľmi baví.