Krásne počasie nás láka vonku stále viac a viac. Práve v tomto ročnom období najviac využívame výhody domáceho vzdelávania. Keď sa nám nechce sedieť doma, vybehneme von a skúmame prírodu. Veď okolo to práve teraz všetko rastie, kvitne, lieta a bzučí.  Práve na takýchto prechádzkach sa naučíme o prírode viac ako len z učebníc. Nedávno sme doma v rámci učiva o ľudskom tele riešili ako fungujú naše pľúca (článok aj s videom nájdete tu), no a na našich potulkách po prírode som dostala otázku ako dýchajú rastliny. Hneď mi napadol jeden jednoduchý pokus, ktorý si ešte ja pamätám zo školy.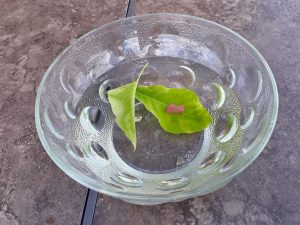 Čo budete potrebovať:
misku s vodou
list, čerstvo odtrhnutý
kamienok na zaťaženie
slnko
Do misky s vodou dajte list. List musí byť čerstvo odtrhnutý, je jedno, či je zo stromu alebo z nejakej byliny. Najvhodnejšie sú listy väčších rozmerov, ľahšie sa dajú pozorovať. List musí byť ponorený celý vo vode. My sme pokus robili viackrát, takže sme použili listy z rôznych rastlín. Skúšali sme orgován, magnóliu aj tulipán. Niektoré z nich sa ponorili pod vodu samé, iné sme museli zaťažiť malým kamienkom.  Potom treba nechať misku s vodou na slnečnom mieste….a čakať.
Nás experiment začal o 11:00. Misku s vodou sme nechali na slnečnej terase a šli sme ďalej skúmať prírodu. O 4 hodiny neskôr sme šli naše listy skontrolovať. Na každom z nich boli viditeľné bublinky, na vrchu listu aj po jeho okraji. Škoda, že sme niekde zapotrošili našu lupu, parádne by sa nám teraz hodila.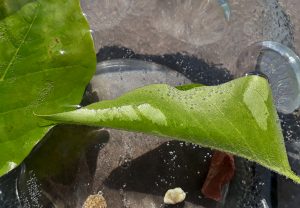 Dievčatám hneď ako to videli, napadla asociácia ich samých, keď plávajú v bazéne a vydychujú do vody. Tiež vtedy vidia bubliny. Tak sa nám otvoril priestor na diskusiu. Čo sa to vlastne deje, keď rastlina "dýcha"? Rastliny predsa nemajú pľúca. Porozprávali sme si o tom, že rastliny využívajú slnečné žiarenie a vyrábajú z neho energiu potrebnú pre ich život. Pri tomto procese sa zbavujú nadbytočných látok a jednou z nich je aj kyslík, ktorý sa dá pri tomto pokuse vidieť.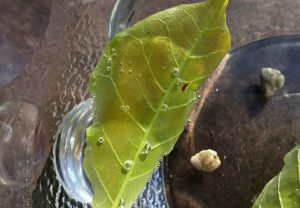 Tento experiment sa dá rozšíriť o ďalšie pozorovania. Dajte napríklad jednu misku s listom na slnečné miesto, druhú do tieňa, alebo do úplnej tmy. Čo sa stane s listami? Alebo čo tak porovnať ako dýcha list čerstvo odtrhnutý s listom, ktorý je zvädnutý na zemi už niekoľko dní?
https://www.spolupozaskolu.sk/wp-content/uploads/2017/05/ako-dýchajú-rastliny.png
315
560
Katka
https://www.spolupozaskolu.sk/wp-content/uploads/2021/04/logo-spolupozaskolu.jpg
Katka
2017-05-21 21:26:40
2017-05-21 21:30:14
Ako dýchajú rastliny?