Nedávno som niekde zhliadla jedno zaujímave video o tom, ako si spraviť solárnu čističku vody len z plastových fliaš a nejakej plastovej rúrky.  Nadchlo ma to.  Aké jednoduché, efektné a hlavne užitočné! A koľko sa toho dá na takomto projekte naučiť. O vyparovaní a kondenzácii vody, o znečistení vody! Pre deti viditeľné a hmatateľné, určite lepšie ako o tom len čítať v učebniciach. Ako už možno viete, som nadšenec jednoduchých pokusov, pri ktorých potrebný materiál nájde doma snáď každý, a ktorých výsledok deti zaručene ohromí. Preto som musela túto čističku vyskúšať čím skôr.  Čakala som na teplejšie dni, lebo v tomto pokuse je slnko veľmi dôležité. Ako sa nakoniec ukázalo, bolo by lepšie počkať ešte dlhšie, na letné slnečné lúče, ale aspoň máme teraz dôvod pokus zopakovať o pár mesiacov neskôr.
Čo budeme  teda potrebovať
dve plastové fľaše
dva vrchnáčiky
umelohmotnú rúrku
tavnú pištoľ
špinavú vodu
šikovného ocka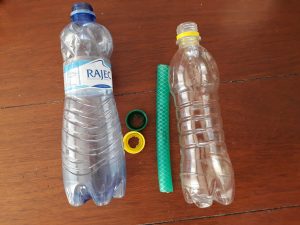 Do tohto pokusu som tentokrát zapojila aj  nášho ocka.  Všade rozhlasuje, že on je v tejto škole riaditeľ aj školník v jednej osobe, tak prišiel jeho čas. Jeho úlohou bolo vyvŕtať diery do oboch vrchnáčikov, aby akurát cez ne prešla rúrka. Potom som rúrku prepchala cez vrchnáčiky a tie som k sebe prilepila tavnou pištoľou.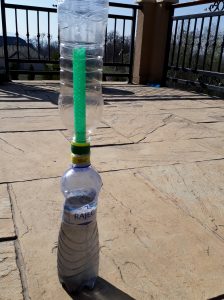 Potom už len stačilo do jednej fľaše naliať špinavú vodu a zatvoriť obe tak, aby dlhší koniec rúrky bol v tej druhej fľaši, ktorá bola dolu hlavou. No a toto všetko treba dať na slnko.  A potom už len čakať….a čakať…a čakať. My sme na prvé kvapky v tomto jarnom slniečku čakali asi hodinku a prvý glg vody sa nám vyzrážal po šiestich hodinách.  Predsa len je to jarné slnko ešte zubaté. Čističku sme chodili aj priebežne pozorovať a pri tej príležitosti sme si povedali o tom, čo sa tam deje, ako sa voda zo spodnej fľaše dostala hore, čo spôsobuje vyparovanie vody a čo jej zrážanie.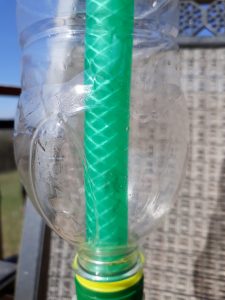 V lete počas horúceho slnka to skúsime ešte raz a porovnáme si rýchlosť akou sa dokáže voda nazbierať ak slniečko poriadne pripeká.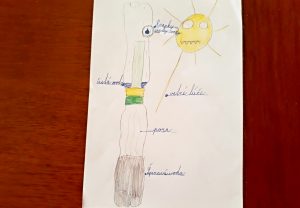 https://www.spolupozaskolu.sk/wp-content/uploads/2017/03/20170329_181354.jpg
2063
2980
Katka
https://www.spolupozaskolu.sk/wp-content/uploads/2021/04/logo-spolupozaskolu.jpg
Katka
2017-03-29 18:03:46
2018-11-23 18:37:42
Naša solárna čistička vody