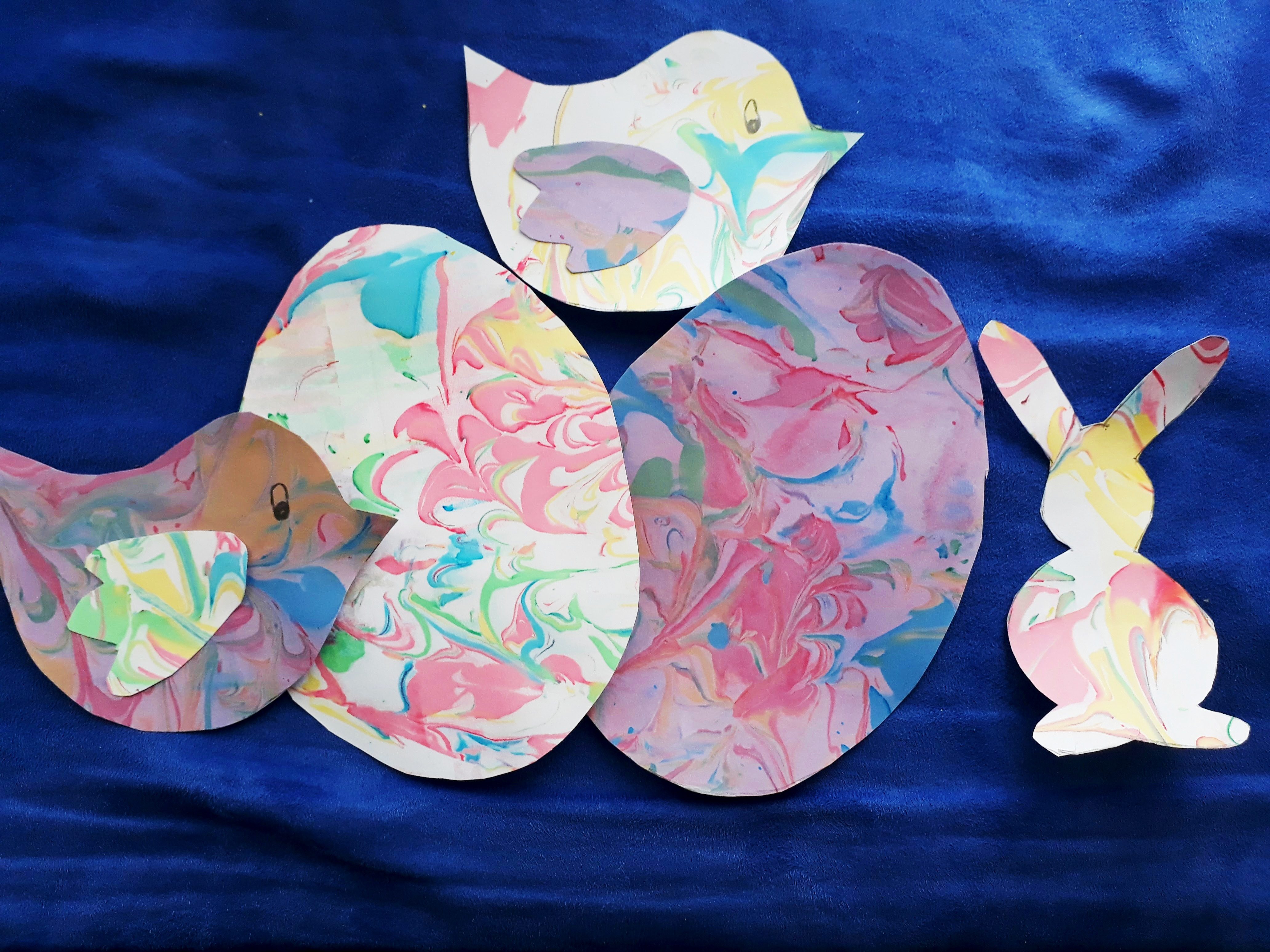 Na dnešné tvorenie sa baby veľmi tešili. No bodaj by nie.
Vedeli len, že budeme vyrábať mramorový papier a použijeme na to penu na holenie. Vy ste už niekedy niečo vyrábali z peny na holenie? My nie, takže sme boli veľmi zvedavé ako to dnes dopadne.
Všetko čo na výrobu mramorového papiera potrebujete, nájdete doma, takže hor sa do tvorenia.
Čo budete potrebovať:
penu na holenie
plech na pečenie, alebo nejakú tácku
nejaké tekuté farby (potravinárske, prstové, akrylové)
výkres
slamku alebo čokoľvek vhodné na miešanie
stierku (pravítko)
dostatok utierok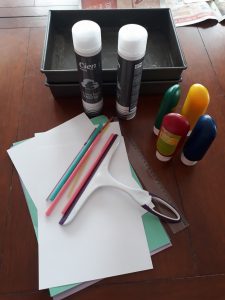 Na plech na pečenie sme nastriekali hrubšiu vrstvu peny na holenie, zarovnali a nakvapkali sme na ňu zvolené farby.  Slamkou si dievčatá začali farby jemne premiešavať tak, aby vznikol mramorový vzor (dajte pozor, aby deti nezmiešali farby úplne, vzor na papieri potom nevynikne).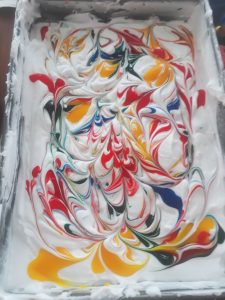 Po premiešaní priložili papier na penu, popritláčali ho a nechali ho tam približne 10 sekúnd. Potom sme papier dali preč. Na prvý pohľad na papieri nebolo nič zaujímave, zdalo sa, že farby sa rozmazali. Trosku som aj tŕpla, či naozaj výsledný efekt bude taký, ako sľuboval internet. Zatiaľ nič tomu nenasvedčovalo.  Dievčatá boli aj trošku sklamané, že žiadna sľubovaná krása sa nekonala. Papier, ale musí niekoľko minút oddychovať.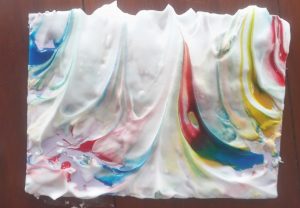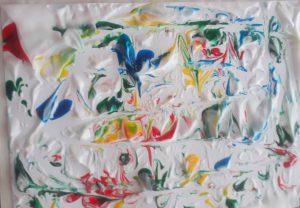 Nastavila som teda budík na 10 minút. Kým sme čakali, dievčatá sa začali s penou hrať. Vykľula sa z toho poriadna zábava. Vyrábali si rukavice, naberali penu lyžicami, skúšali ju miešať, miesiť, nasypali do nej ryžu a potom ju hľadali. No proste sa v pene poriadne pobabrali.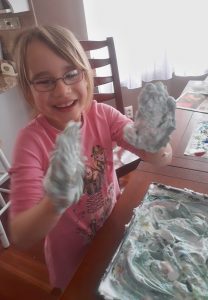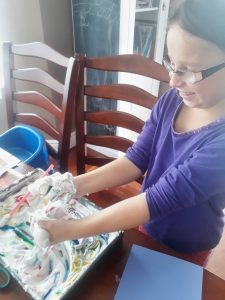 Po desiatich minútach nás ale čakala ešte práca. A práve tu nastal ten okamih úžasu. Stierkou sme jemne začali zotierať penu z papiera a otvárali oči. Na papieri sa ukázal krásny mramorový vzor. Farby z peny sa vpili do papiera.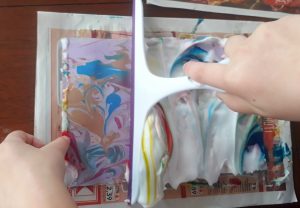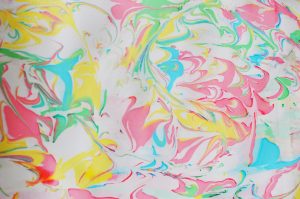 Hotové dielo treba nechať poriadne vysušiť, lebo od tej peny je papier dosť premoknutý. No a potom už je na vás čo s papierom urobíte. My sme z neho nastrihali veľkonočné vajíčka, vtáčiky a zajačiky.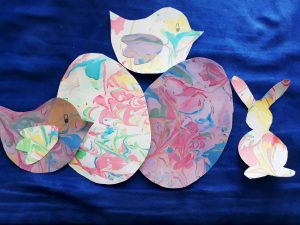 https://www.spolupozaskolu.sk/wp-content/uploads/2017/04/20170411_144306-1-e1492507808559.jpg
3096
4128
Katka
https://www.spolupozaskolu.sk/wp-content/uploads/2021/04/logo-spolupozaskolu.jpg
Katka
2017-04-11 23:12:52
2017-04-17 20:22:42
Mramorový papier. Tvorenie s penou na holenie