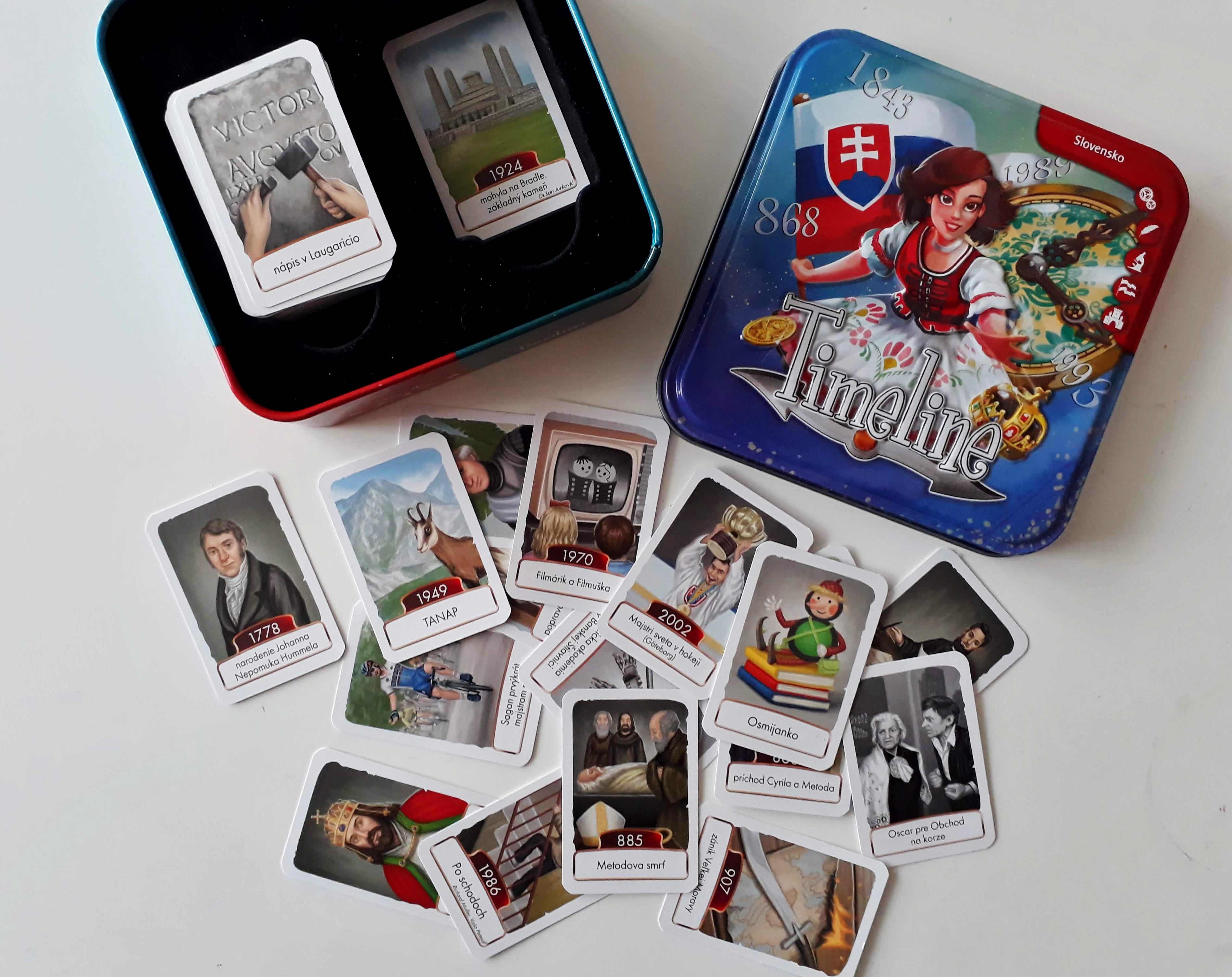 Ešte takto narýchlo pred Vianocami, tu mám jeden skvelý typ na darček pre všetkých milovníkov histórie. Spoločenskú hru Timeline Slovensko.
Ako už isto viete, my sa radi hráme. Hry sú pre nás skvelou formou, ako sa niečo nové dozvedieť a zároveň sa pri učení nenudiť. Doma máme už toľko hier, že o chvíľu na ne budeme potrebovať extra izbu. Už som si aj niekoľkokrát povedala, že nové už nekúpim, ale tejto som proste odolať nemohla.
Je to totiž hra, v ktorej skladáte časovú os slovenskej histórie. A to je téma veľmi zaujímavá a aj dôležitá. Veď o akej inej krajine by sme sa mali naučiť nové veci, ak nie o Slovensku?
Hru tvorí 110 obojstranných kariet. Na každej karte sú z oboch strán takmer identické obrázky, ktoré znázorňujú udalosti z našej histórie. Na jednej strane je však navyše rok, v ktorom sa daná udalosť odohrala.
Timeline Slovensko má veľmi jednoduché pravidlá. Hrať ju môžu dvaja až ôsmi hráči.
Na začiatku hry majú všetci hráči po 4 karty, otočené musia byť rokom nadol. Ostatné karty sú všetky rokom nadol uložené v hlavnom balíčku. Do stredu, medzi hráčov sa z tohto balíčka vyberie jedna karta, rokom nahor.
Úlohou hráčov je ukladať karty akoby na časovú os k prvej karte. Udalosti, ktoré sa stali pred touto udalosťou budú ukladať vľavo od nej, neskoršie udalosti napravo. Po uložení svojej karty si hráč pozrie či ju uložil správne. Ak áno necháva ju na časovej osi rokom nahor a na ťahu je druhý hráč. Ak sa pomýlil a kartu umiestnil nesprávne, vráti kartu do krabičky a vezme si novú kartu z hlavného balíčka a na ťahu je druhý hráč.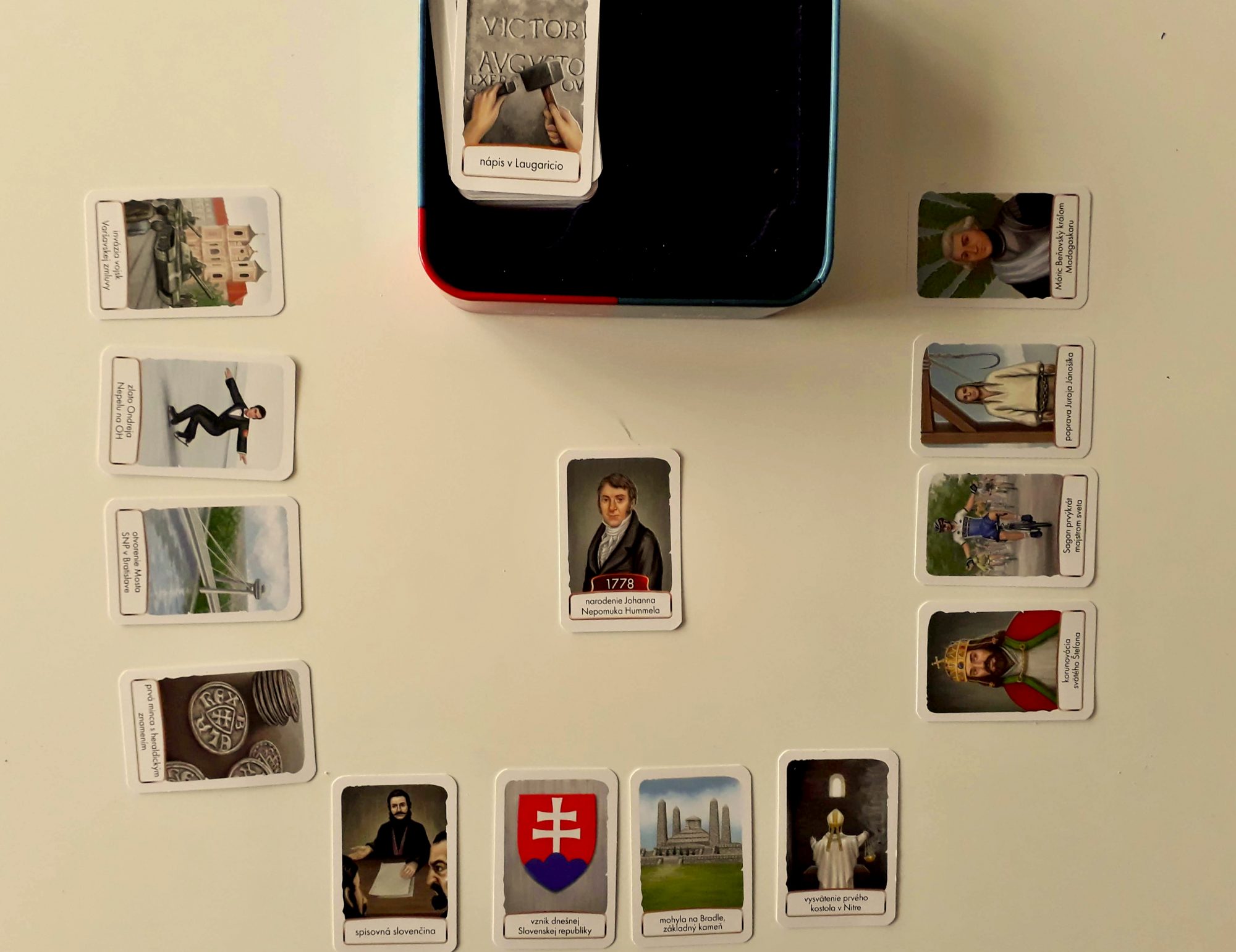 Čím viac kariet sa na os uloží, tým viac možných umiestnení vzniká pre ďalšieho hráča a hrá sa viac zamotáva. Vyhráva ten hráč, ktorý sa prvý zbaví svojich kariet.
Timeline Slovensko je dynamická hra. Nám jedna partia nikdy netrvala viac ako 20 minút a to tiež len preto, lebo sme sa veľakrát zakecali. Keď sa vám v jednej partií vyskladá krásne časová os nejakého obdobia, ktoré deti práve zaujíma, jednoducho o tom musíte rozprávať alebo googliť. Bolo by škoda len tak ukladať kartičky a nekomentovať ich.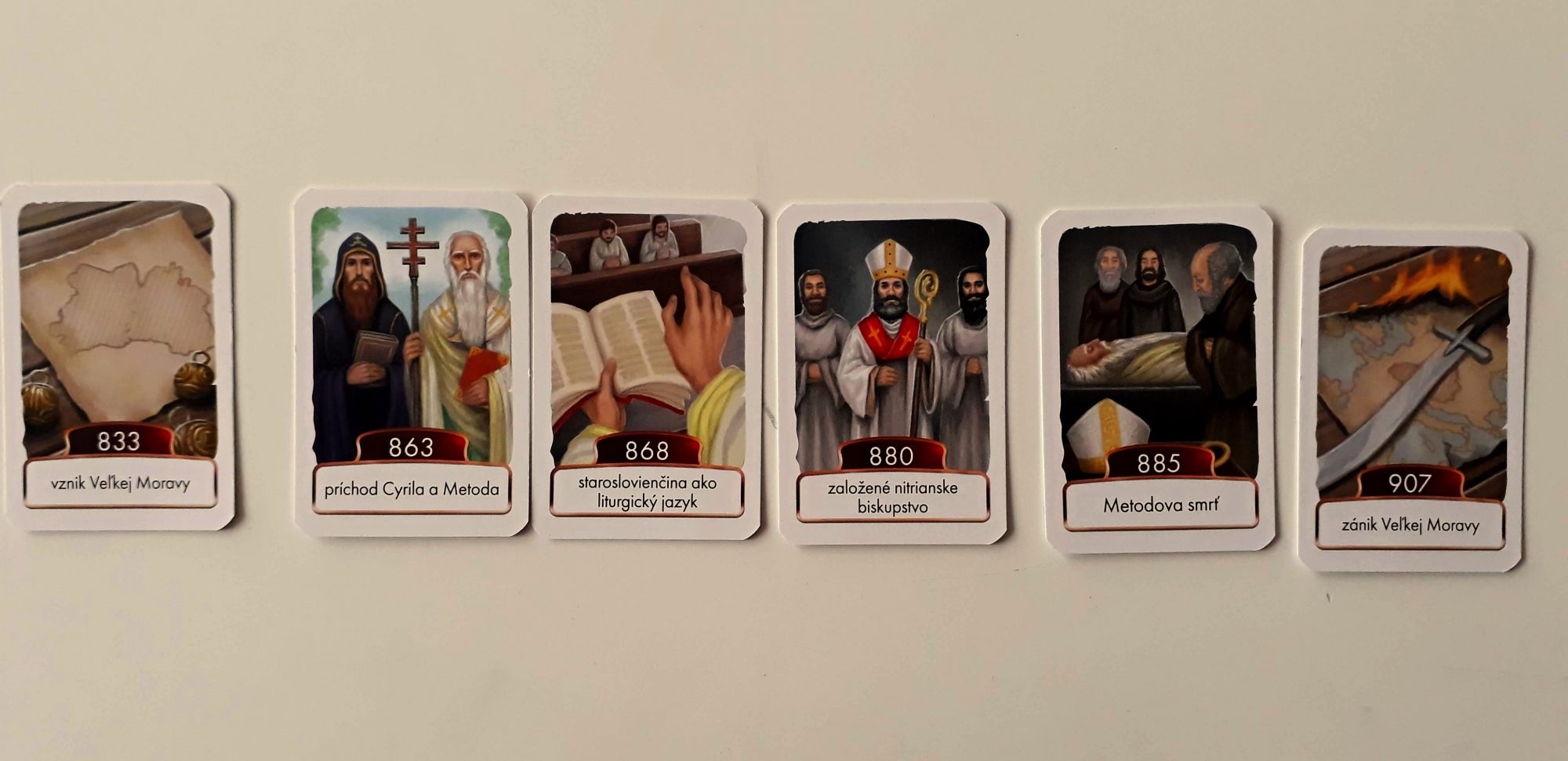 Táto hra nie je o memorovaní rokov, ja mám históriu rada, ale s rokmi mám problém. Je to skôr o dedukcií, keď sa zamýšľate, kedy sa daná udalosť mohla odohrať a núti vás premýšľať nad súvislosťami. To, že si pri nej zopár rokov zapamätáte je len bonus.
Myslela som si, že hru budeme hrávať hlavne my dve s Teri, ale ukázalo sa, že hrať sa s históriou takýmto spôsobom sa páči viacerým členom domácnosti. Navyše som zistila, že táto hra sa dá kombinovať aj s inými hrami zo série Timeline a to už môže byť naozaj poriadne zaujímavé.
https://www.spolupozaskolu.sk/wp-content/uploads/2018/12/20181218_101815.jpg
3008
3795
Katka
https://www.spolupozaskolu.sk/wp-content/uploads/2021/04/logo-spolupozaskolu.jpg
Katka
2018-12-18 10:36:23
2018-12-18 10:40:27
Timeline Slovensko